(EJNews) – Looking forward to an evening of great food, celebration and lots of laughs, the Beth Israel Synagogue has announced that its 110th Anniversary Gala Celebration will be held at the Beth Israel on Sunday, September 11, 2016.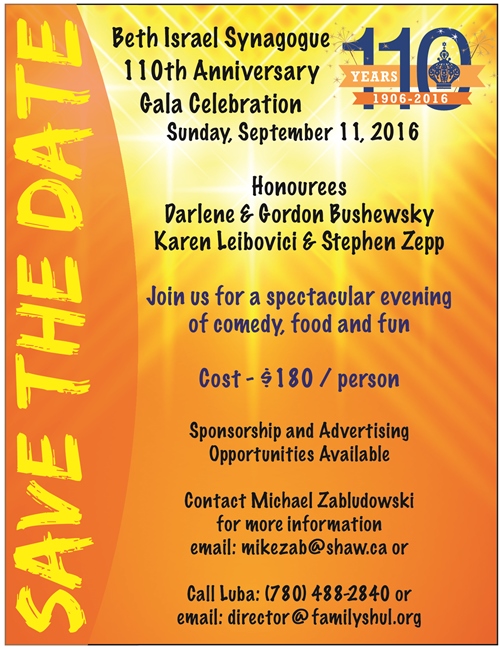 Highlighting the event, the Beth Israel Board and congregation are pleased to announce the honourees for the occasion are Gord and Darlene Bushewsky, and Karen Leibovici and Stephen Zepp.
Michael and Jodi Zabludowski, past honourees and Gala Co-chairs of this fun evening anticipate welcoming the entire community for a spectacular evening during which we can all "enjoy eating together, making a L'chaim together, celebrating together and laughing together." An evening of comedy, with local and internationally known entertainers has been planned for the celebration.
Gord and Darlene have a great track record of volunteerism and participation across the entire community and have devoted much o f their lives to the Beth Israel Synagogue. Gord is referred to as 'Mr. Everything' as he has served as board member, Gabbai and President. Darlene, President of Na'amat Edmonton, has volunteered for numerous events at the Beth Israel over the years. They are in fact 'Mr. and Mrs. Everything.'
Karen Leibovici and Stephen Zepp have been active members of the Jewish community for many years, having arrived here in 1980 from Montreal, knowing very few people and wondering what life would be like without Montreal smoked meat and bagels. With Karen's Social Work degree and Steve's degree in Science and Hospital Administration, both were interested in providing service back to the community. Throughout her long history of public service representing our city and our province, Karen represented the Jewish community with pride.
You won't want to miss this very special evening. Michael and Jodi "hope everyone will join us in celebrating 110 years," a major milestone in the history of the western Jewish community.
Tickets are $180 per person. Sponsorship and advertising may be obtained by contacting Michael at mikezab@shaw.ca or Luba at 780-488-2840.