by Maxine Fischbein
(AJNews) – Darren Bondar is excited to have ascended to the presidency of one of Jewish Calgary's most deeply rooted organizations. In November, long-serving B'nai Brith Lodge #816 president Rob Barsky turned the gavel over . . . not only to a new leader but to a new generation.
The transition bodes well for the 103 year-old chapter of B'nai Brith, an organization that has been served by some of this community's most dedicated and philanthropically inclined, including Barsky and Harold Lipton, two long-time volunteers whose efforts were lauded by Bondar in his August, 2020 leadership proposal.
Since the establishment of their charter in 1917, the Calgary lodge has attracted thousands of members and served the Jewish community and the community at large, generously funding charitable organizations, most notably those serving youth.
According to information provided by the Jewish Historical Society of Southern Alberta, Lodge #816 had approximately 90 members in 1926, a number that swelled to 215 in 1944, including veterans who enjoyed the benefit of free membership, a salute to their service during World War II. Membership through the 1960s, 70s and 80s was steady at approximately 250 members, ". . . peaking in 1987 with just over 300." In 1998, there were about 200 local members.
While B'nai Brith Lodge #816 has maintained their proud history of community service in Calgary, the organization has witnessed a decline in membership numbers, particularly in recent years, a challenge affecting many membership-based organizations.  According to Darren Bondar there are currently about 50 members.
It is a trend that Bondar and his energetic executive are seeking to reverse.  Together with Vice President Sam Feldman, Secretary Perry Feldman and Treasurer Stacy Shaikin, Bondar has already hit the ground running armed with a leadership proposal he submitted to the organization at the end of August.
"It's nice to see this younger generation step up and take leadership roles," Bondar said.
"It's great to read through the history and see how active B'nai Brith was. We hope to bring a little of that back to Calgary."
Bondar, who was raised in Calgary, joined B'nai Brith when he returned to the city some 14 years ago after living in Edmonton.
He feels very much a product of the Calgary Jewish community and B'nai Brith, having attended both the Calgary Hebrew School (now The Calgary Jewish Academy) and the I. L. Peretz School. Bondar attended Camp B'nai Brith (now Camp BB Riback), worked as a member of the camp staff for seven years and served as camp director in 1998 and 1999.  He was also a leader in B'nai Brith Youth Organization International #31, serving as president in 1989.
Bondar's leadership resume includes a two-year stint as treasurer on the Camp B'nai Brith board of directors followed by four years as board chair between 2002 and 2006.
"I saw that B'nai Brith was an organization in need of my skillset," Bondar said.
"What a great organization to be a part of with its 103 year history in Calgary."
Bondar and his team are currently planning the 2021 B'nai Brith Dinner which was postponed to this coming fall due to the COVID-19 pandemic. Speakers are being secured and details for what Bondar describes as B'nai Brith's "marquee event" will be announced shortly, Bondar told Alberta Jewish News.
Once it is safe to assemble, Bondar also looks forward to launching a membership drive in order to ". . . increase the membership base that is open to both men and women and get some fun programs going throughout the year."
"We have a handful of female members," Bondar said.
"Part of this launch is to really make it vocally known that women can and should be members. It is a human rights organization and we don't discriminate between men and women who want to join."
Other key upcoming initiatives will include improved communication to members, programming that supports members, and funding for agencies that serve youth, seniors and those most in need.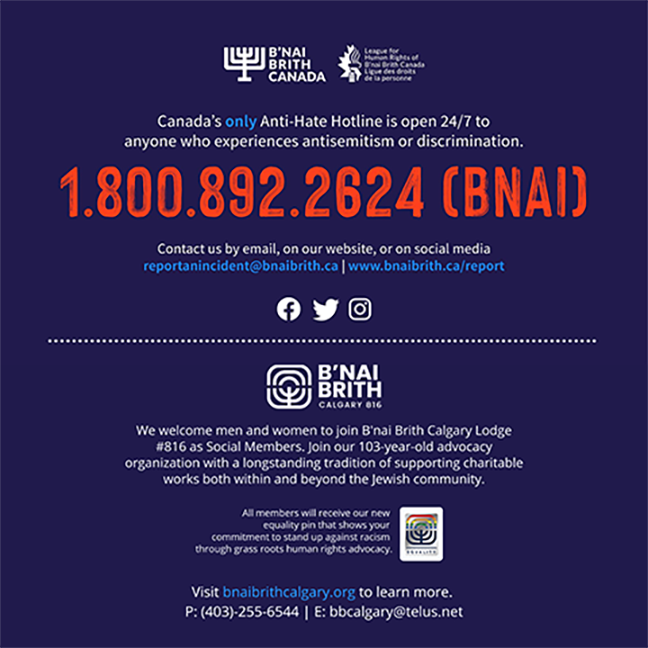 "B'nai Brith has allocated over $100,000 a year for the past decade to various local organizations like Camp BB and the B'nai Brith Youth Organization, Jewish Family Services, and also to the general community, like Project Warmth, the Calgary Women's Shelter, and the Learning Disabilities Camp, Amicus," Bondar said. "These are all organizations that have really benefited from the generosity of B'nai Brith members for decades."
"That's going to be the fun part of the job for me, just supporting a lot of these organizations financially and writing those cheques on behalf of our members."
One of Bondar's initial promises has already been fulfilled with an updated website that provides information about local and national B'nai Brith initiatives and lodge history.
"We really look forward to collaborating more with B'nai Brith Canada," Bondar said. The sentiment is echoed by Abe Silverman, Manager of Public Affairs, BB Canada Alberta Region, who expressed pleasure at the re-establishment of a relationship between the national and local organizations during the Lodge #816 presidency of Robert Barsky – a relationship he hopes will continue to deepen during Bondar's tenure.
Bondar's household is a busy one with both he and his wife Marnie engaged in community leadership positions while raising two teens. Marnie Bondar is co-chair of Holocaust and Human Rights Education for Calgary Jewish Federation.
"She's amazing, so I have to keep up with her," said Bondar.
"We feel very fortunate and are in a really great position to be able to give back to the community. Both of us are taking a lot of pride and passion in what we're doing."
A busy entrepreneur, Bondar takes joy in heading the organization that helped to inculcate his deeply-held commitment to Jewish communal life.
"It kind of feels like I am coming back full circle," Bondar said. "We're privileged to be continuing a 103 year old tradition in Calgary."
"It's a lot of work but we're excited about it," says Bondar.
"It's going to be fun."
Did you know?
B'nai Brith was formally established in Calgary in June, 1917. Lawyer Benjamin Ginsberg – originally from South Africa – was the inaugural president of Lodge #816.
B'nai Brith Lodge # 732 was established in Edmonton in 1913. It has a proud history, but ceased to be active over a decade ago, with the exception of participation in Remembrance Day ceremonies.  A second chapter, B'nai Brith lodge #2061, was absorbed by Lodge #732 in 1956.
Lodges were established in Lethbridge and Medicine Hat during the 1930s and 1940s and thrived in both communities. A vestige of former lodge activity in Lethbridge, the B'nai Brith Dinner has been maintained in recent years despite the overall dwindling of the Jewish community there.
Lodges in Alberta and Saskatchewan comprised the North West Canadian Council, District 6 of B'nai Brith Canada, a part of B'nai Brith International. The NWCC and lodges from Eastern Canada amalgamated in 1981, forming Canadian B'nai Brith District 22.
Calgary B'nai Brith Lodge # 816 is the sole fully-functioning grassroots B'nai Brith organization in Alberta. B'nai Brith Canada – established in 1875 – maintains its presence and advocacy work throughout Alberta mainly due to the efforts of Abe Silverman, Manager of Public Affairs, B'nai Brith Canada Alberta Region, who is based in Edmonton.
According to Silverman, there are some 200 individuals throughout Alberta who are members of B'nai Brith Canada. The increasingly egalitarian national organization welcomes the participation of women in the previously all-male bastion. A unity pin featuring a menorah and a rainbow captures the organization's stated commitment to inclusivity.
B'nai Brith Canada has an anti-hate hotline which is open 24-7 to anyone who experiences antisemitism or discrimination.  Anyone who is the victim or witness of racism or antisemitism can report the incident at 1-800- 892-2624.
Maxine Fischbein is a Local Journalism Initiative Reporter for Alberta Jewish News.