(AJNews) – Lace up your shoes and stretch your quads: the Maccabiah Games are back in Israel next July!
The world's third largest sporting event is once again scheduled to take place from July 12 to 26, 2022 in Israel, welcoming over 10,000 athletes of all ages from 80 countries. During the past iteration of the Games in 2017, 11 Albertans represented Canada in tennis, water polo, swimming, softball, distance running and basketball.
Among those athletes was Calgarian and beloved community member Jordan Balaban. Jordan has been representing Canada at the Maccabiah Games since he was a teenager. In addition to carrying the point for the Canada basketball team, Jordan has been very involved on the organizational side as a member of the national organization's investment committee. As an alumnus of five Maccabiah Games, Jordan has many memories, but his fondest is the most recent opening ceremonies.
"It is always a special memory participating in the games, but for me, the opening ceremonies are always a highlight," said Balaban. "Walking through the stadium with 10,000 other Jewish athletes from over 80 different countries is a tremendous experience of Jewish unity and pride."
It has always been a goal of Balaban to bring more athletes from out west to the Maccabiah Games and this torch is now being shared by former teammate and CJA alumnus (2001) Matt Dichter.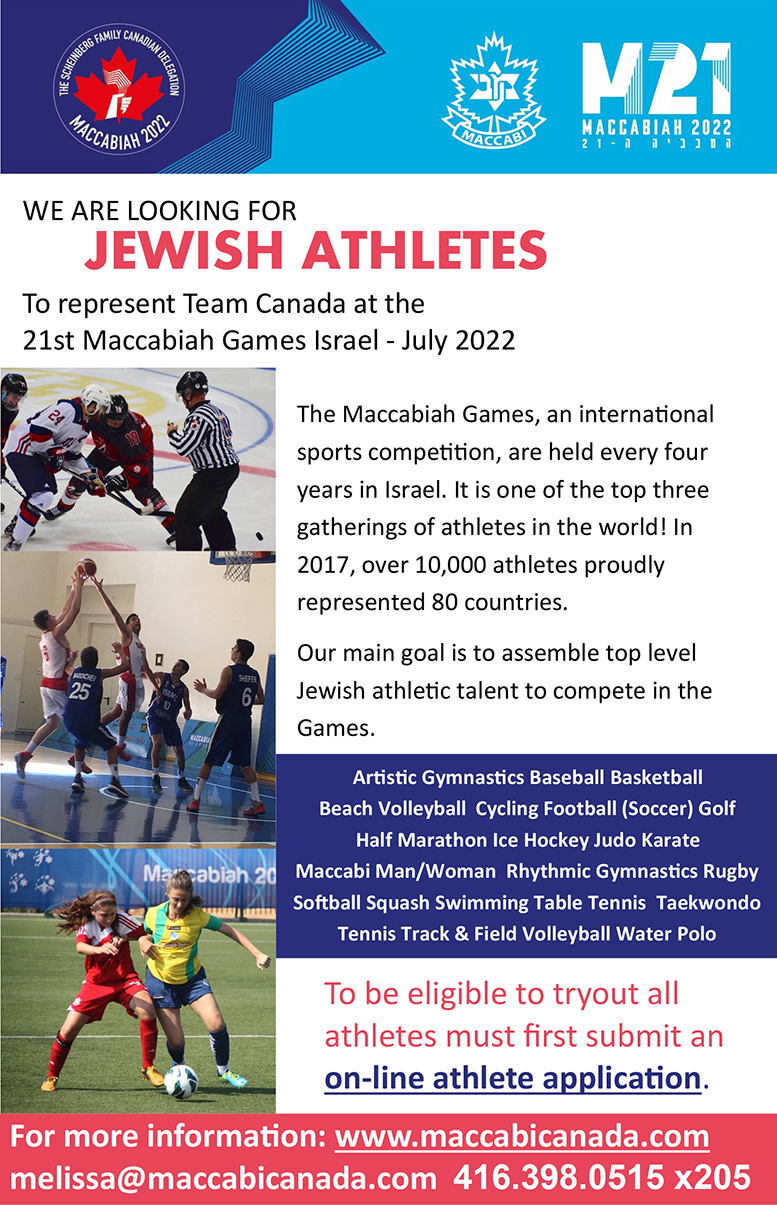 After relocating to Vancouver shortly after high school, he has been teaching and coaching sports at King David High School and will return to Israel for the 2022 games as the Team Manager/Assistant Coach for the Boys U16 basketball team.
Thrilled about the opportunity to represent Canada and the Jewish community as a coach, Matt is excited to see the Jewish basketball talent across the country. About the opportunity, Matt says he loves the challenge of finding Jewish athletes who may not be connected to the Jewish community and bringing them into the fold. Matt also looks to tackle one of the other barriers for the Maccabiah Games which is team-specific fundraising.
"The Maccabiah Games are an expensive endeavour, which can be an automatic barrier for some families, but my goal is to rally community members so we can let any Jewish youth know the community is here to support them regardless of their socio-economic status," said Dichter.
To ease the financial commitment, the Krell family stepped up to this cause in 2010 when they started the Krell Family Maccabi Endowment Fund, housed at the Jewish Community Foundation of Calgary. The fund supports local Jewish athletes in need of sponsorship.
About the Maccabiah Games, Barb Krell noted that "As a family, The Maccabiah Games have provided us with unique opportunities to represent Canada, connect with fellow Jews from around the world, express our solidarity with Israel and experience the thrill of competitive sport." The goal of the endowment fund is to give this opportunity back to others.
Matt will also be continuing his team's fundraising efforts with events in Vancouver and assisting selected athletes with fundraisers in their home cities.
Elite athletes of any age group or sport can email Matt Dichter at: maccabiahcanada@gmail.com
or Jordan Balaban at: Jordan@greengatepower.com
For information to the Krell Family Maccabi Endowment Fund email: info@jcfc.ca
General information about Maccabi Canada or the Maccabiah Games can be found at www.maccabicanada.com
We wish Jordan, Matt and all the other competitors representing Canada the best of luck in their training, fundraising, and competition!
Albertans from the 2017 games:
Samuel Eisenberg – Basketball – Youth Men
Taylor Mennie – Softball – Open Women
Maya Sohn – Softball – Open Women
Jordan Balaban – Basketball – Open Men
Andrew Camilleri – Water Polo – Open Men
Josh Inhaber – Half Marathon and 10K – Open Men
Zack Lister – Tennis – Open Men (singles and doubles)
Alex Molotsky – Tennis – Open Men (singles and doubles)
Cory Gelmon – Hockey – Masters Men
Eddy Lang – Swimming – Master Men
Nathalie Lussier – Swimming – Masters Women
Training Staff: Alana Dewar (Lethbridge) and Timothy Takahshi (Lethbridge)