Review by Deborah Shatz
(EJNews) – The Daughter Who Got Away is a multi-layered coming of age story by author Leora Freedman to be released  in March 2016 by Yotzeret Publishing, a small Jewish publishing house based in St. Paul Minnesota. It's an enjoyable read that explores family bonds, mother daughter relationships and many of the nuances of small Jewish communities.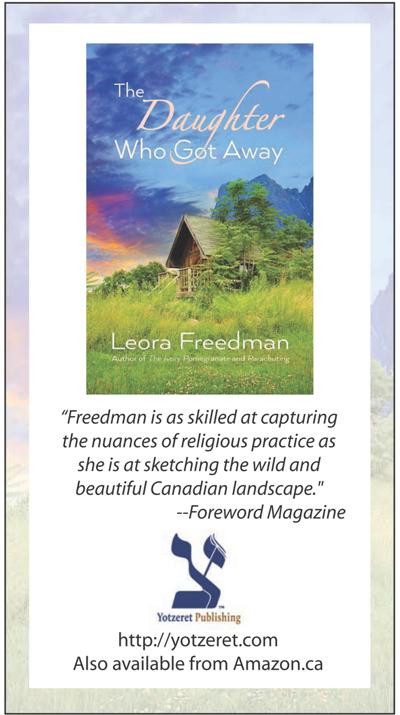 Set in the 1980s the central characters of the book are Celia Rosenbloom, a 70 year old, New York Jewish artist and her daughter Sharon who escapes her family's New York artsy lifestyle by moving to the bush in the interior of British Columbia.
Celia laments her daughter's self imposed exile and the rest of the family paints her with an irresponsible and disrespectful brush and dissuades Celia from going to visit her in the middle of nowhere.  However when Celia experiences a crisis in her own life, she makes the trip to visit her daughter and embarks on a life altering journey of her own.
During her visit to BC, Celia reflects on her own Jewish roots and experiences and reflects on her heritage ranging from czarist Russia to family time in Palestine in the 1930s. She forges new friendships in the mountains while reminiscing about her youthful escapades in Israel. She confronts her own demons and insecurities and emerges stronger and ready to begin a new chapter in her life.
In The Daughter Who Got Away, the author skillfully takes us on a compelling journey of self-discovery and as the story unfolds, both mother and daughter evolve and their once estranged relationship emerges strengthened and healed.
For those of us living in a small Jewish community, the story takes on a special significance. We understand Celia's trepidation about Sharon's move to the bush and can identify with her feeling that Sharon has abandoned all things Jewish in her new lifestyle. But when circumstances lead Celia to go visit Sharon, we see that her Jewish values remain intact and that she is inextricably tied to her Jewish heritage and sense of community.  Both Celia and Sharon come to realize that small Jewish communities – though quirky and unique in their observances and politics – are none-the-less strong in heart, spirit and togetherness.
Born in New York and raised in Connecticut, Freedman completed a Masters Degree in Fiction writing at University of Arizona where she won a Henfield Foundation/ Transatlantic Review Fiction Award, and first place in the Robert Downs Fiction Contest. She is a citizen of the US, Canada and Israel and has spent much time in each of these countries. Her work experience includes a decade of teaching English at the Hebrew University in Jerusalem and Bar-Ilan University. For the past 10 years she has worked as an English instructor and consultant at the University of Toronto.
The Daughter Who Got Away is Freedman's third novel. The first, The Ivory Pomegranate, received three publication awards, including an award from the President of the State of Israel. The novel focuses on university students who confront their own Jewish identities amidst an anti-Semitic uprising on campus. The second, Parachuting, explores the world of suburban Jews in the 1970s through the lives of several high school students caught up in both the counterculture and a deep dramatic involvement with the Israelis living in their community.
Freedman also maintains an online blog where she has posted a collection of her short stories.
Yotzeret Publishing is a family owned publishing house based in St. Paul Minnesota dedicated to publishing books that reflect the diversity of Jews and Jewish practice. Their books are accessible to readers of all backgrounds and beliefs and their mission is to publish books written from a Jewish perspective, with a specialty in those written by women authors. In this way they are facilitating the representation of women in Jewish literature. For more information visit yotzeret.com.