(Israel21) – In the early 1980s, Israel's Mossad spy agency opened a fake diving resort in Sudan for the sole purpose of spiriting Ethiopian Jews to safety. Yola Reitman played the role of her life impersonating an employee of the diving resort while she was actually playing an important role in rescuing Ethiopian Jews to Israel.
Reitman will be in Edmonton on November 26 to describe this incredible mission at a special Edmonton Jewish National Fund event taking place at 7:30 pm at the Fantasyland Hotel.
Two decades ago, Israeli secret agents opened a diving resort on the Sudanese shores of the Red Sea, with the sole purpose of clandestinely rescuing Ethiopian Jews from Sudan and bringing them to safety in Israel.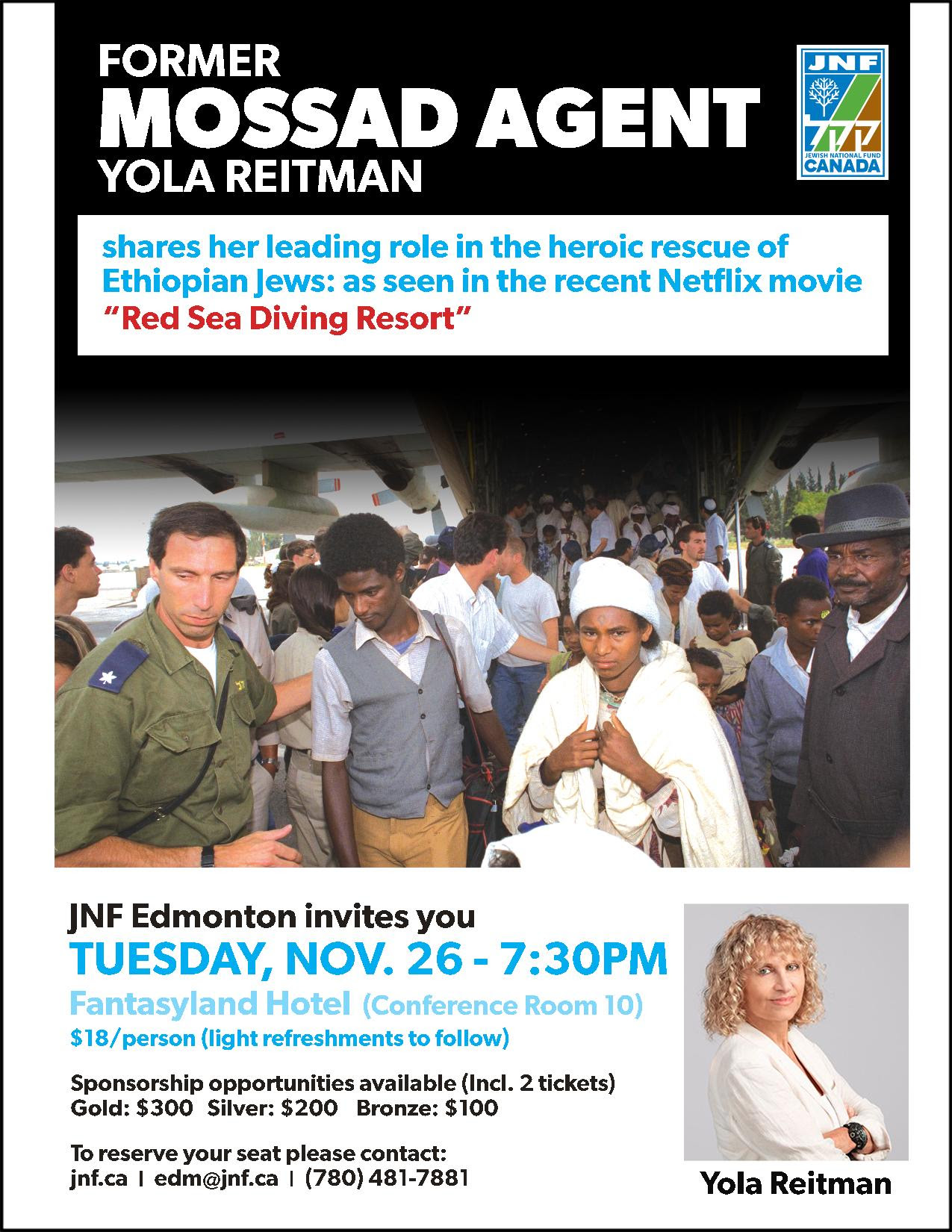 Over several years the resort was in operation, about 6,000 Jewish refugees who had fled persecution, war and famine in Ethiopia were spirited by boat and plane to a new life in Israel.
If you think this sounds like a feature film, you're right.
A Netflix feature film titled "The Red Sea Diving Resort," released this summer, brings this fabulous act of courageous heroism to the silver screen. The dramatized story was written and directed by Emmy Award-winning Israeli director Gideon Raff, the man behind TV hits such as "Homeland" and "Tyrant."
"The Red Sea Diving Resort" stars Chris Evans, Haley Bennett, Michael K. William, Michiel Huisman, Alessandro Nivola, Greg Kinnear and Ben Kingsley.
The real-life mission began around 1978 and was codenamed "Operation Brothers." Undercover Mossad agents posing as a European tourist company rented an abandoned resort village in Sudan, an enemy country to Israel.
Even though it was a front for the rescue it did accept actual tourists through a shell company in Switzerland so that the Sudanese authorities wouldn't get suspicious. Among those guests were Saudi Arabian hawk-hunters, diplomats stationed in Khartoum, and British commandos.
To lend an air of authenticity, the agents brought in Israeli diving experts including Yola Reitman, an El Al flight attendant and deep-sea diver who spoke fluent German.
"It's one of those stories that are hard to believe," Gad Shimron, one of the Mossad agents who operated the resort, told TheWrap.  "It was the only time when Europeans had extracted Africans from the continent, not to be enslaved but to be freed."
Shimron wrote about his experience in a 2007 book, Mossad Exodus.
Whether you've seen the movie or read the book, don't miss this rare opportunity to hear about "Operation Brothers" firsthand from Yola Reitman.
Tickets are just $18 per person and light refreshments will be served. To reserve, contact edm@jnf.ca, call 780-481-7881 or visit jnf.ca.
This article includes files from Israel21.