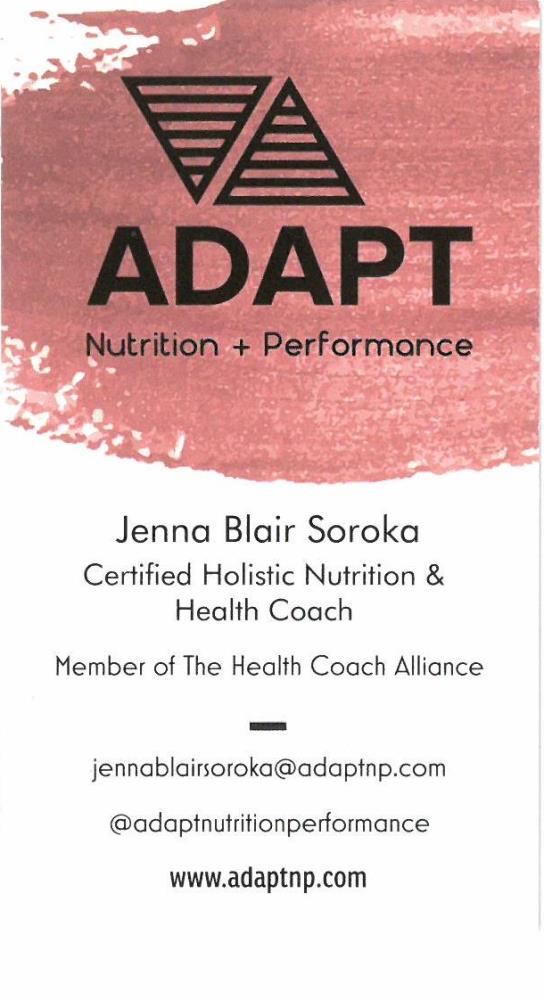 (EJNews) – Jenna Soroka graduated from the Grade 9 Class of 2009 at Talmud Torah School in Edmonton, having attended since she was two years of age in the pre-school program.
Following her graduation from Ross Sheppard High School, Jenna studied at NAIT (Northern Alberta Institute of Technology) to become an Architectural Technologist and worked for the engineering firm, Stantec. During her time at Stantec, Jenna enrolled in an online-accredited program to become a Certified Holistic Nutrition and Health Coach and a Member of the Health Coach Alliance. A year and a half later, she left Stantec to open her business, ADAPT Nutrition + Performance.
"It's easy to look at people five, ten, twenty years older than you and think they have their lives figured out," notes Jenna. "I am finally starting to learn that isn't the case. In reality, everyone is going through their own struggles and feels confused, frustrated, and stuck."
Jenna understands how overwhelming this stuck feeling can be and its impact on our ability to move forward in life.
"When it comes to health and nutrition," she explains, "people get caught up in where they want to be but can become overwhelmed by the process."
She provides free educational content on her Instagram page: @adaptnutritionperformance
She also runs a Facebook support group, ADAPT Community, where she posts motivational quotes daily, recipe ideas, podcast recommendations, and nutrition tips & tricks. Her weekly newsletter has similar content but provides another platform to reach more women.
Jenna is also passionate about educating teens. Therefore, she is excited to get into schools to talk about basic nutrition and mindset roadblocks so they can grow up nourishing their bodies.
Through one-on-coaching she helps women, who are tired of yo-yo dieting, find freedom with food and implement healthy habits that last.
 For more information, contact Jenna at jennablairsoroka@adaptnp.com or visit her on Facebook.