(EJNews) – Smiles and laughter will be served following a fabulous gourmet dinner at the Beth Israel's 110th Anniversary Celebration, September 11, 2016.
Announced as the featured stand-up comedy entertainers are headliner Wendy Liebman, winner of the Best Female Stand-up by the American Comedy Awards, and Andrew Grose, well known Edmonton and Canadian comedy icon, and producer of the Edmonton International Comedy Festival.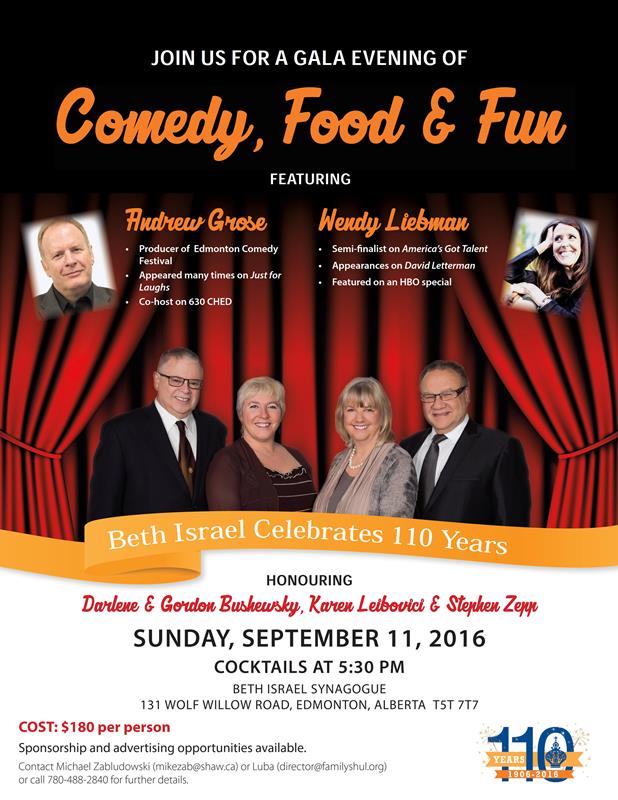 Wendy has performed on Carson, Letterman, Leno, Fallon, Kimmel, Ferguson, and Hollywood Squares, and in clubs throughout North America. Not one to rest on her laurels, she has done specials for HBO, Comedy Central and Showtime. She lives in Los Angeles with her family and funny rescue dog, and produces "Locally Grown Comedy" at The E Spot Lounge in Studio City, a weekly show featuring national headliners.
Wendy, named the comedians spokesperson for Rx Laughter, is involved in the research project aimed at finding the actual physical links between humor and healing, laughter and health. She currently performs at clubs, corporations and benefits throughout the United States and Canada. Since 2007 Wendy has produced the annual Share-A-Laugh in Boston to benefit local charity Community Works.
Andrew Grose is well known in the Edmonton community, broadcasting every weekday from 9 until noon on 630 CHED where he co-hosts "The Tencer and Grose Show."
In more than 20 years as a stand-up comic, Andrew Grose has pretty much done it all. In addition to live performances in comedy clubs, theatres and festivals he has made his mark on national television in Canada, appearing in the Winnipeg Comedy Festival, The Halifax Comedy Festival and the Just For Laughs Comedy Festival. In 2003 Andrew entertained our Canadian military overseas in Afghanistan and The United Arab Emirates.
Originally from Charlottetown, P.E.I., Andrew makes his home in Edmonton where he organized the Laughing For Cancer Benefit which raised over $1,000,000 for cancer research and treatment in Alberta.
His unique and hilarious observations of life as a husband and father have landed Grose headline spots across North America.
Asked what the one object he would want to have with him if he were marooned on an island, Grose quipped, "A boat."
Come join the hilarity and the fun when these two laugh-makers and the Beth Israel Synagogue celebrate 110 fulfilling years of serving the Edmonton Jewish Community, September 11.
For further information, tickets and sponsorships, please contact the shul office, 780 488-2840 or Mike Zabludowski. Everyone is welcome.
Click here for related articles on the Gala event.