By Heather Andrews
(AJNews) – Womanition features women in business to create collaboration and connection with our community. Through our magazine of 17+ years, Womanition Magazine has consistently showcased thousands of female entrepreneurs in a professional manner and classic style to elevate their business profiles. Its purpose is to connect the world to these successful women who are ready and willing to help people with their every need.
With featuring our amazing women in business, they are stepping into visibility. A favorite saying of ours is "You can't be a success and a secret at the same time."
If you want a different life, you have to do things differently. Making that choice will change the trajectory of your life. By making the decision, 9 years ago to attend a Womanition Luncheon, I found a community of like-minded women. Womanition offered hope. After being restructured from my Healthcare Management role, my identity changed. Womanition welcomed me with open arms. Dorothy Briggs, the founder, is a heartfelt businesswoman who created Womanition for Women in Process and transition; A home to find empowerment, mentorship and leadership. Lives are forever changed here by learning from others who have gone before them.
Womanition helps women step into their brilliance. We support a nonprofit organization called ACES founded by Dorothy Briggs. Womanition helped create the success, which led me to purchasing the license for Alberta South, Calgary and area. If you are reading this, you will understand that by stepping into visibility, a network and mentorship, your life can change. Women are powerful. When accompanied with support, community, and growth, this equals magical empowerment for us all. We are always in the process of learning and evolving and that is why our six pillars are so important.
Our six-pillars support a women's journey to empowerment.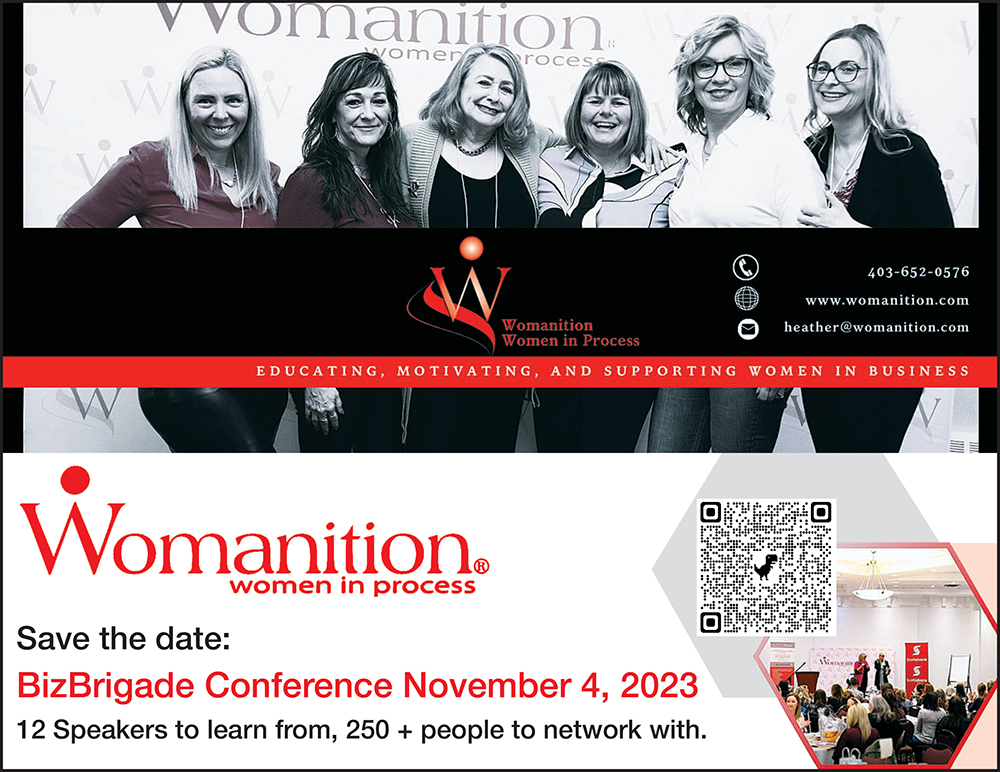 Womanition Magazine: It is a tangible, first class publication that is pertinent and essential to doing business in today's world despite being in a digital dominated world.
Womanition Biz Brigade Conferences: Networking is a key component to building your business. By being featured in the magazine, a steppingstone into the world of visibility, you gain opportunities to speak at our conferences. When people hear your story, your wisdom, it connects with them so they can grow from your experiences, that is where the beautiful empowerment journey begins. We host four conferences per year, two in Edmonton and two in Calgary. Our next one in Calgary will be held on November 4, 2023.
Womanition Connect monthly luncheons: Surrounding yourself with like-minded women will help your mindset stay empowered and your business grow.
Womanition Mentorship: What better place to learn from each other and women who have experienced obstacles, wisdom and knowledge. They openly share this with you as their protégé.
SuPEARLative Awards are a celebration of Women's accomplishments. We celebrate the following categories: New Citizen, New Business Venture, Health & Wellness, Special Skills, Philanthropy, Education & Mentorship, Spirit of Youth, Professional Trade and the climax is the Female Entrepreneur of the Year Award! We thank our sponsors and corporations that support this event.
It takes a village to grow and a dream to create but it takes tenacity to show up to that dream each day. That is empowerment.
Womanition has borne witness to help women in transition to learn, grow, and launch successful businesses, friendship and support. It's not a business here because we live, laugh and have fun along the way. The soulful women who have grown in our community share their stories of personal and professional success. It is heart warming and inspiring to see what we can do together.
We are a 100% collaboration of like-minded people who are working together to build the best world possible. The greatest women's empowerment community is found here.
We are excited to invite you to our November 4, 2023 Bizbrigade in Calgary to begin your journey to your empowered vision.
Heather Andrews is Alberta South License Holder of Womanition.