by AJNews Staff
(AJNews) – On Sunday August 20, Supporters of Canadian Hadassah-WIZO (CHW) in Calgary will be walking with a purpose – to support women and children who are victims of domestic violence in Canada and Israel.
Walkers will gather at South Glenmore Park on 24 Street SW at 10 am to show their support and raise funds for victims of domestic violence. There is an $18 per person minimum and its free for kids under 18. Strollers and dogs are welcome and refreshments will be available for every walker. Click here to register in advance.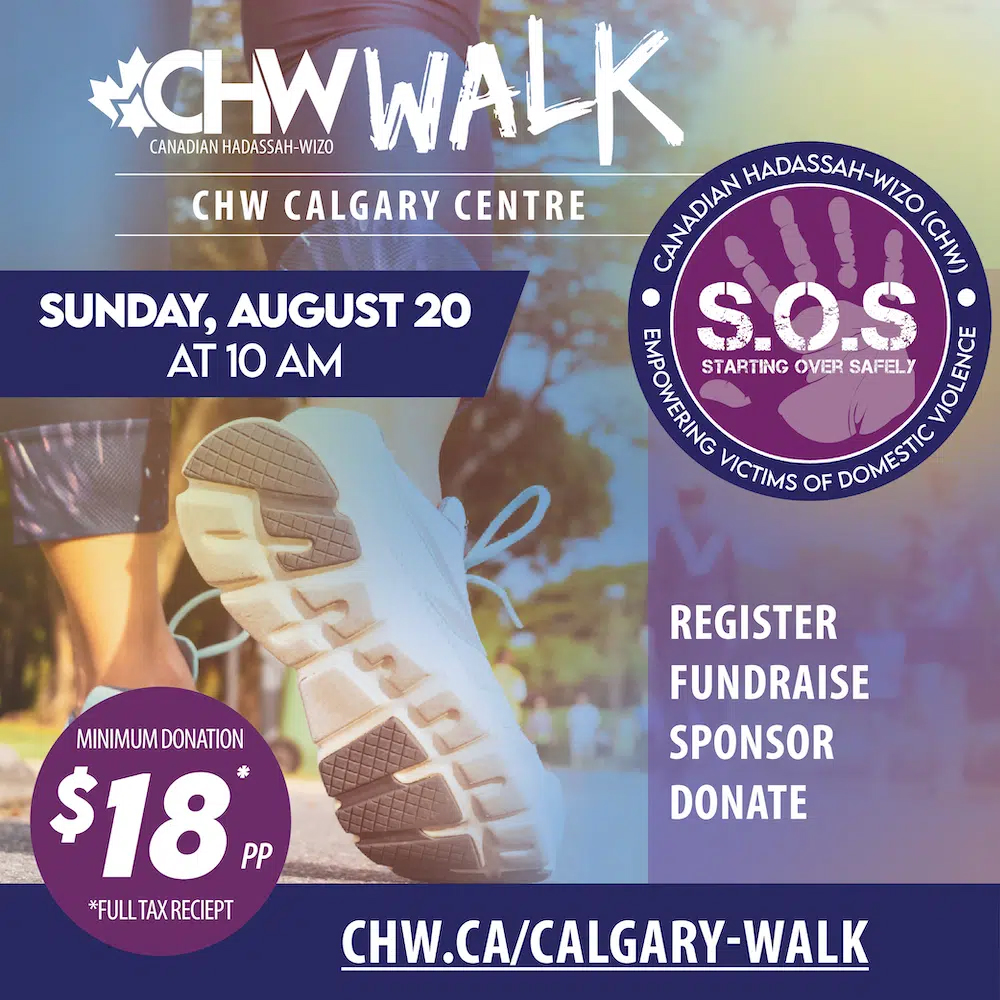 The Walk is part of CHW's third annual S.O.S – Starting Over Safely summer campaign, aimed at empowering victims of domestic violence in Canada and Israel. Building upon the success of last year's campaign, CHW has expanded its support for Franny's Fund ensuring an availability of funding in Vancouver, Calgary, Ottawa, Montreal, and Toronto. Franny's Fund was created in Calgary to fill gaps for urgent needs like therapeutic counselling and legal support for women and their children who are navigating the criminal justice system.
This year's ambassador for the S.O.S – Starting Over Safely summer campaign is Karen Gosbee, a Calgary resident and domestic abuse survivor. She is a mental health advocate who has shared her lived experiences to empower others and raise awareness of the crippling effects of violence at the hands of an intimate partner.
The theme of the S.O.S. Campaign is "We believe that everyone deserves to live a life free from fear and violence."
Karen Gosbee is living proof that domestic violence knows no boundaries. It affects women of all ages, races, and backgrounds. It hides behind closed doors, leaving victims trapped in silence and isolation. CHW is helping to break this cycle by shedding light on the issue and offering help to women and their children starting over.
The aim of the S.O.S. campaign to raise awareness, educate communities, and provide resources for survivors. It's crucial to understand that abuse isn't always visible. It may be disguised by smiles, hidden behind a brave face, or buried beneath the shame and guilt carried by victim.
In Canada, where domestic violence remains a critical issue, one woman is killed in a violent act every 48 hours. The spike in domestic violence that began during the pandemic is not diminishing and instead continues to increase. In Canada, it has increased by 27% since 2019. Similarly, Israel has experienced a concerning escalation, with a 50% increase in femicide in 2022. Tragically, 17 women have lost their lives to domestic violence in Israel in the first six months of this year.
S.O.S – Starting Over Safely focuses on three campaign priorities: Franny's Fund in Canada, WIZO programs, and the Michal Sela Forum in Israel. The campaign goals include empowering at-risk women and children to break the cycle of violence, access to critical resources, provision of essentials, opportunities for economic independence, and the establishment of a supportive network for women in similar circumstances. Additionally, the campaign aims to fund specially trained canine protection and respite summer camp experiences for at-risk youth.
Lisa Colt-Kotler, CHW CEO, expressed, "CHW firmly believes in the right of every individual to achieve their full potential while living in safety and security. Together, we have the power to empower."
To support the S.O.S – Starting Over Safely 2023 campaign, there are several events being held across the country in Calgary as well as in Montreal and Vancouver. On Sunday, September 10, you can empower victims of domestic violence by supporting the CHW National Garage Sale held in Calgary at Beth Tzedec from 10 am to 4 pm. Contact Sara Brodsky at
And most importantly, on Tuesday, August 22, CHW will host a 27-hour crowdfunding campaign.
The fundraising target for the crowdfunding campaign is $400,000, with all donated funds being matched three times by a dedicated group of donors known as the "Matching Heroes." The crowdfunding day begins online at 12 PM ET on Tuesday, August 22, 2023, at www.chwsos.ca.
To contribute to the campaign or learn more about CHW's initiatives, visit www.chwsos.ca