(AJNews) – In 2021 Tzimmes, Vancouver's beloved Jewish Music Ensemble turns 35. Founded in Victoria, BC, in 1986 by musical director Moshe Denburg, its musical mandate has always been to include the many strands of Jewish musical tradition, everything from the Ashkenazi (Yiddish and Klezmer), to the Sephardi (Ladino and Mediterranean), to the Mizrahi (Near Eastern), to more contemporary and secular expression.
The Road Never Travelled continues this Tzimmes tradition, and expands upon it. Denburg, as many in the Canadian scene may know, is also a classical composer and the founder of the Vancouver Inter-Cultural Orchestra (VICO), and some of the tracks here reflect his lifelong intercultural interests.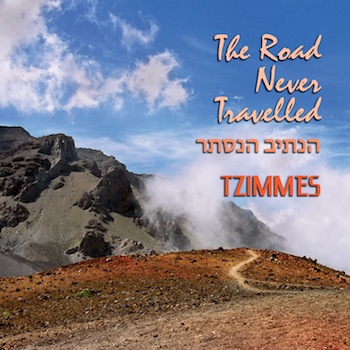 The album is a double disc. Disc 1, The Road Never Travelled, presents more secular pieces, while Disc 2, Liturgy Lane, offers up a healthy diet of original music based on sacred texts. Some of the songs on disc one, including the title track, are English pop/folk/world repertoire, and indeed the album is not entirely Jewish music in Jewish languages. The entire double disc collection of 18 tracks has a recording and mixing history that spans a period of 28 years, so it is in part a loving glance at the past, and in part a confident vision of the future.
It has been 23 years since the last Tzimmes release, KlezMyriad, but the ensemble has not been idle. From 1998 until 2005, the group still did some concerts and some larger scale projects as well. It is impossible to encapsulate 23 years into a cogent statement of a paragraph or two, so suffice it to say that Tzimmes has gone through some transformations, as is usual and normal in the profession; and yet, it continues to be a family of musicians and colleagues, bound together by a common musical purpose.
The Road Never Travelled features many of the Tzimmes members of the past, and introduces several other excellent musicians who have joined forces over the past 20 years to become the Tzimmes of today. The ensemble on the recording is comprised of the following members:
Moshe Denburg – voice, guitar, musical director
Amy Stephen – voice, accordion, whistle, lever harp
Fabiana Katz – voice
Yona Bar-Sever – lead guitar, voice, electric bass
Saul Berson – clarinet, flute, saxophone
Tim Stacey – bass, electric bass
Phil Belanger – drums
Featuring:
Itamar Erez – keyboards
Joseph "Pepe" Danza – bansuri
Yuji Nakagawa – sarangi
Cameron Wilson – violin
Finn Manniche – cello
Russell Wallace – vocal chanting
Myrna Rabinowitz – voice
Naomi Taussig – voice
Debby Fenson – voice
Naomi Arney – voice
Adel Awad – daf (middle eastern frame drum)
Julian Siegel – accordion, synth bass
Moshe says of The Road Never Travelled, "When I turned 70 in 2019, I felt a need to complete a variety of musical projects that had been on the back burner for a while, including tracks that had been laid down in 2005-06, and songs I had been working on for many years. The songs are all original compositions and arrangements, and some of them hark back to the very beginning of my career. I decided to gather all these pieces of my musical life, together with the musicians I have worked with over many years, and bring the whole to fruition in a compilation of Jewish and secular music. The Road Never Travelled is the result of these dreams and schemes."