by Kathryn Valentine
(Calgary) – Perhaps you've heard of Valentine Volvo, a pillar in the automotive landscape, and for many years the sole authorized Volvo dealership in Calgary. The Valentine Family has a long history in our city, but in the name of efficiency let's just touch on the highlights…
In 1945 Bert Valentine and Ted Halford, World War Veterans, returned home to their families in search of new beginnings. In 1946, the friends opened Halford and Valentine, selling the Austin, Austin Healey, MG, and Studebaker lines. The hard-working family men were committed to building the business, and to community building.
In the early years, Halford and Valentine, like any automotive enterprise, was a male dominated bastion. Men sold the cars, worked on the cars, purchased the cars, and drove the cars. The late '40s in Canada were a time of great excitement. Urban families seeking modernization were newly willing to pay large sums of money for convenience. At the top of wish lists were washing machines, refrigerators, and automobiles. Canada's (male driven) love affair with cars had begun.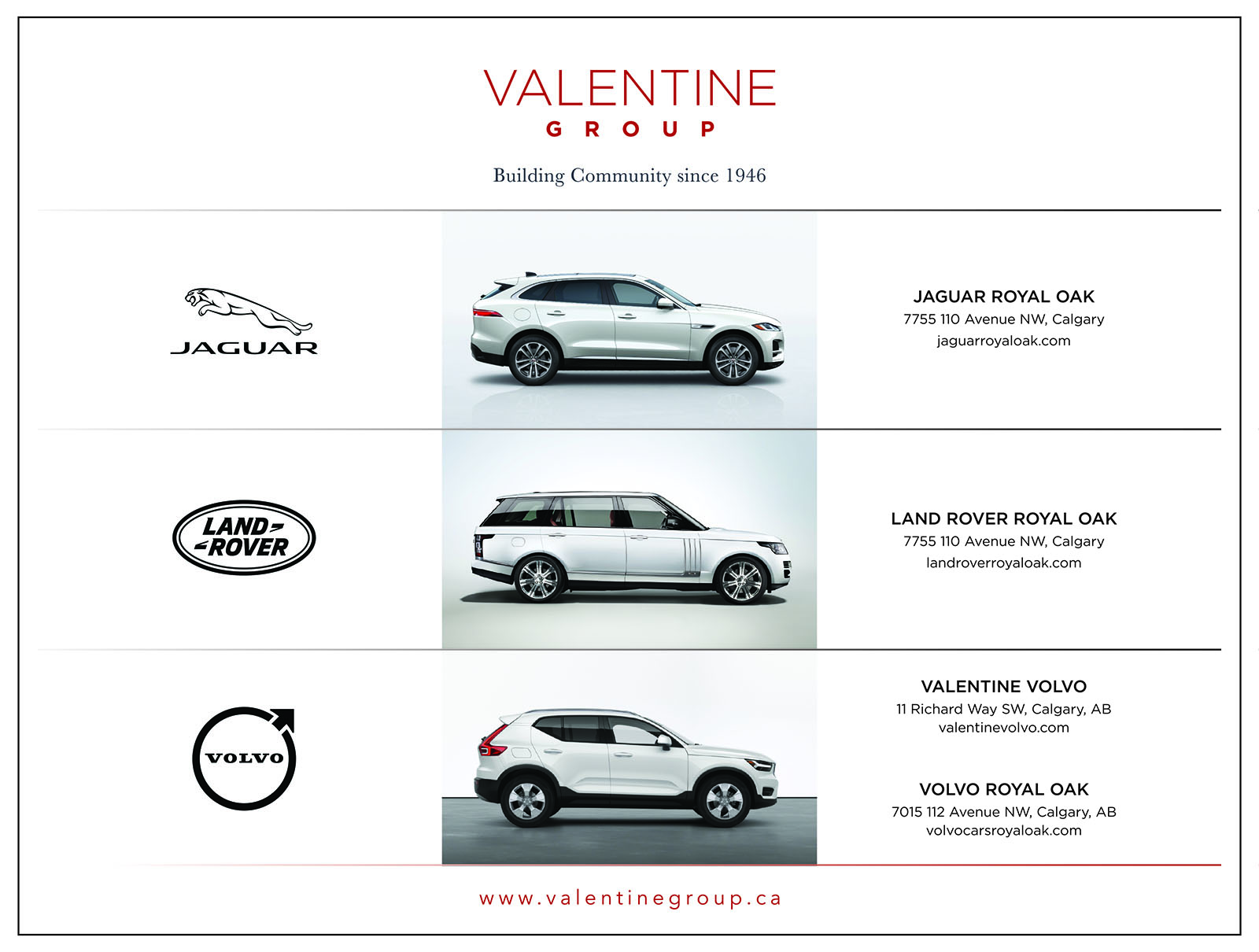 Alberta's oil discoveries led to economic prosperity, and Calgary became home to many large companies. By the '60s, Calgary was the fastest growing city in Canada, with most of the residential growth taking place in the suburbs. Early sprawl and widespread affluence meant that Calgary was on its way to becoming a city reliant on the automobile.
In 1967 Halford and Valentine began to sell Volvos, drawn to the brand by its commitment to safety. In 1968 Bert's son, Ted, took over as company president and worked long hours selling. Soon, Volvos gleamed on broad suburban driveways throughout the city. Cars were the new status symbol, and Calgarians liked status.
When Ted took the reins of the dealership in '68, he had been married to Shirley for a decade. Shirley, like Ted, was born and raised in Alberta. Like Ted, she was a university graduate. Like Ted, she was committed to family. The couple spent the years between '58 and '69 growing both business and family. By 1970, Shirley was deftly juggling the needs of six children, and Ted's business ambitions were being sustained by the many mouths that required feeding. It wasn't long before Shirley wanted more. No, not more kids … just, "more".
You see, throughout her life, wherever Shirley went, she led. She studied in a one room schoolhouse, then became the teacher. A scholarship took her state side to study nursing, then she returned to teach nursing. She volunteered for organizations, and inevitably ran those same organizations. She ran for school board, then became Board Chair. She was a force.
Ted supported her endeavours wholeheartedly. Shirley stood by his side as he accepted national dealer awards, and Ted sat in the front row as Shirley stood at the podium to address any number of varied audiences. They were each other's complement, at work, at home, and in volunteerism. If there was a power imbalance, it was modest – but skewed in Shirley's favour. Ted wasn't afraid to step aside and let a woman take charge. He grew up watching his mother manage the household while her husband fought in WWI and WWII – he knew what women were capable of. Shirley just served as a reminder that women belonged in leadership roles.
Ted's four eldest children were boys, and one by one they joined their father at work. When it was time, his daughters did too – washing cars, delivering parts, counting inventory, cleaning, managing the lot, reconciling accounts. Everyone got their hands dirty and contributed, taking advantage of the training ground provided. Ted had long known what women were capable of, and that diversity was a good business strategy. Over time he applied this knowledge to the workplace, spurred on initially by Shirley and now by his daughters, who protested at his insistence that they learn typing and pleaded to work in the wash bay.
Today, The Valentine Group has grown beyond Valentine Volvo (Halford and Valentine) to include Jaguar Royal Oak, Land Rover Royal Oak, and Volvo Cars Royal Oak. In 2021 the Valentine Family marked 75 years of business in Calgary. Today the Valentine name is among the most respected and reputable in the automotive industry in Canada.
People are the company's greatest asset. Many team members have been with the company more than a decade, some 30 years or more! The Valentine Group is an equal opportunity employer that encourages growth, training, and development through continuous learning. There are many opportunities for advancement within the organization and women are now being promoted at an unprecedented rate.
The automotive industry has changed over the years. Cars are no longer an exclusively male domain. In fact, in North America, vehicle buying habits have shifted radically. Today women sustain the automotive industry. More than 60 percent of new car purchases are made by women, and over 65 percent of vehicle service is managed by female clients. More importantly, women influence over 80 percent of vehicle purchases.
It only makes sense then, to have women influencing every aspect of The Valentine Group's operations, filling positions like Controller, Technician, Service Advisor, Sales Professional, and Delivery Expert. The Valentine Group is proud to have women in leadership roles in Accounting, the Business Office, Customer Service, Fixed Operations, Marketing, and Senior Management.
It is undeniable that since 1946, women have played a critical part in The Valentine Group. It is only recently, however, that women leaders within the organization have been implementing systemic changes, influencing decisions, and impacting bottom lines. It is now obvious that this is the evolution of the industry. An increasing number of women are finding their way into the sector to meet the needs of the female clientele who have taken ownership of the space. Though it is not possible to attribute the automotive gender inversion to a singular force, within The Valentine Group some believe, it skews slightly in Shirley's favour.