(EJNews) – Winter is a great time to work on honing a "summer body" if you have a special event coming up or even if you just aren't pleased with the extra weight you see in your reflection when you look in the mirror. Finding a safe and effective way to get rid of stubborn body fat is, understandably, a top priority for a great number of people.
CoolSculpting is the ultimate solution to dealing with excessive body fat that can't be resolved by diet or work out and the procedure is now available at Urban Retreat Body and Skincare Centre conveniently nestled in the heart of Wolf Willow Shopping Centre in West Edmonton.
"CoolSculpting is not a weight loss system," explained Urban Retreat owner and director Anita Prysko.  Rather, it's a contouring tool used to diminish pockets of fat that don't go away no matter how much someone diets and exercises. It works by freezing the fat cells in the body. Freezing the cell destroys it, and your body naturally gets rid of it afterwards.
"It is all about helping our customers feel the best they can about themselves."
Anita brought this service in to Urban Retreat after having received it once herself.  Not only did she 100% believe in the results she got, she was able to go to the gym that same day. She simply had to share the service with her many loyal customers.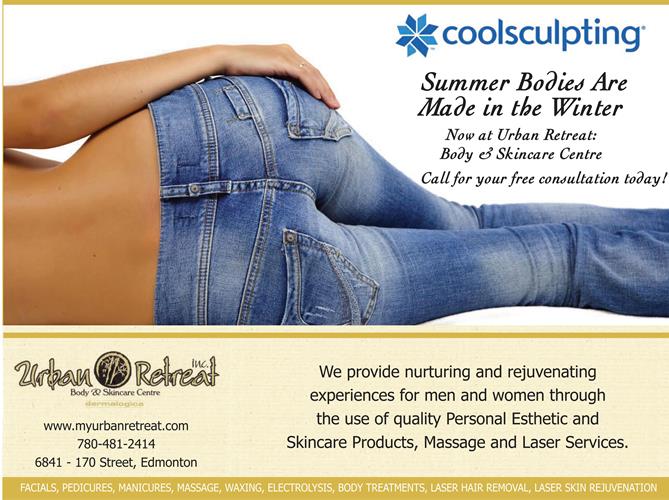 Urban Retreat is a day spa that offers a little piece of heaven in Edmonton as a getaway from the hectic realities of daily life or a haven to prepare for a special event. It measures over 3000 square feet and features spa services and spa packages that include laser hair removal treatments, manicure & pedicure nail treatments, massage therapy, facials, waxing, lashes & brows, microdermabrasion, body treatments, makeup application, sublative skin rejuvenation, botox & fillers and spa packages.
They also carry dermalogica and other skincare products. The full team of professionals includes estheticians, registered massage therapists and laser technicians.
"We are happy to be part of this wonderful Wolf Willow neighbourhood and welcome our beloved regular customers as well as first time visitors to our spa," notes Karen Petrovic, Director of Guest Services. "Urban Retreat prides itself on a high level of expertise in all services and all staff work together to achieve the very best experience for our clients."
Urban Retreat is the ideal place to go for skincare treatments as well as both relaxing and therapeutic massages. And it is highly acclaimed, having been named one of the Capital City's top three spas as recently as January 2017 and the recipient of the 2016 Top Choice Award of Excellence for Best Beauty Spa in Edmonton.
If you are looking for a spa experience with a group of friends or for a special occasion – look no further.  Well-located in Edmonton's west end, Urban Retreat Spa is easily accessible for all clients. The spa welcomes individuals for services and is also able to accommodate large parties for special occasions. The pedicure area has six shiatsu massage pedicure chairs with air jet tubs. The spa has a fabulous steam room available at your request and the lounge area is comfortable for serving food and drinks or just relaxing.
Come see for yourself," invited Anita. "If you are interested in learning more about what CoolSculpting or other procedures can do for you, give us a call. If your group, club or simply several friends want to enjoy some time with one another getting pampered, Urban Retreat would love to welcome you!  We look forward to showing you around our premises."
Urban Retreat is located at 6841 – 170 Street and is open Tuesdays through Fridays from 9 am – 9 pm and on Saturdays from 9 am to 5 pm. To book an appointment call 780-481-2414 or email urban-retreat@shaw.ca. For a complete menu of services visit myurbanretreat.com