by Maxine Fischbein
(AJNews) – As 2023 gets underway, the Calgary Jewish Federation Holocaust and Human Rights Remembrance and Education Department has some exciting news to share.
Shoah Week programming in April will include two public performances of the acclaimed one-woman show The Children of Willesden Lane with Grammy-nominated artist Mona Golabek, herself the daughter of Holocaust survivors.
"Set in Vienna in 1938 and London during the Blitzkrieg, The Children of Willesden Lane tells the story of Lisa Jura, a young Jewish pianist who is dreaming about her concert debut at the storied Musikverein concert hall. With the issuing of new ordinances under the Nazi regime, everything for Lisa changes, except for her love of music and the pursuit of her dream.
"Combining vivid storytelling and masterful performances of classics by Bach, Beethoven, and Rachmaninoff, The Children of Willesden Lane is a critically acclaimed show that illustrates how music can bring light and hope, even in the darkest of times."
Performances will take place on April 19 and 20 at 7:00pm at the Taylor Centre, Mount Royal University. Tickets are $35 per person (service fee and GST not included). Holocaust and Human Rights Remembrance and Education Co-Chairs Marnie Bondar and Dahlia Libin are encouraging members of the Jewish community to take advantage of an exclusive $30 early bird special and, most importantly, secure seats as tickets are expected to sell quickly.
Early bird tickets will be available for only five days, beginning on January 25. Go to http://tickets.mru.ca/orderticketsvenue.asp?p=1293 and use the promo code WILLESDENCJF.
Notably, Calgary and area junior and senior high school students will receive complimentary tickets and free bussing for special daytime performances generously sponsored by Al Osten and Buddy Victor in partnership with Calgary Jewish Federation and the KSW Calgary Holocaust Education and Commemoration Endowment Fund. Five hundred books will later be sent to schools for distribution to students and libraries.
"We are grateful to long-time volunteer Paula Lexier for her commitment to bringing this extraordinary event to Calgary and working with CJF and KSW to make the dream a reality," said Bondar.
Dara Horn: Author of People Love Dead Jews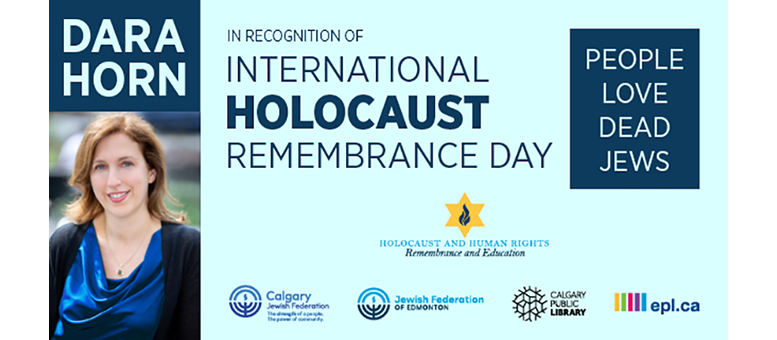 CJF and JFE have once again teamed up with the CPL and EPL to present the third annual Holocaust Education series which begins at 7 pm on Thursday, January 26 (the day before International Holocaust Remembrance Day, which this year falls on a Friday).
Albertans can look forward to a virtual evening with Dara Horn, author of the bestselling and award-winning book People Love Dead Jews: Reports from a Haunted Present.
The highly-anticipated online event features a conversation with Horn, whose book was shortlisted for the 2021 Kirkus Prize for non-fiction. This extraordinary literary event will be open to viewers throughout the province thanks to partnerships previously forged with Jewish Federation of Edmonton and the Edmonton Public Library.
As AJNews went to press, it was confirmed that Calgary Mayor Jyoti Gondek will participate with words of welcome. The moderator will be former Edmontonian Joey Tappenden, director of marketing and advancement at The Calgary Jewish Academy.
The Holocaust Education Series is once again provided free of charge thanks to the generous financial support of the Isadore and Florence Burstyn Memorial Fund, KSW Calgary Holocaust Education and Commemoration Endowment Fund, Viewpoint Foundation, and  donors to the Human Rights and Holocaust Education Fund at the Calgary Public Library Foundation.
Advance registration is required. Calgary Public Library cardholders can reserve on the CPL website, https://calgarylibrary.ca/events-and-programs/programs/people-love-dead-jews/, or go to https://www.jewishcalgary.org/ and follow the links.
Second Voices at Airdrie Library
International Holocaust Remembrance Day – which will be officially proclaimed by Calgary City Council on January 24 – will also be honoured at the Airdrie Library where Laura Olschewski will share the incredibly moving story of her grandmother, Holocaust survivor Eva Davis, OBM, in a Second Voices presentation.
In Edmonton, the High Level Bridge will be lit in yellow on January 26 to commemorate International Holocaust Remembrance Day.
Here to Tell Redux
Between January 5 and January 31, visitors to the Central Library can once again experience Here to Tell: Faces of Holocaust Survivors (launched this past spring at the Glenbow at the Edison).  A curated portion of the powerful photographic exhibit featuring local and Calgary-connected Holocaust Survivors (this time featuring the portraits and bios of 22 survivors) will be displayed. Visitors can also view the companion documentary film and purchase copies of the hardcover book, which features all 161 of the originally documented survivors.
"We have already booked tours for 400 Calgary and area students and their teachers," said Bondar.
Corporate and Community Presentations
Among other in-person and online presentations for local, national and even international organizations, Bondar and Libin will – for a second consecutive year – provide a virtual presentation for the Canada Energy Regulator during which Holocaust Survivor Ann Dancyger will share her family's story of tragedy and triumph with an audience of 150 and participate in a Q and A session.
"Over the past few years we have experienced a significant uptick in requests from Alberta businesses who want us to provide Holocaust and human rights programs for employees, especially around International Holocaust Remembrance Day," Libin said.
"When we pivoted to online programming due to COVID, there was an unforeseen benefit," added Bondar. "It extended our reach well beyond Calgary."
Auschwitz Album: A Virtual Tour by Yad Vashem
Mark your calendar now for this deeply emotional and insightful online tour by Yad Vashem, Israel's Holocaust Museum. This second program in the CJF / CPL Holocaust Education Series is set for Sunday, February 5 at 11:00am. This time, the emphasis will be on the Auschwitz death camp, depicting arrivals, selections, and life and death inside the camp.
Through an exploration of archives including photographs, letters from prisoners, the testimony of survivors, and a pre-recorded tour of Block 27 (the Jewish block), participants will gain a more thorough understanding of what it really meant to be a prisoner at Auschwitz.
Ben M Freeman: In-person in Edmonton at the Creative Hive
Jewish Federation of Edmonton is presenting Ben M. Freeman live and in-person on February 9, for a community conversation about reclaiming our Jewish story and developing Jewish pride as an antidote to antisemitism. Freeman is an internationally acclaimed Jewish leader, thinker, educator, and author. His works focus on Jewish identity and historical and contemporary Jew-Hate. Registration is open at jewishedmonton.org and a light dinner is included with the event. The event takes place at 5:30 pm at Creative Hive is located in Edmonton at 16819 111 Ave. NW.
Plunder: A Memoir of Family Property and Nazi Treasure
The third installment of the Federation/CPL Holocaust Education series will be an in-person talk at the Calgary Central Library on Tuesday, March 14 at 7:00pm by award-winning Canadian author Menachem Kaiser. His quirky and compelling book Plunder details Kaiser's journey to reclaim the property of his grandfather, a Holocaust survivor from Poland. Surprise discoveries, Nazi treasure hunters, a secret Nazi tunnel complex – and a host of other jaw-dropping details – will be shared by Kaiser during a 60 minute interview-style talk followed by a Q and A session. Following the presentation, Kaiser and Owls Nest Books will be available with Plunder – for sale and signing.
Spring Holocaust Education Symposium
Since its establishment in 1984, the Annual Holocaust Education Symposium has educated tens of thousands of Calgary and area high school students and their teachers. While organizers took the symposium online three years ago due to the COVID-19 pandemic, this year the spring symposium will once again take place in person at Mount Royal University. CJF will continue to partner with the Calgary Public Library to provide a virtual experience as well.
"Even though we are excited to return to an in-person format, we remain dedicated to meeting the needs of students and teachers who cannot join us in person, especially those living in rural areas throughout the province," said Dahlia Libin.
For more information about Holocaust and Human Rights Remembrance and Education programs go to www.jewishcalgary.org or email holocaustedu@jewishcalgary.org. To find out more about Here to Tell: Faces of Holocaust Survivors go to www.heretotell.com.
For information about Edmonton programs and events visit jewishedmonton,org or email magalj@edjfed.org.
Maxine Fischbein is a Local Journalism Initiative Reporter.