by Marina Segal
(AJNews) – Whenever Rabbi Nisan Andrews comes to work at House of Jacob-Mikveh Israel (HOJMI), the TV show theme music of Welcome Back, Kotter seems to come to mind.
Welcome back, your dreams were your ticket out. Welcome back, to that same old place that you laughed about.
Well, the names have all changed since you hung around. But those dreams have remained and they've turned around.
Who'd have thought they'd lead you (Who'd have thought they'd lead you) Back here where we need you? (Back here where we need you?)
Welcome back, welcome back, welcome back!
While the congregants of HOJMI aren't nearly as rambunctious as the lovable Sweathogs, they are very excited to have Rabbi Andrews as their new spiritual leader!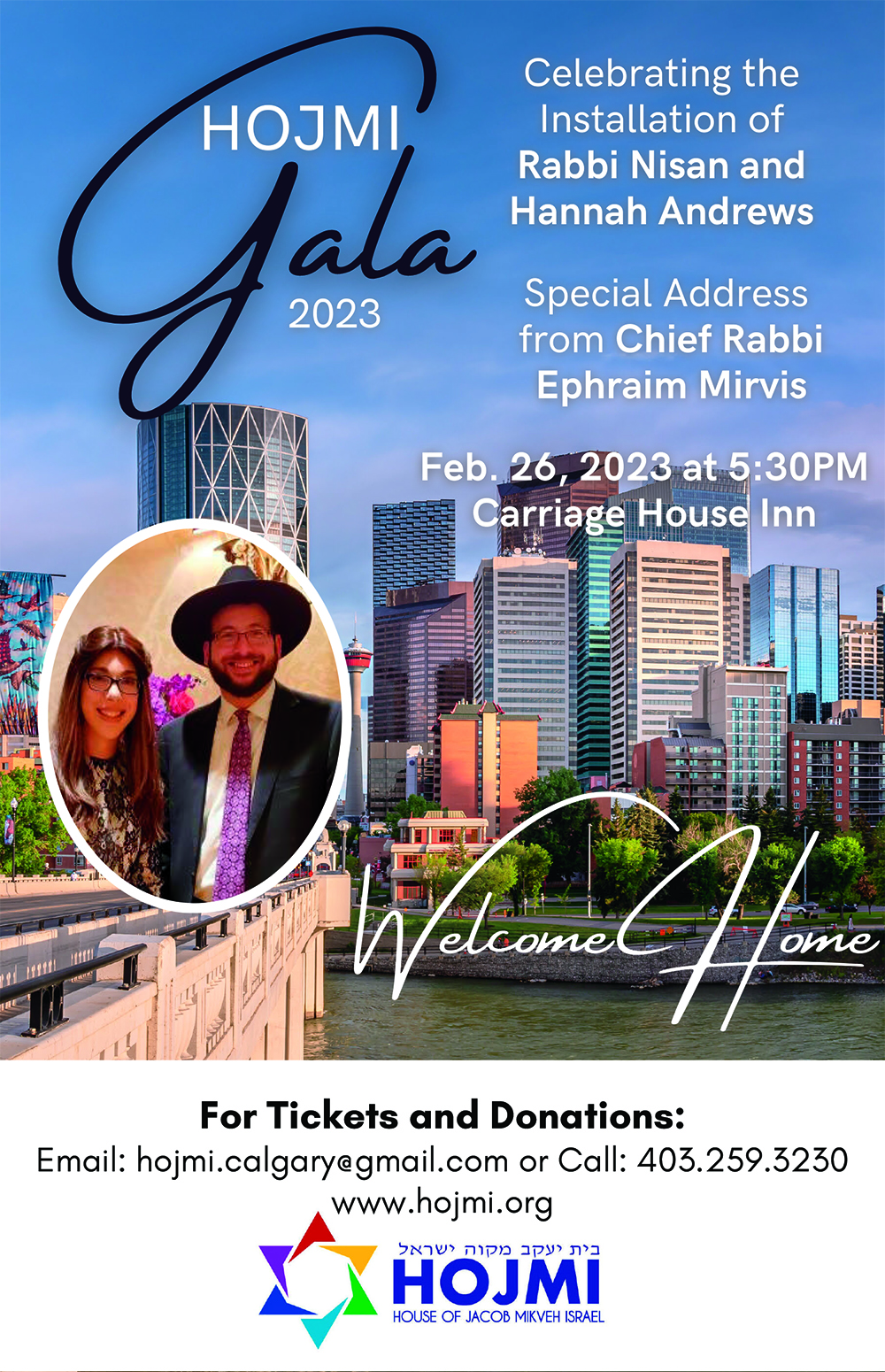 Born in Canada and raised in Calgary, Rabbi Andrews attended Telshe Yeshiva in Chicago, where he received his undergraduate and graduate degrees in Rabbinics. After ordination, his first Rabbinic role was as Assistant Rabbi at HOJMI. He then honed his skills in the US and UK. While employed as the Associate Rabbi of Finchley United Synagogue in London, a flagship congregation of the United Synagogue with over 1,800 member families, he began innovative social and educational programming. In all his positions, Rabbi Andrews worked tirelessly to strengthen the engagement of his communities.
Rabbi Andrews is thrilled to be back in Calgary at such an opportune time – after nearly 3 years of restrictions and isolation, HOJMI and the greater Calgary Jewish community are eager for a return to vibrancy and growth. He firmly believes that you cannot build a community on Zoom – you can deliver sermons, or offer classes – but a community needs interpersonal connections and real-life interactions.
Rabbi Andrews is joined by his wife Hannah, and their 4 children. Hannah is a certified Judaics Teacher and Kallah Teacher. She is delighted to be back as a Morah at Halpern Akiva Academy, while also taking on many roles within HOJMI. She is an inspiration and friend to the women of the community and is passionate about making personal connections.
The Andrews have the privilege of being both "old-timers" and "newcomers." While they were both able to jump right in and immediately engage with the greater Calgary Jewish community, they were also able to see opportunities with fresh perspectives. For example, Rabbi Andrews had established numerous connections with people in the food industry with his past kashrut work, and was now able to reach out to those same contacts to do private drink tastings as social programs at HOJMI.
The Andrews also have the perspective to appreciate the Jewish infrastructure that Calgary has for a community of its size. They have high praise for the builders of the community who came before them and want to encourage more builders to come forward, to further expand on these communal successes.
Looking ahead, the Andrews have a vision for the shul as they recognize that a synagogue is more than just a house of worship, to be used 1/7th of the week. They want to see HOJMI as a centre for learning, praying, social connection, and above all else, a community. They want to be ambassadors and ensure the growth and vibrancy of the entire Jewish community.
House of Jacob-Mikveh Israel will be officially installing Rabbi Nisan and Hannah Andrews at their 2023 Gala Dinner on February 26 at the Carriage House Inn. The evening will also feature a special message from Rabbi Ephraim Mirvis, Chief Rabbi of the Commonwealth (who mentored Rabbi Andrews during his time in England). For tickets and donations, please contact the HOJMI Office at 403-259-3230 or email hojmi.calgary@gmail.com