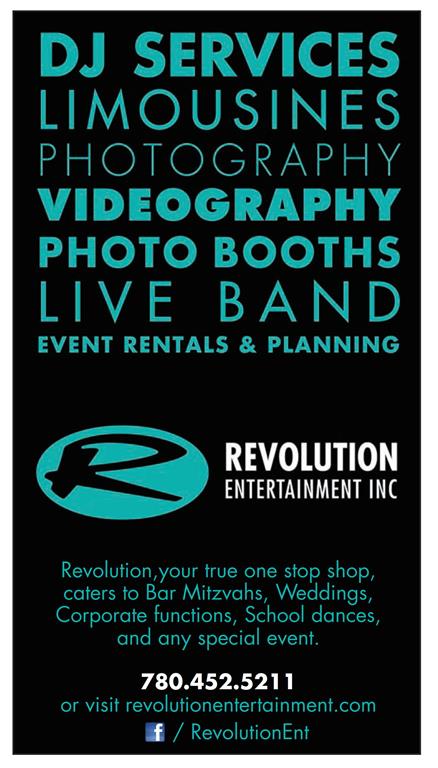 (EJNews) – Once your venue is booked, the next and most important step in planning any event is the entertainment, and if you are planning a party you should look no further than the services of Edmonton's own Revolution Entertainment. For over 15 years Revolution has been providing custom event entertainment services and competitive pricing to clients all over Western Canada. Led by General Manager Justyn Rowland, the crew at Revolution is able to be a one-stop resource for any event, but Justyn says by far his favourite events are Bnai Mitzvahs.
"I'd say we've worked over 100 Bar and Bat Mitzvahs since we started 15 years ago and they are always a fun time," explained Justyn. "It's great seeing friends and families enjoying the perfect party they've planned, the dancing, the Hora, the energy is just amazing!
"We work very closely with Fantasyland Hotel, one of the premier venues in the city. It's a great venue that we are very familiar with, and also perfect for simchas of any kind with their full Kosher kitchen."
Justyn and his team are a big part of that energy, between enthusiastic DJs, charismatic staff, photo booth rentals, videography, photography, and live bands, Revolution has you covered.
Justyn says service is the key, and that Revolution's customization and flexibility allow them to be the number one choice in entertainment. "We focus on providing 5-star service, and we're willing to find unique solutions to ensure that all of our clients are 100% satisfied with every event."
One of the hottest trends in entertainment right now is the photo booth. Revolution offers a variety of photo booth options including green screen booths which can accommodate large groups and also allows you to replace the green screen background with a fun background of your choosing. Photo booths leave a lasting impression of any event. Guests have a blast taking fun pictures, and you will get a unique collection of images that capture your event from a whole knew perspective.
With their personal touch and vested interest in your event, Revolution Entertainment is the perfect choice for any event, wedding, Bnai Mitzvah, birthday party, anniversary and any simcha in between.
"Making your event a moment in time for you and all your guests and loved ones to remember is what is important to us," concluded Justyn.  "As soon as you know you're planning an event make us your first call and we will help you create the perfect simcha."
To discuss your event, and make the perfect plan today call Justyn at 780-452-5211, or e-mail him at info@revolutionentertainmentdj.com or visit www.revolutionentertainment.com. Justyn and his team of entertainment specialists will be more than happy to guide you through their options and find the perfect fit for you and your event.