By Susan Schiffman
(AJNews) – The Jewish Federation of Edmonton will kick-off the 2022/23 United Jewish Appeal (UJA) Campaign at the Fantasyland Ballroom with a fun, festive celebration that you don't want to miss on Sunday, September 18. Join us to pay tribute to the remarkable philanthropic couple, Dianne and Irving Kipnes, and to get ready for the upcoming UJA Campaign.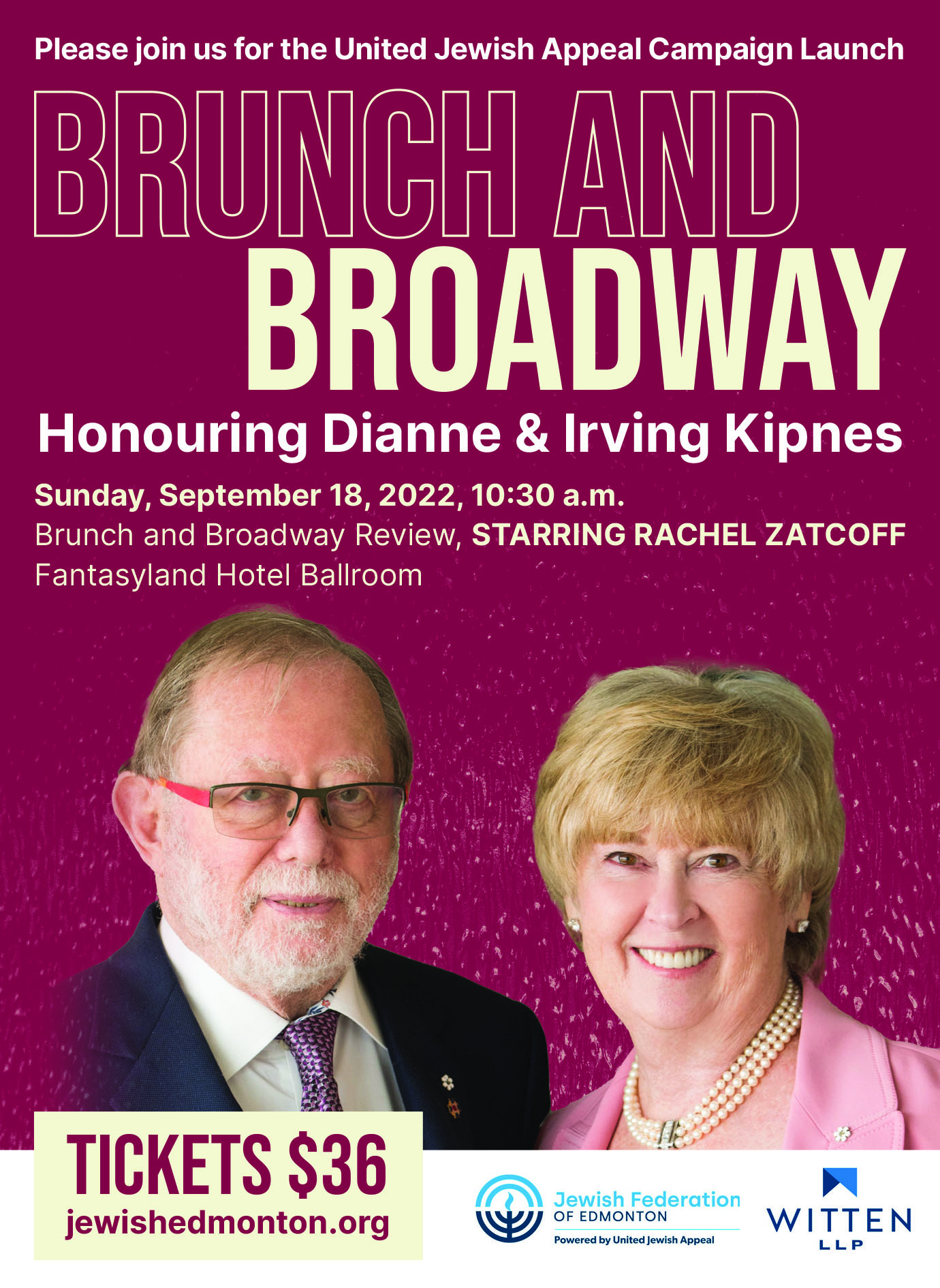 The Federation is thrilled to have this opportunity to recognize Dianne and Irv for the monumental impact they have had on the strength, vitality, and quality of life in our Jewish community. Among the most influential and largest life-time donors to Edmonton UJA, both Dianne and Irv have also served as campaign chairs, and the couple has made lead gifts to UJA, year after year. They have had a transformative impact on countless other Jewish organizations and people in Edmonton, Canada, Israel and, recently, Ukraine, as well. Through their extraordinary efforts and generosity, they have set an example for others and ensured the stability and future of our Jewish community. We will celebrate their contributions through remarks, videos, songs, and other tributes at this joyous event.
We have some superb entertainment in store for our honorees and guests. Irv Kipnes, like so many of us, is a huge fan of Broadway show tunes. With that in mind, the Federation invited the young Jewish Broadway star, Rachel Zatcoff, to perform. Originally trained as an opera singer, Rachel made her debut as Christine Daaé in Phantom of the Opera, and then starred as Maria in the international tour of West Side Story. Most recently she played Tsaytl, off-Broadway, in the Yiddish version of Fiddler on the Roof. She will sing favorites from Cabaret, South Pacific, Carousel, Fiddler on the Roof, and West Side Story. Rachel has a beautiful voice, a big heart and a great sense of humor. We guarantee she will bring the house down.
At the event, the Jewish Federation will also recognize another much-respected community member through the presentation of the Dianne and Irving Kipnes Kavod Award. Established in 2019 by the Federation, the award recognizes an individual or organization for exceptional generosity and commitment to the Edmonton Jewish community. This year's winner is someone very dear to many hearts in Jewish Edmonton. When we announce the recipient, there will be a lot of applause.
Come help us fill the house. After three long, hard years without a live UJA launch event, the Jewish Federation wants to draw people from all corners of the community to a big, fun, upbeat party. Like any proper Jewish celebration, there will be lots of yummy food (all kosher) and time to schmooze. We urge young parents to come enjoy themselves. Free babysitting is available. The event will take place on Sunday, September 18, 10:30 a.m. to 1:30 p.m. at the Fantasyland Hotel. Tickets are on sale for $36 at jewishedmonton.org.
 Susan Schiffman is Director of Development at Jewish Federation of Edmonton.