by Lindsy Ambrosio
If you are a woman with Inflammatory Bowel Disease (Crohn's disease or ultcerative colitis) and are either pregnant or planning pregnancy you have an opportunity to take part in a very special study that is operating out of the IBD clinic at the University of Alberta. Your participation will help researchers better understand the complex interaction between pregnancy and IBD, and thus help physicians to provide better treatment in the future for pregnant IBD patients, to improve maternal and fetal outcomes.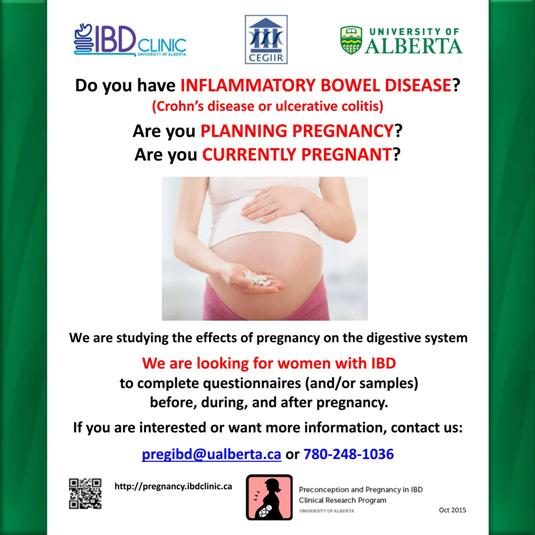 Inflammatory bowel disease (IBD) is a chronic disease that affects patients of all ages, especially those in their reproductive years.   Women with IBD have concerns regarding their ability to become pregnant, to carry a pregnancy to term, and to have healthy infants.
We know that there are many interactions between IBD and pregnancy, and that control of the disease is the best management we have for IBD during pregnancy.   However we do not know why some women do well during pregnancy, while others flare.  In addition, we know that maternal IBD, maternal microbiome (bacterial flora), and maternal medications, can affect the fetus and infant, but how everything is related is not well understood.
We hope that by following women with IBD before, during, and after pregnancy and analyzing blood, stool, and urine samples for certain chemical markers or genes we may be able to better understand and manage IBD during pregnancy. We hope that by following infants born to women with IBD, and analyzing cord blood, placenta, maternal breast milk, and infant blood and stool samples for certain chemical markers or bacteria and viruses, we may be better able to understand the impact of maternal IBD on infants born to women with IBD.
Participation in this research study is voluntary and you can withdraw from the study at any time. The study has been reviewed for its adherence to ethical guidelines by a Research Ethics Board at the University of Alberta. If you are interesting in learning more about the study and how you can become involved, contact pregibd@ualberta.caor call (780) 248-1036.