By Beth Price and Kathy Wainer
(Calgary) – Anyone who reads these messages has heard of  PJ Library® in Calgary, but perhaps not everyone understands why Calgary Jewish Federation places such value on this program, which empowers families to engage with Jewish life. PJ Library (as in "pajamas") was established in 2005 by Harold Grinspoon, a prominent US Jewish philanthropist, to instill Jewish values, traditions, and culture in young children by creating Jewish moments and memories through the simple act of reading bedtime stories (hence the name).
We were privileged to launch PJ Library in Calgary in 2009 with a modest goal of reaching 120 children. PJ Library books are always free to families with children from birth to eight years old, offering them a barrier-free entry into our community. Matching grants from the Harold Grinspoon Foundation, with support from local donors and UJA, cover our expenses. Demand for this gift of Jewish books was overwhelming and within a short time, our waiting list grew to over 200 children.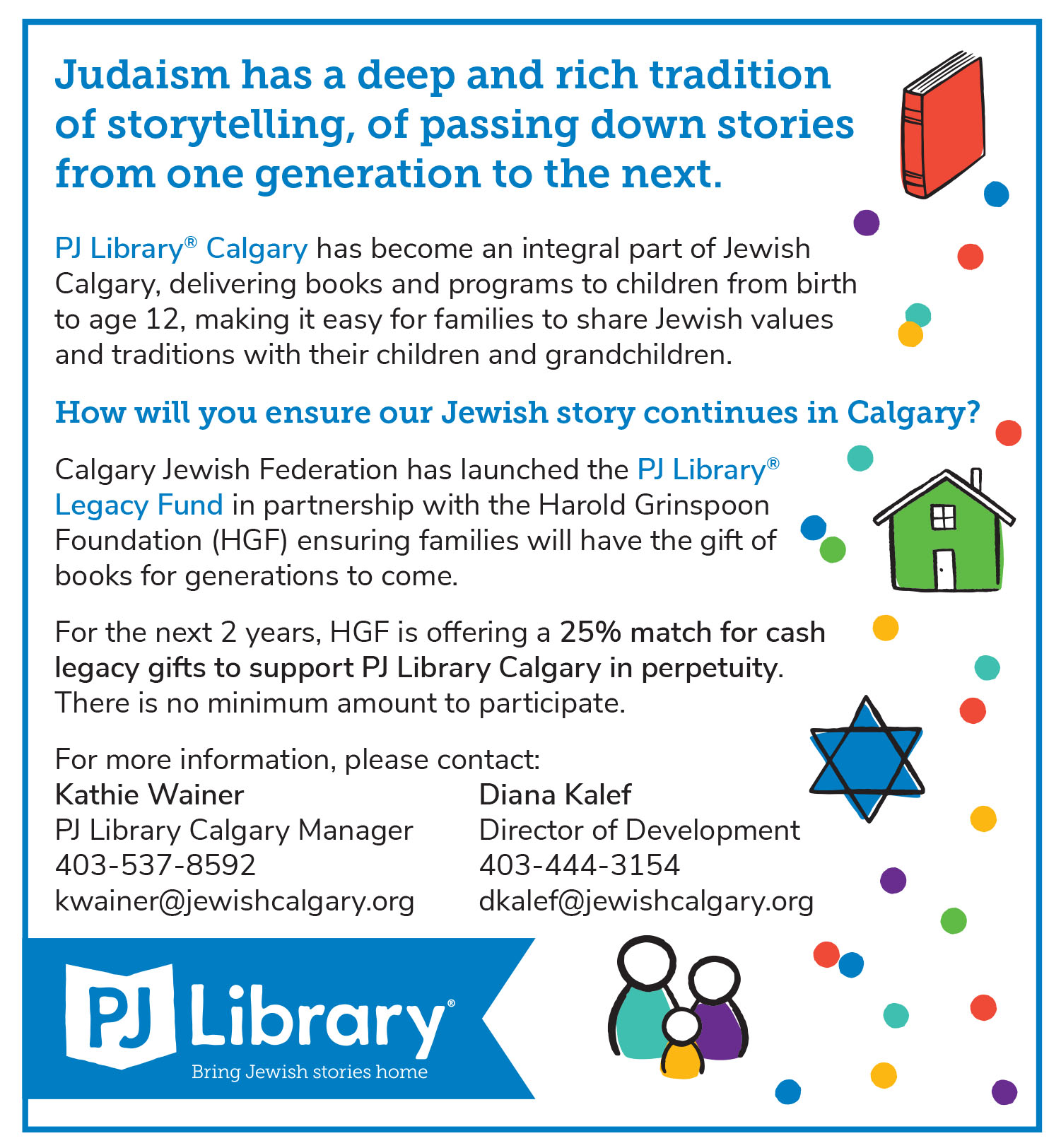 When a very committed local donor heard that Calgary children had to wait to receive these books simply because funding was not available, he provided the necessary funds and promised that there would never be a waiting list for PJ Library in Calgary. We are grateful that our devoted and generous Calgary donors have kept his promise and, unlike many communities, our families never have to wait to receive PJ Library books.
PJ Library is flourishing in Calgary. In addition to receiving monthly books, families enjoy a weekly PJ Tot Shabbat program, our popular PJ Chag Sameach holiday programs, a PJ Grandparents program, and in 2021 we joined PJ Our Way (PJOW), the next step in PJ Library for children 8½ to 12 years old.
With PJOW, children take ownership of their reading by choosing their own books every month. Age appropriate and often child-driven programming provides this underserved demographic with the opportunity to connect with peers locally and nationally. We see PJOW as an invaluable tool in engaging pre-teens in their formative years – a first step to becoming active participants in Jewish Calgary.
This year – our 12th anniversary – 550 Calgary children are receiving the gift of PJ Library books every month, and 120 children receive PJOW books.
Calgary Jewish Federation prioritizes community outreach, inclusivity, diversity, affiliation, and engagement of families. For some families, PJ Library is an enhancement of their Jewish experience, while for others PJ Library is the sole provider of the Jewish experience, their only point of contact with our Jewish community. We have seen families enter our community through PJ Library and go on to participate in other aspects of Jewish communal life from joining the JCC to enrolling in one of our Jewish preschools.
As we celebrate 12 years of PJ library in Calgary, we are excited to announce that the Harold Grinspoon Foundation, in partnership with Calgary Jewish Federation, has launched the PJ Library® Legacy Fund ensuring that Calgary families will have the gift of PJ Library books for generations to come. The Harold Grinspoon Foundation is offering matching funds for cash legacy gifts for the next two years, with no minimum amount to participate. Click here for more information. 
Please consider making a gift so that our children's children will always have the great experience and joy of reading a PJ Library book.
(Editors Note: PJ Library is also available in Edmonton. According to the Jewish Federation of Edmonton website, 140 families in Edmonton receive PJ Library books each month.)
Beth Price is the Founding Chair of PJ Library Calgary and Kathy Wainer is PJ Library Manager for the Calgary Jewish Federation.