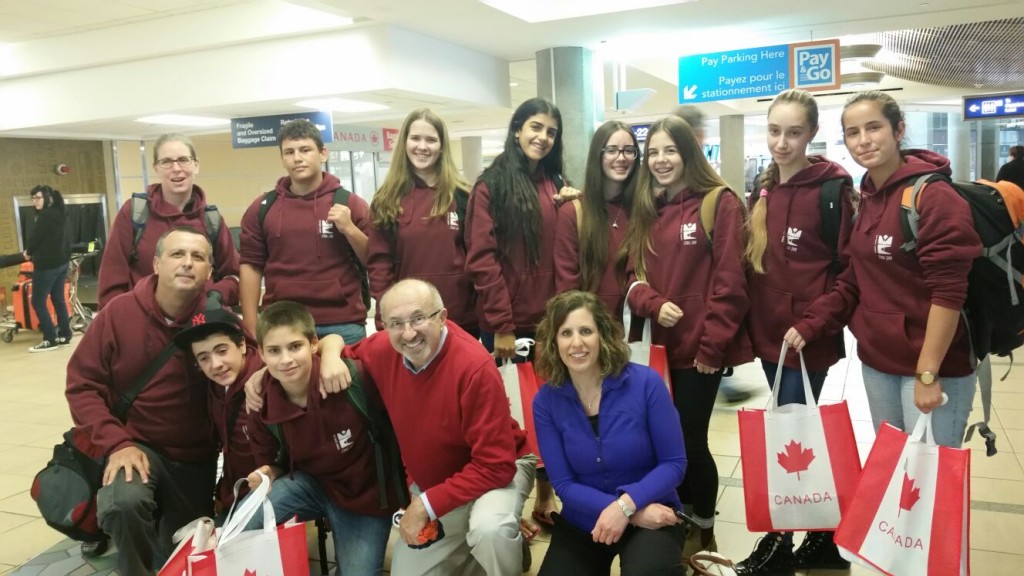 by Deborah Shatz
(EJNews) – Last month a very special group of Israeli Mifgash students and their teachers visited Edmonton and made a huge impression on our community.
The ten day visit by nine Grade 9 students and 2 teachers from Emek Hahula School in the Galilee Panhandle was part of an ongoing P2G Gesher Chai (Living Bridges) program that involves the twinning of the Edmonton Talmud Torah School with the schools in that region of Israel.  The purpose of the program is to build deep and meaningful people to people connections between Canadians and residents in the Galilee Panhandle.
The relationship between the schools in these twinned regions is very special. Organized correspondence between classes culminates in visits by students to their respective partners and fosters a better understanding of each other's circumstances and important issues.  The Edmonton students visit their Israeli counterparts in the Spring as part of their Grade 9 Israel trip. This provides an introduction into face to face relationship building. The reciprocal visit takes place in the fall when the Emek Hahula students visit Edmonton.
Last month, the Israeli delegation arrived in Edmonton and they were billeted with their local Talmud Torah counterparts and other Jewish families. These ambassadors from the north of Israel spent the next 10 days participating in day to day Jewish life in Edmonton. They went to school with their Canadian hosts, participated in Sukkot services hosted by both Beth Israel and Beth Shalom. They performed at the Talmud Torah Chag Tishrei Assembly and they taught Israeli dances to the Talmud Torah students.
The delegation went on a tour of Jewish Edmonton; they also visited Edmonton's Hawrelak Park, followed by a fabulous trip to Jasper with the grade 9 Talmud Torah students along with chaperones – Ben Ragosin, Rebecca Asbell, Francie Nobleman, Ivan Steiner and the two Israeli teachers.  While they were in the Canadian Rockies the students participated in discussions to reinforce the aims of the Gesher Chai program.
The Israeli students and teachers were treated to a wonderful Edmonton experience thanks to the large number of volunteers who helped at all levels of every event. At the end of the 10 days, the Emek Hahula delegation said goodbye and lehitraot to their billets, their friends and their new Edmonton families.
The Gesher Chai program is part of the P2G coast to coast partnership program sponsored by Jewish Federation of Canada and this visit was partially funded by the Jewish Federation of Edmonton.