By Harold Lipton and Susan Dvorkin
(AJNews) – As the warmth of the lovely summer days we have had comes to an end, it is difficult to imagine that this is also the third summer where the Covid-19 pandemic continues to be an ongoing risk. While most restrictions have now been lifted, each new variant seems to be more easily transmitted than its predecessor. We all know someone who has been affected by this life changing medical crisis, whether they or someone close to them has been infected, they have had to make a pivot in their careers or business or were forced to alter plans for life cycle events such as a wedding or Bar/Bat Mitzvah.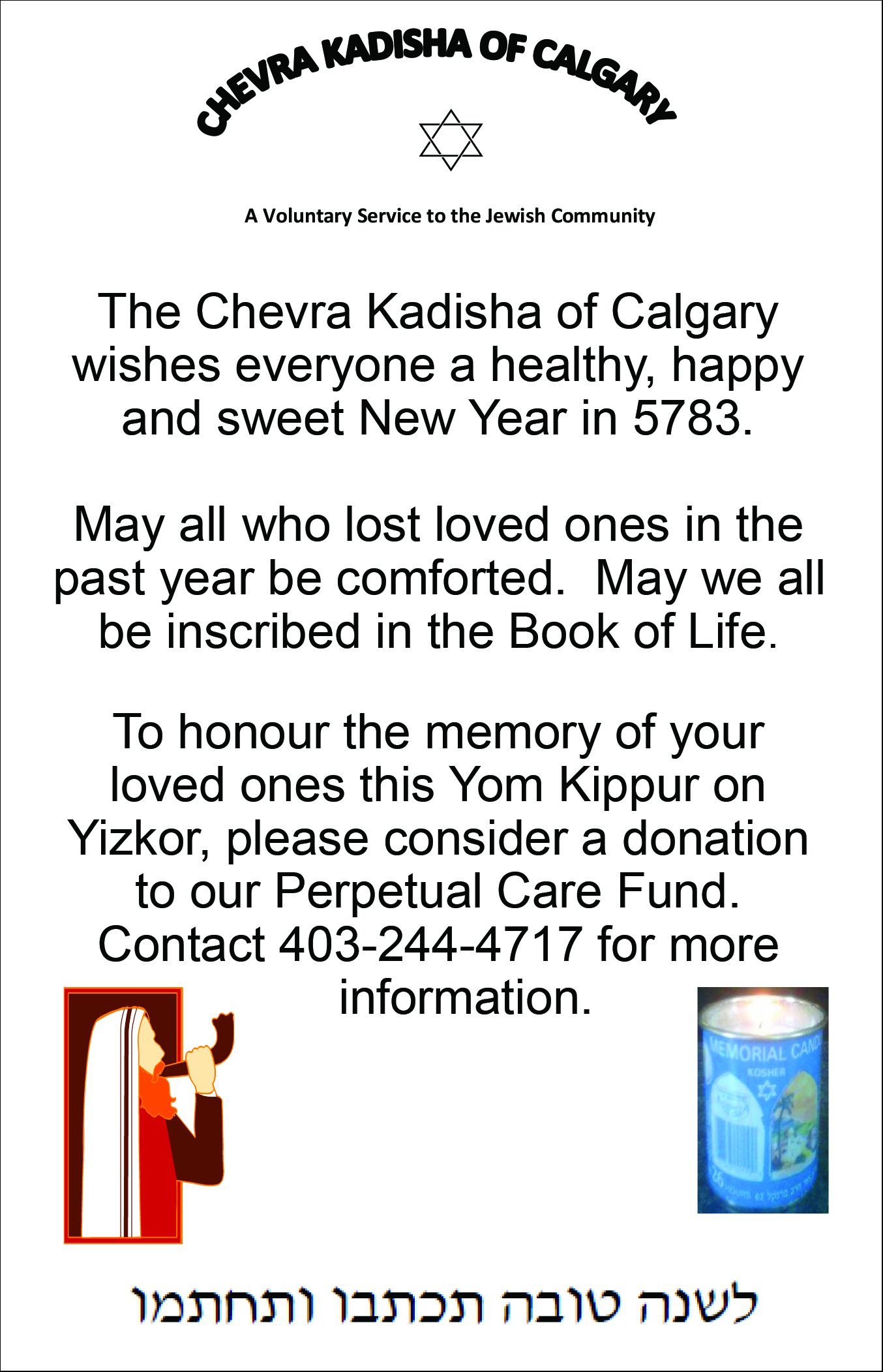 While modifying plans for a simcha is challenging as well as disappointing, sadly, when a death occurs, there is no option to postpone until more people can attend a funeral or shiva. At the Calgary Chevra Kadisha, we have done our utmost to continue to serve and support all members of the Calgary Jewish community in their time of need. We continue to monitor AHS guidelines as well as the opinion of medical professionals and are pleased that due to all that we have implemented, there have been no Covid-19 cases reported as a result of our funerals.
We continue to strongly recommend precautions when attending a funeral or unveiling, such as wearing a mask both at chapel and graveside services as well as refraining from attending a service should you have any symptoms (a new cough, sore throat fever, etc.). Transmission of the virus is still possible if large groups of people gather and are lax in their social distancing as well.
As trying as the past three years have been, we are grateful that we have a strong team to help guide us. Rick Pollick, Executive Director and Scott Siemens, Cemetery Manager, have gone above and beyond their duties in helping facilitate meetings with families as well as graveside services under the most difficult of circumstances. Our lay leadership team lead by Lou Bracey, his executive and board of directors have worked tirelessly meeting to discuss the evolving policies that we have had to implement over this time. While we acknowledge that the hard line we have had to impose with our Covid protocols has not always been what our mourning families would like to hear, our priority has and will remain the safety and health of our volunteers and mourners.
Our volunteers, in their numerous roles, have also given of themselves during this period with the utmost of selflessness and grace, to fulfill the age-old Jewish tradition of "Chesed Shel Emet", holy work for which no thanks are given or required. While the strictest of restrictions were in place, we were only able to allow 10 people to attend a graveside service, so fitting as that is the number required to make a minyan. However, there were and continue to be situations where the deceased does not have enough family or friends to attend their funeral and allow Kaddish to be recited. There is merit in both saying Kaddish as well as listening attentively and responding when it is said by the Mourner. In addition to bringing merit to the living, reciting Mourner's Kaddish helps the souls of the deceased face judgment in Heaven and eases their passage into the Olam Ha-Bah (World to Come).
We are very grateful to our volunteers who, with little notice, have attended funerals to help make up a minyan. We at the Chevra thank you, as the deceased cannot and for that, it is one of the greatest Mitzvahs. We are always in need of more volunteers in this capacity as well as in other roles. We ask anyone in the Jewish community to participate in this act of loving kindness for our community.  Please consider becoming involved in this essential activity and contact us for more details (403-244-4717).
We are now heading into the pre-High Holy Day season. Let us take this opportunity to send you early wishes for a happy, sweet, and most importantly, a healthy New Year 5783.