(October, 2019) – For most home cooks, a simple but still delicious meal with a minimum of fuss and ingredients is an everyday necessity. However, there are also times when a recipe calls for something different, maybe a bit out of the ordinary. Yet few home cooks have the time to source and try new variations to favorite recipes.
In her latest cookbook, Variations; (Artscroll/Shaar Press/Hardcover), Daniella Silver, author of the best-selling Silver Platter series of cookbooks, has created recipes that use basic, simple ingredients and provides variations that present a different way to showcase the main recipe.  For example, a chicken dish is shown how to become a main or as an appetizer, a salad can be prepared as family-styled or plated individually by serving it in a pretty presentation or dish, and a batch of cookies can also become ice cream sandwiches.  To Daniella, the possibilities are endless.
"I wrote Variations because I felt it's time to change things up. I want readers to get creative with the foods they prepare by understanding that a recipe can be versatile in preparation or presentation," says Daniella.
Each recipe in the book includes a "variation" of that recipe. These variations present a different way to showcase the main recipe; they often include additional ingredients, shown in bold type, to make a completely new dish. The photo on each page displays both the main recipe and the variation, so home cooks can see how each of them will look after they have been prepared.
Daniella's delicious recipes cover everything from Appetizers, Soups and Salads; to Fish, Chicken and Meat; to Dairy, Grain and Vegetable Sides and Desserts.  Recipes and their variations include:  Pull-Apart Eggplant Parmesan/Baby Eggplant Parmesan, "Everything Bagel" Asparagus/Asparagus and Rice, Corned Beef Biscotti/Beef-Wrapped Biscotti, Broccoli Soup with Caramelized Leeks/Cauliflower Soup with Caramelized Leeks,  Pretty Pomegranate Salmon/Fig Salmon and many more.
"I am so excited to share this new cookbook with everyone. I am not a chef. What I like to call myself is a creative cook. I enjoy using simple ingredients, color, and texture, while incorporating versatility. I hope Variations redefines how we think about cooking and allows people to be more creative in the kitchen."
Daniella makes healthy, beautiful food simple. She combines her artistic sense of style and presentation with wholesome, nutritious ingredients, delivering effortless dishes for every occasion. As a busy mom of 4, Daniella believes in not being bogged down in the kitchen.  That is why in all her recipes she advocates fresh, healthy ingredients cooked fast and easy in order to share quality time with friends and family.
The following recipe is reprinted with permission from "Variations" by Daniella Silver, Artscroll/ Shaar Press / September 2019.
Sweet Potato Pear Soup
Pareve I Passover I gluten-free I freezes well I yields 8-10 servings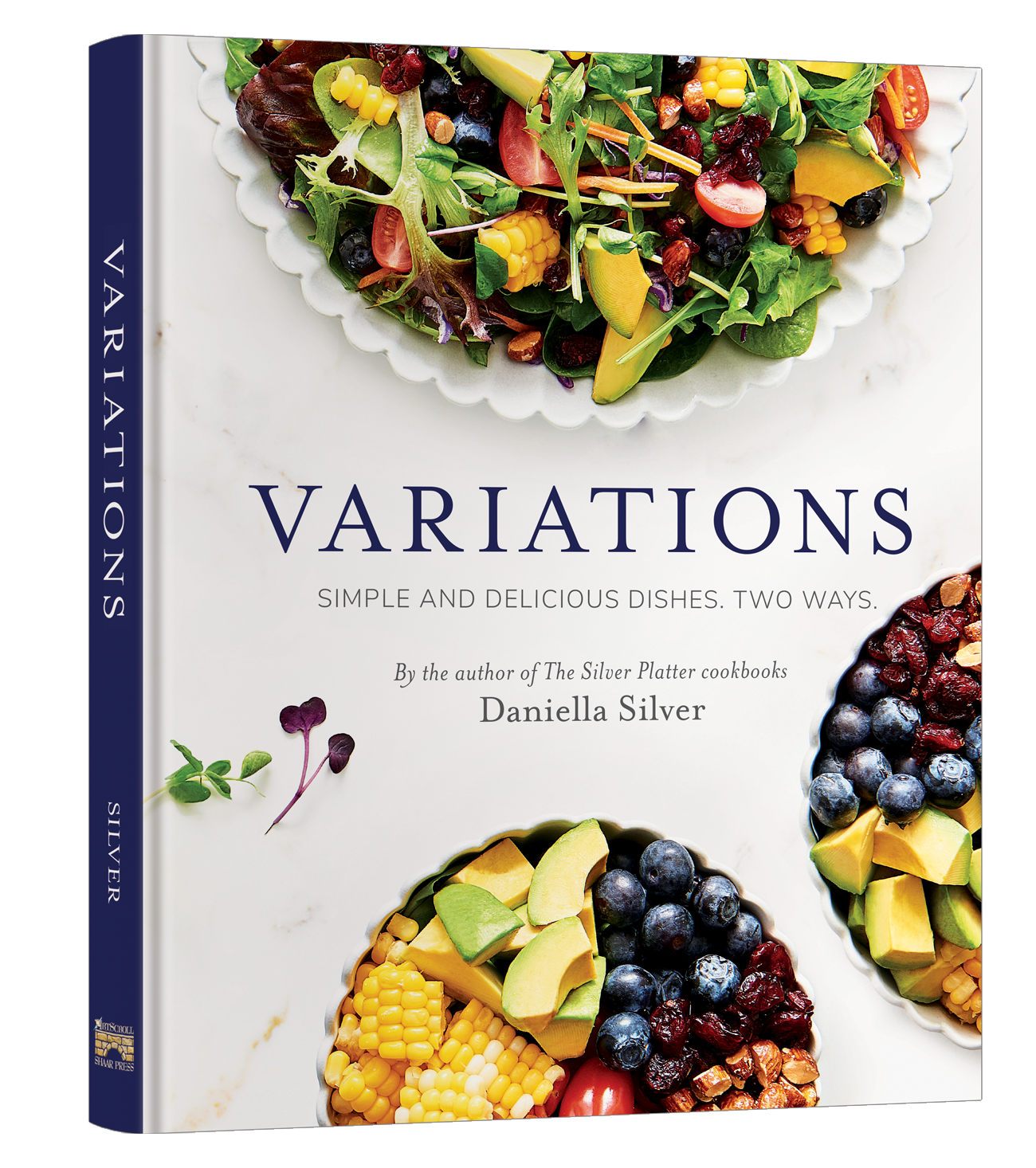 2 Tbsp extra light olive oil
1 large onion, diced
2 ribs celery, chopped
2 cloves garlic, minced (about 1 tsp)
kosher salt
black pepper
4 large sweet potatoes – peeled and chopped
3 Asian or Bosc pears – peeled and chopped
1 tsp sweet paprika
pinch dried thyme
5-6 cups water or vegetable broth
Heat oil in a large soup pot over medium heat. Add onion, celery, garlic, salt, and pepper; sauté for 8-10 minutes, until golden.
Add sweet potatoes, pears, paprika, thyme, and water. Bring to a boil.
Reduce heat. Simmer, partially covered, for 40-45 minutes, or until vegetables are tender, stirring occasionally. Remove from heat; let cool slightly.
Using an immersion blender, process soup until smooth. If soup is too thick, add a little water. Adjust seasonings to taste.
Variation
Cinnamon sugar pears – Prepare soup as directed. Preheat oven to 400°F. Coat a cooking rack or pizza tray with nonstick cooking spray. Slice 2 additional pears very thinly (do not peel). Sprinkle with sugar and cinnamon on both sides. Bake, uncovered, for 20-25 minutes until golden. Garnish the soup with baked pears or sprinkle soup with thyme leaves.