By Kelly McCauley
 (August 2017) – This past July I had the privilege of visiting Israel at the invitation of the Centre for Israel and Jewish Affairs (CIJA), along with my Conservative colleague Blaine Calkins, and four of my colleagues from the NDP and Liberals. As well, I toured Poland with my son, Jensen, and we visited several Holocaust memorial sites including Auschwitz, and memorials of the 1943 Warsaw Ghetto Uprising and the 1944 Warsaw Uprising. I'd like to take a moment to describe my visits to Israel and Poland, and provide some reflections on what I saw.
We arrived in Jerusalem on July 10, and took an evening tour of the old city, followed by a welcome dinner hosted by David Weinberg, the Director of CIJA's Israel office. The following day, we toured the Knesset and Yad Vashem, Israel's National Holocaust Museum. We also met Anat Berko, a Member of the Knesset (MK), who was born in Canada and is current Co-chair of the Canada-Israel Parliamentary Friendship group, and MK Yoel Hasson, her Co-chair.
The next day was characterized by a demonstration of Israeli security concerns and actions, as we visited Ramallah and toured Jerusalem's security barrier, in addition to meetings with Ambassador Liora Herzl and Emmanuel Nachshon, who both work at the Israel Ministry of Foreign Affairs. Our dinner guests that evening were Dr. Yuval Steinitz, the Minister of Intelligence, and Col. (res.) Dr. Eran Lerman, the former Deputy National Security Advisor for Foreign Policy and International Affairs.
The following day we drove to the Golan Heights, visiting the historical site of Masada, the Dead Sea, and Qasr el Yehud baptism site on the lower Jordan River. The next day, we received a strategic briefing at the Mt. Bental lookout on the Golan Heights, overlooking Syria, with Sarit Zehavi, who is the founder and CEO of Alma, Israel's Security Challenges on the Northern Border. We later received another strategic briefing from Mr. Zehavi at the Misgav Am lookout overlooking Lebanon. We spent the night in Tel Aviv, after a Shabbat Dinner with Ralph Jansen, the Canadian Deputy Head of Mission at the Canadian Embassy.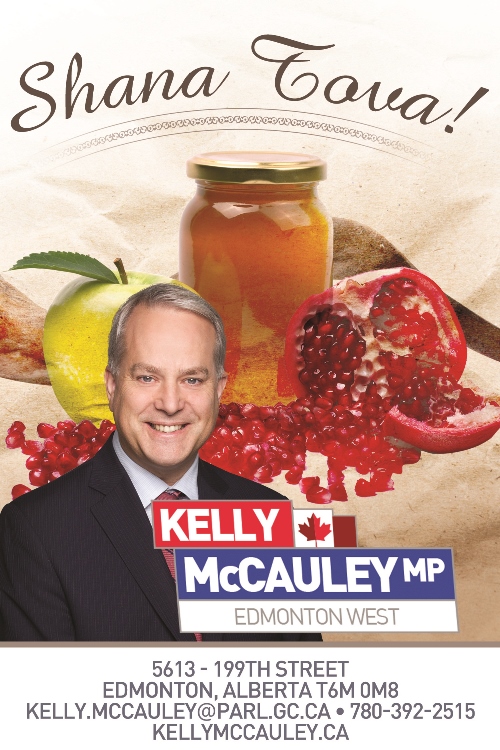 We finished our visit to Israel with a tour of Jaffa and Neve Tzedek neighborhoods, the new Sarona market, and an Israeli wine tasting session, as well as meetings with Dr. Nadine Baudot-Trajtenberg, the Deputy Governor of the Bank of Israel (who is from Montreal and taught at McGill), and two Israeli entrepreneurs who discussed the innovative hi-tech industry in Israel.
In August, I took my oldest son to visit Krakow and Warsaw.   Just outside Krakow, we toured Auschwitz l and ll.
This extensive itinerary in Israel was illuminating and comprehensive, and I have a few takeaways. First, I was able to gain a better perspective on the very real security threats facing Israel. It's easy to dismiss concerns about terrorism or extremism from a position thousands of miles away in the safety of Canada, and it's necessary to remember the very real, very close threats that the Israeli people face and must be prepared to handle.  We sat at locations within short distance and in clear view of Hezbollah missile sites, and, on our visit to the Golan Heights, we heard artillery duels between competing Syrian factions.  Our security advisor pointed out spots on the Syrian side of the Golan Heights where ISIS forces had reached just a few hundred yards away from Israeli homes and schools.
Second, contrary to popular opinion of the BDS movement in western countries, Israel has extensive humanitarian efforts in place to help Palestinians in Gaza and the West Bank, as well as Syrians hurt in the war. This is a side of Israel frequently unseen in international media, yet it characterizes Israeli society quite well and I'm glad my colleagues and I were able to learn this.
Third, Israel undertook a concerted effort to invest and develop its hi-tech industry, which is today driving the Israeli economy. Israel's industry and state-efforts to develop this industry could serve as examples for Canada and Alberta to follow in seeking to diversify our own economies.
The final takeaway from my summer travels was the overwhelming emotion I felt when I visited Auschwitz. I was struck by the simple mechanics of the holocaust, and how cold and mechanical the Nazi genocide-machine really was. I still find it difficult to comprehend the ability of individuals and states to dehumanize people in such a way as the Nazis did during the Holocaust, and am reminded that we cannot forget the atrocities committed against the Jewish people and indeed all those targeted by the Nazi regime. In Warsaw, we visited the site of the old Ghetto.  The destruction was so thorough, no buildings remain – just a small portion of the wall the Nazis built around the ghetto.
My son, who is an avid supporter of Israel, is about to enter university to study political science, and I'm glad he was able to gain necessary perspective about world history and the capability of humankind to commit truly unspeakable atrocities.  The BDS movement is particularly active in Canadian universities and I'm glad there will be one more educated voice on campus fighting this insidious form of anti-Semitism.