by Daniel Moser
(AJNews) – Last month the Edmonton Jewish Film Festival went virtual giving attendees the opportunity of watching films in the comfort of their own homes. While circumstances were not optimal, the Festival powered through and had a successful run, engaging the community. One person paying especially close attention to the numbers was Dan Smith, Executive Director of Edmonton's Metro Cinema.
Since late March Metro Cinema's doors have been closed, but the not-for-profit film society has remained active, offering weekly virtual screenings though their website. "We shut our doors on March 16th to do our part in flattening the curve," explains Smith. "Since then we have introduced weekly new release virtual screenings in partnership with a few different film distributors. 50% of the proceeds go to Metro Cinema and it is a great way to support a local theatre, as well as indie filmmakers and distributors."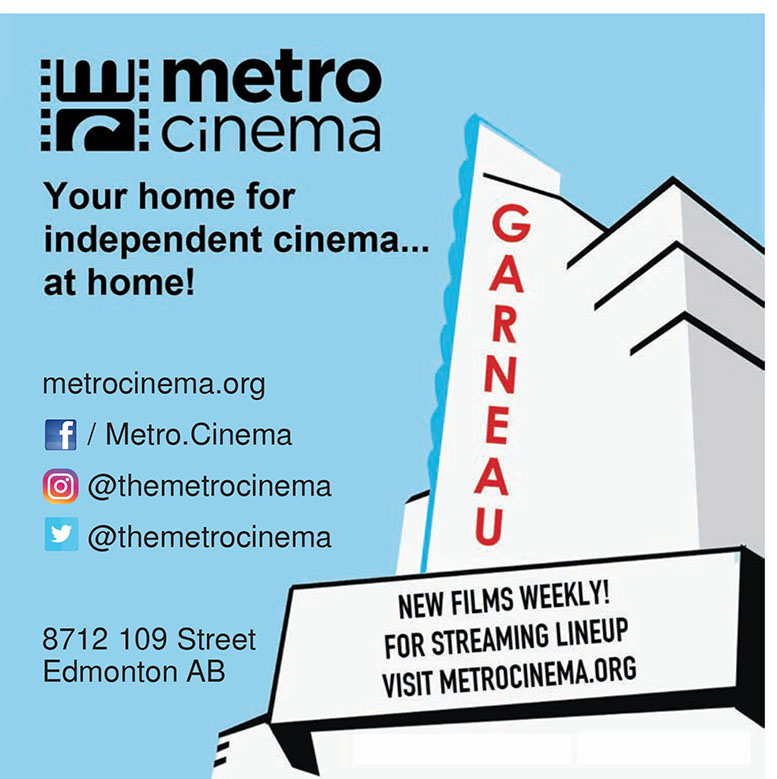 "As a team, we are trying to focus on the positives and do everything we can to give Edmontonians alternative film options to typical streaming services." Couch time and mindlessly scrolling through a streaming service menu has become a regular activity for many people, there is a good chance that Metro Cinema is offering a film option that is not featured on the mainstream platforms. Just like before the pandemic hit, Metro Cinema continues to program a diverse blend of film and media arts by presenting educational, independent, cultural and innovative works.
Still though, Smith says the theatre experience has always been a major attraction, and attending in person is simply not an option right now. "We are a community organization that unfortunately does not have a place for our community to gather. The challenge has been finding ways to support and foster that same feeling of community through film, in a virtual setting."
"Choosing from our expanding array of virtual film options is a great way to support Metro Cinema and be entertained at the same time."
While virtual film screenings are the focal point for Metro right now, their website offers many more "Covid-19 Diversions" including Metro crossword puzzles, a vodcast, suggestions for home-based activities, and articles on film.
"Are you looking for safe ways to celebrate a special birthday or anniversary? Make it unforgettable with our marquee!" says Smith. See your message lit up on the historic Garneau Theatre. Email info@metrocinema.org if you're interested.
"We are also selling gift cards and passes on our website," notes Smith. " We are a registered charity and you can make donations through Canada Helps."
The recent success of the Edmonton Jewish Film Festival proves that this can be accomplished. Checking out a virtual screening though Metro is a great way to experience a unique array of films and art which might otherwise be inaccessible to the public.
Smith also stresses that pandemic issues have been universal, and right now support is vital all around, not just for Metro. "We encourage people to support other local charities, businesses, and arts organizations as well. We know that we can thrive after this, only if our neighbours and friends in the community do as well."
As of June 15, 2020, cinemas around the province have been given the guidance to light up their screens and start welcoming back moviegoers as Alberta launches into Phase 2 of the Covid-19 recovery.
Smith says that when Metro Cinema is able to open safely and in accordance with the AHS protocols. they will be showing films again in the theatre.
"We here at Metro Cinema couldn't be more excited to open our doors and start showing films again. It is important that when we open, we provide a safe, sanitary, comfortable, and enjoyable environment for all our patrons and staff, so we are now working to implement all of the guidance from Alberta Health Services. Community safety will be a top priority as we move towards our re-launch. For now, our screen will remain dim as we work towards an opening date that works for all involved."
The new operations and procedures will include:
At least 2m of distance between seats, with accommodation for family units and cohorts
Cashless and no contact payment options
Staff PPE and enhanced sanitation procedures including regular disinfecting of auditorium seating
Reduced capacity to allow for ease of social distancing
New packaging for Edmonton's best theatre popcorn
So much hand sanitizer!
"The support from our community through this time period has been amazing," adds Smith.
"Edmontonians have shown a level of generosity and care for one another that we can all be proud of and we are glad that we can once again open our doors as a community hub and celebrate film with everyone. We will be announcing our official re-launch date and upcoming programming very shortly and we look forward to seeing you all out at the movies. Until then our top priority is making sure that our venue is safe for everyone."
For more information on how you can support Metro Cinema, and the historic Garneau Theatre, please visit www.metrocinema.org.