(EJNews) – The Edmonton Talmud Torah is a very busy school this month. In addition to the exciting buzz of learning taking place in the classrooms, the school will be welcoming interested families to their Open House on Thursday February 18.
The presentations will take place in three time periods: The Early Learning Centre will be on display at 6:30 pm, the Kindergarten will be presented at 7 pm and the Jr. High program will be presented at 7:30 pm. Don't miss this opportunity to learn more about the exceptional benefits that Talmud Torah School has to offer.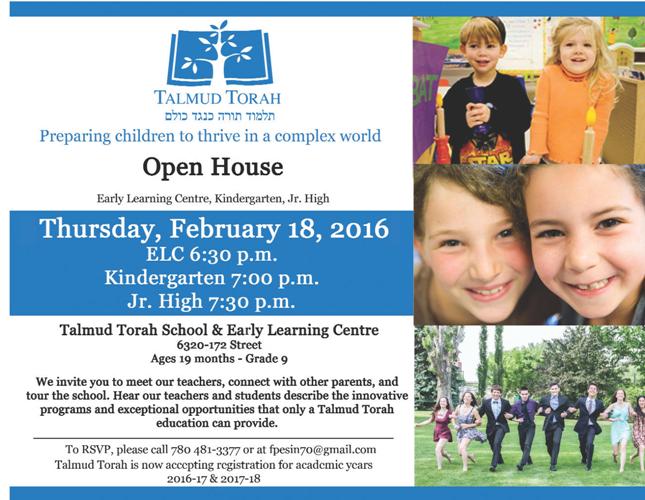 Come on February 18, meet the teachers, connect with other parents and tour the school. Hear the teachers and students describe the innovative programs and exceptional opportunities that only a Talmud Torah education can provide.
Of course one of the most exciting aspects of the Junior High program is the culminating class trip to Israel. As this year's Grade 9 students are getting ready for their trip to Israel this spring, they've been working on some amazing and fun fundraisers to help lower the cost.
Join them on February 20, 2016 at Lee Gardens restaurant, 8404-82 Street at 7 pm for Karaoke and Silent Auction night, including Gift baskets, 50/50 raffle, Coach purse, Oilers Jacket and so much more!  Come out, have some fun, sing and dance, and help raise money for a good cause! Looking forward to see you there!
To RSVP for the Open House, please call 780-481-3377 or email fpesin70@gmail.com. Talmud Torah is now accepting registration for the 2016/17 and 2017/18 academic years.