By Florencia Katz
(AJNews) – The Limmud Winnipeg family is proud to be presenting its 12th annual Festival on March 6, 2022 with 20 virtual sessions on Zoom throughout the day.
The Limmud movement reflects the diversity of the Jewish community and our various interests. Jewish education is at the core of enriching our community and increasing understanding of what Judaism is all about.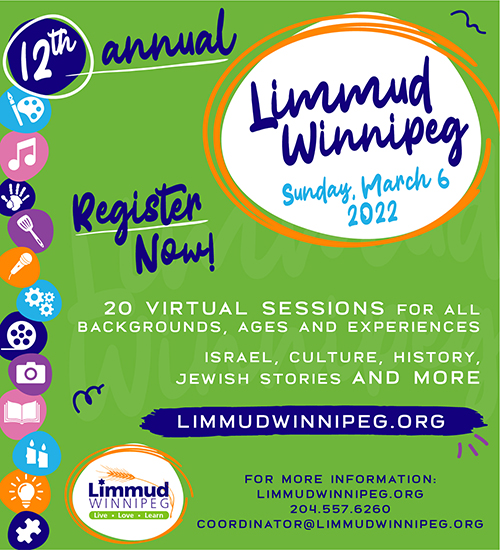 Our presenters reflect that diversity. They are rabbis, artists, authors and individuals with powerful stories to tell. They cover a wide range of topics: Israel, Jewish history, archeology, Jewish pride, arts and culture, fighting antisemitism, Torah study, and more.
The scope and range is remarkable for such an event, with presenters from the Jewish Book Council, the Winnipeg Art Gallery, Stand With Us, Jewish scholars, four local Winnipeg synagogues, and the University of Manitoba, reflecting a tremendous diversity of topics.
We would all rather be in person, where we could share the buzz and excitement of lunching together and trading experiences, but one more time our Limmud festival will be online.
Here is list of our amazing presentations from across the globe:
Rena Altman, the ultimate Eurovision fan: Israel in the Eurovision Song Contest: 48 Years of Music
Yosef Benarroch, multilingual, Sephardic born in Tangiers, Morocco, and commuter from Israel to Winnipeg, where he is a rabbi and educator: The Real Reason David Did Not Build the Temple
Marnie Bondar, Mediation Coordinator for the Alberta Mediation Project for the Court of Queen's Bench of Alberta and committed to bring her Babi's history to today's youth: My Babi Freda and her Story of Surviving Auschwitz
Stephen Borys, Director and CEO of the Winnipeg Art Gallery and Qaumajuq, and an adjunct professor at the University of Winnipeg: Finding Nazi-Looted Art in North American's Museums and Collections
Allan Cheskes, whose passion is a course on Jewish American Influence on American Popular Music: When Klezmer Met Jazz
Kosha Dillz, a NYC-based hip-hop artist who toured with Matisyahu: Going Viral for Good
Yaffa Epstein, Director of the Wexner Heritage Program and renowned teacher of Jewish text: Be Flexible Like the Reed: A Talmudic Story of Rethinking
Allan Finkel, Rabbi and spiritual leader of Temple Shalom, the only Reform congregation in Winnipeg: The Origins of Rabbinic Judaism: Ancient Israel and the Life and Times of Hillel and Shammai
Ben M. Freeman, a gay Jewish author, born in Scotland and DE&I (Diversity, Equity & Inclusion) specialist: Jewish Pride: The Jewish Future
Haskel Greenfield, distinguished Professor of Anthropology, Co-Director of the Near Eastern and Biblical Archaeology Lab, and Coordinator of the Judaic Studies Program at the University of Manitoba: Canaanite Household Rituals in the Early Bronze Age of the Southern Levant
John Hample, Mussar practitioner and facilitator: New Mussar Pathways to Bring Your 'Spiritual Curriculum' Up Close & (Inter)Personal
Charlotte Korchak, Senior Educator at StandWithUs, working with over 10,000 students: Concepts & Misconceptions about Israel, Zionism, and the Jews
Merissa Nathan Gerson, an intergenerational trauma consultant whose work focuses on grief and grieving: Forget Prayers, Bring Cake: Grief and Grieving in 2022
Avi Posen, Jewish Winnipeg's own favourite young educator, providing resources to other educators around the world (and Limmud Winnipeg's first coordinator): Engaging the Next Generation of Jews Through Media
Naomi Ragen, the author of 13 internationally best-selling novels full of familiar Jewish women's stories: My First Sequel
Halley Ritter, an artist and curator living and working on Treaty 1 Territory whose work is informed by her Jewish identity: Tracing Memory: A Process Art Workshop
Kliel Rose, spiritual leader of Congregation Etz Chayim, ordained by the Jewish Theological Seminary:  Shabbat Zachor—The Way of Entering into Purim
Moshe Saks, Eliana Saks, Ugochukwi Nnaji, and Moshe Nwafor telling a family story that includes an unusual Jewish community: Finding Love and Jewish Community in Nigeria
Jerry Scherer, amateur genealogist and personal genealogical researcher as well as VP, Communications for the Jewish Genealogical Society of Toronto: L'dor V'dor (From Generation to Generation)
Rena Secter Elbaze, Director of Engagement and Education at Congregation Shaarey Zedek in Winnipeg: Gossip, That Dirty Little Word!
Take this opportunity to join Winnipeggers and other participants from around the world on March 6 and you will want to visit Winnipeg in 2023, for our 13th annual Limmud when we hope to return the joys of gathering in person.
The price is modest, and registration is found at limmudwinnipeg.org