By Leticia Gomez, Candidate for the Edmonton Public School Board Trustee
(Edmonton) – Many of you have heard about the Edmonton Jewish Senior Citizen's Centre (The Centre) but not many know how much it does for the community. I became involved with the Centre more than five years ago with the assumption that it was just a place for seniors to have lunch and socialize. Very quickly, I discovered an interesting and welcoming world where different generations explore new ideas, exchange knowledge, and have fun together.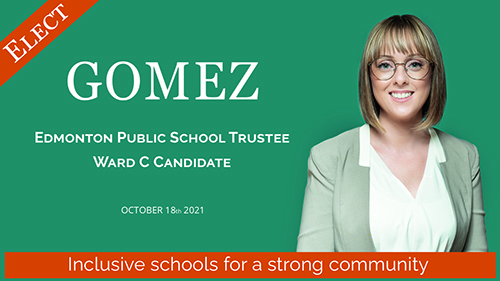 I was honoured to participate in the development and delivery of various projects at the Centre. One of the initiatives developed with Svetlana, the Centre's executive director, was to enable the Francophone and Jewish communities of Edmonton to learn about each other and collaborate. Our first project aimed to mentor Francophone women to help them enhance their leadership skills. The second project, called Where are the women?, focused on contemporary Francophone artists from all over Canada, and led to a virtual presentation of their Edmonton Art exhibit and vivid discussion about the way contemporary art presents and preserves itself.
The most recent project called Safer & Stronger Together, is a partnership between La Coalition des femmes de l'Alberta and the Centre, which aims to raise awareness about abuse and discrimination towards women and girls. This project became a reality thanks to funding from the Canadian Women's Foundation. Many immigrant women, after arrival to Canada, lose their traditional support system and became more vulnerable. Seniors can play an essential role in the lives of those women by sharing their wisdom, creating support, and providing knowledge about the Canadian way of living.
There was recently a Zoom forum Stronger & Safer Together with representatives of service organizations and women who shared their experiences.
Many members of my synagogue, Temple Beth Ora, participated in the Centre's recent project from Survival to Thrival: Shared Historical Experiences, with both the Jewish and Indigenous communities of Edmonton. It was an amazing learning curve for participants from both communities as we explored personal stories and developed mutual understanding and friendship.
For many years the Centre, has worked to strengthen the benefits of intergenerational communication through cooking, storytelling and volunteering. We have also facilitated transfer of knowledge from young to not quite as young, so that our Seniors have learned how to use communication tools such as Zoom and Facebook and had assistance to learn how to use gadgets effectively. These activities were funded by the New Horizons for Seniors, Government of Canada and supported by our wonderful team of young volunteers from the Kyrgyz Association in Canada and practicum students from the University of Alberta. The Centre will soon offer special one-on-one training for members who have never used I-Pads before and want to become I-Pad literate. I-Pads can be provided, on loan, and volunteers will help you explore this communication technology tool.  Please register for this program asap.
No matter how young or old you are, you can bring something to the Centre and be part of a community that values friendship, knowledge, and tradition. Don't wait to be retired to join the Centre; be like me, get your membership and start to explore the various opportunities the Centre provides. Please call 780-488-4241, email programmer@jdicseniors.ca, visit www.jdicseniors.ca to start your journey!
 Leticia Gomez is a Centre Supporter and Volunteer. She is also a candidate for Edmonton Public School Board Trustee in Ward C in the upcoming Edmonton Municipal Elections.
This article was provided by the Jewish Senior Citizens Centre and is sponsored content.