by Regan Treewater-Lipes
(AJNews) – As the weather in Edmonton is heating up for summer, so is the programming at Beth Israel Synagogue!  Recently, over Passover, congregants were able to gather together for the first time in two years for the holiday's first Seder meal.  "Beth Israel has hosted Pesach Seders annually since the early 1900s," explained Shul Director, Moshe Siderson.  "This is why it was so important for everyone to be back in person again."  In past years Beth Israel Seders have welcomed upwards of 120 people, and although this year was more modest in turnout, around 80 attendees, the occasion marked a significant milestone in the community's move toward a 'new normal'.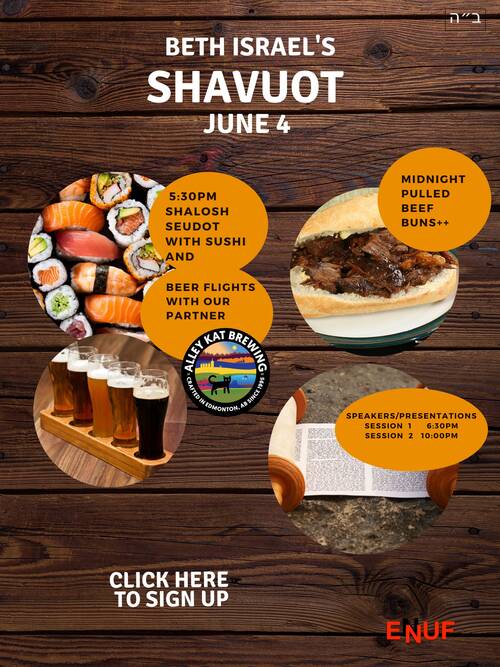 Weekly  Shabbat kiddish lunches are taking place after services again, and according to Siderson, activity in the kitchens is back into full swing with food preparation as busy as ever.  "People can once again sponsor a kiddish by visiting the website."  Siderson and the BI team have made the process as easy as a few clicks of a mouse – those wanting to commemorate an occasion with a kiddush for the community should visit www.familyshul.org for more details.  "We've recently celebrated three bar mitzvahs as well," said Siderson with evident jubilation.
With Shavuot right around the corner, the BI team has not a moment to spare.  "Everyone is very happy to have the option to worship together and celebrate holidays as a community," commented Siderson.  "So much of Shavuot is about learning together."  This year the celebration kicks off with a Mincha on the evening of June 4th, followed by a Se'udat Shishi sushi extravaganza, and AlleyKat beer tasting event.  "We are really fortunate to be able to partner with AlleyKat Beer, a local brewery, to offer a self-guided tasting of four of their beers."
After two years of pandemic living, there are very few people who can say that they have not been impacted by mental health battles – either their own, or of a loved one.  In recognition of the struggles that so many have faced, Beth Israel organizers have made the theme of this year's learning events: 'Mental Health and Judaism'.  "There will be five learning sessions throughout the evening," explained Siderson.  "We have arranged for very engaging guest speakers to offer thoughts and insights about mental health and Jewish teachings," including Melany Allen, Rabbi Claman, Rabbi Blachman, Howard Glass and Gabe Mandel.
"We will also have late-night pulled beef sandwiches for those attending the Shavuot event," said Siderson.  "Since we do know that there are many people who are still not entirely comfortable meeting in person, we will also be offering sushi and pulled beef sandwich pick-up options in advance of Shabbat."  There will be an assortment of snacks and beverages throughout the evening in addition to the scrumptious two meals.  Registration is now open through the BI website, and admission includes food and lectures for the entire evening.
'Outdoor Torah Adventures' continues for the summer of 2022.  Organizers have been busy brain storming.  "This year things are evolving.  Summer camps are opening back up, but we have had huge success with our programs, so we will continue to take Torah learning outside," commented Siderson.  Possible programming may include: wine and cheese tasting, biking, boating, walking tours, and much more.  "We are finagling the details, but our aim is to continue to provide people options that suit their comfort levels."
The community is encouraged to stay tuned for updates and developments as Beth Israel's summer schedule takes shape.
Regan Treewater-Lipes is a Local Journalism Initiative Reporter.