by Judy Zelikovitz
(AJNews) – I love the High Holidays and the opportunity they present to get together with extended family, to visit with friends, and to reach out to colleagues. In addition to the special foods of the season, it's also a time to remember what is important, and what we need to acknowledge and reject from the past year. It's also a chance to pause to consider how to find the path we really want to follow, to figure out what we need to enhance, to make our lives safer, calmer, more balanced. To make our lives – and our families' lives – better.
Whether we are part of large Jewish communities in Israel, the US, Canada, or Europe, or part of small pockets of Jews anywhere around the world, our connections one to another have never been more important. Our support for our community's values, for their protection, is strengthened by our connections to one another, and it is together that we will be effective in the vital fight against Jew-hatred, a scourge that's grown significantly in Canada and around the world over the past few years.
In Israel, we've seen a shocking spike in 5783 in lone-wolf assaults against Israeli Jews along with vile rhetoric and attacks by terrorist groups against the Jewish people. In Canada, still among the safest places anywhere, we are nevertheless living through a growth in online hate, threats to Jews and their neighbourhoods, and an alarming statistical rise in hate crime of all kinds against Jewish Canadians.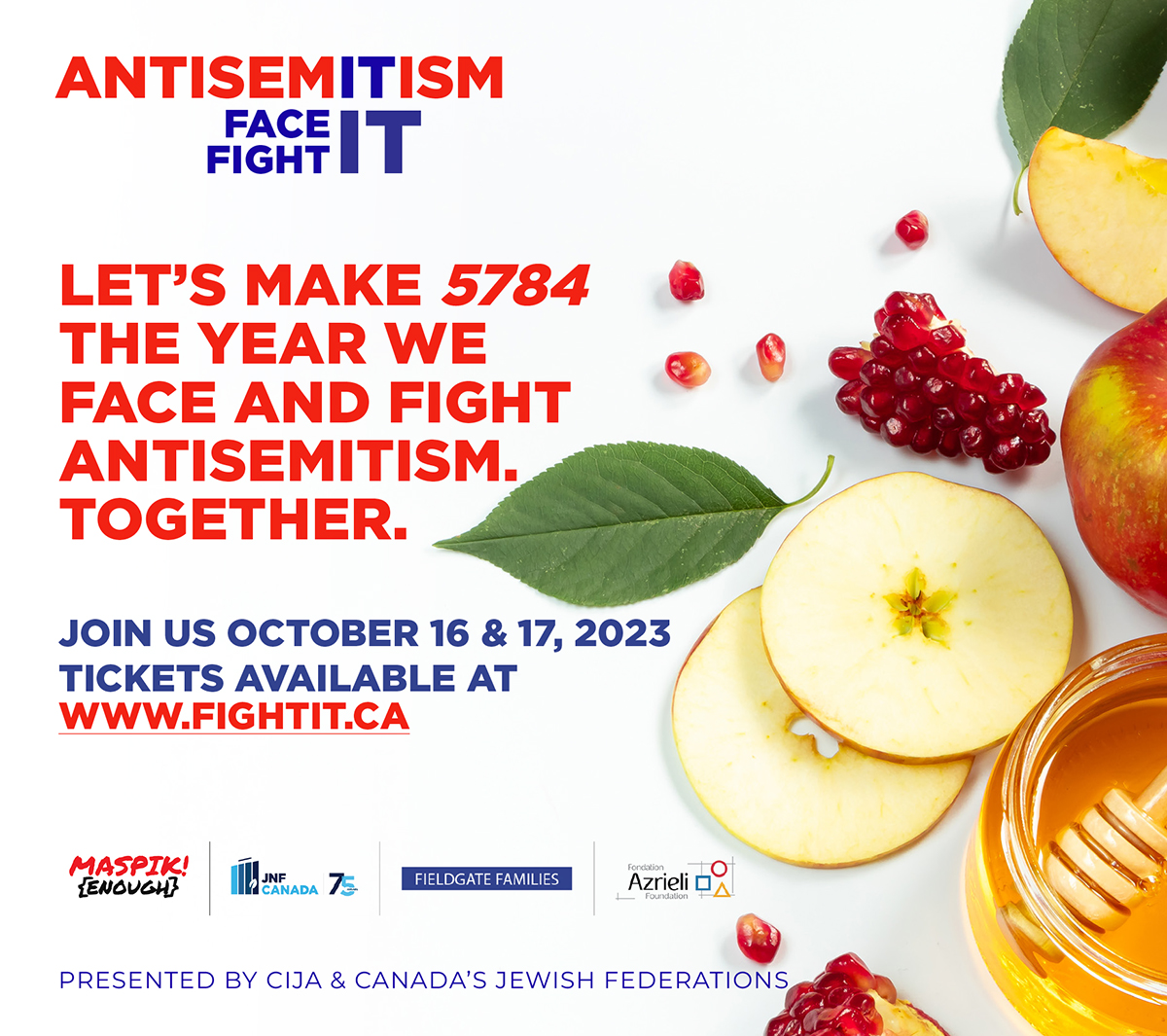 This growth in Jew-hatred has been the focus of much of the advocacy CIJA has undertaken in recent years and, this year, we are taking our national campaign public. On October 16-17 in Ottawa, CIJA and the Federations across Canada will host Antisemitism: Face It, Fight It, a two-day conference where we will confront the issue head-on.
We will Face It. We will learn from international and local experts about how they have addressed Jew-hatred and how we can advocate for legislation and other changes that will make our community safer. The second day, we will Fight It, speaking directly to our elected officials, ensuring they know the impact of antisemitism on our community, the effects of hate on all minorities, and its toxic effect on all Canadians. We will unite – with one another and with our partners – to fight antisemitism, and we will leave the conference better educated and better prepared to get this done.
Speakers will include Jews and non-Jews whose careers have been dedicated to combating antisemitism. We will hear what has worked, what has not, how to advocate for effective legislation, and how to equip our students and young leaders to take on this fight on campuses across Canada.
We will leave the conference secure in the knowledge that we are embarking on our biggest effort ever to respond to antisemitism. We will ensure Ottawa and other governments hear our call. We will amplify our voices, speaking as a united community and as one supported by allies across Canada.
Now is the time for us to show up, to speak up, and to step up. Register now at fightit.ca.
I hope to see you in Ottawa, and in the meantime, over these High Holidays, I wish you a sweet, healthy, and happy 5784.
L'Shana Tova!
Judy Zelikovitz is Vice President, University and Local Partner Services, at the Centre for Israel and Jewish Affairs (CIJA).