(AJNews) – Over the last week, Israel has received over 1200+ rockets fired by the Palestinian Jihad from the Gaza Strip.
It is at these times that local organizations, groups and individuals ask the question "what can I do to help?" One of the ways we can help is by preparing vulnerable communities for future attacks.
On Sunday June 25th, join JNF Edmonton in honouring Rosemary and Stan Kitay in support of building a bomb resistant Education and Play Centre that can serve as a safe reprieve for families living in a number of communities in the Eshkol region, along the envelope with Gaza.
JNF Edmonton has an incredibly dynamic evening planned, hosting Elan Isaacson, Head of Security for the Eshkol region who will provide a unique insight into what it is like to live in the area. Meet Isaacson in person when he visits Edmonton at the JNF Gala, and hear firsthand what his community faces daily living on the Gaza border. He will share an update on how the current attacks are affecting the communities in this region. Thanks to shelters the residents are relatively safe, but there is constant fear and destruction of property.
Isaacson comes from a farming background and did not intend on a career in security but he stepped up when the need arose and became the Head of Security coordinating volunteers across the Eshkol region to serve and protect their communities.  He fully understands the destruction in the area and sent a recent video describing the recent impact. On May 16, he sent a videoclip and said, "We just finished planting trees on a kibbutz that was hit 15 time by molotovs. Each molotov made a hole when it hit, and in each hole, we have now planted a tree."
Isaacson's presentation will be followed by comedian and author Joel Chasnoff who always delivers!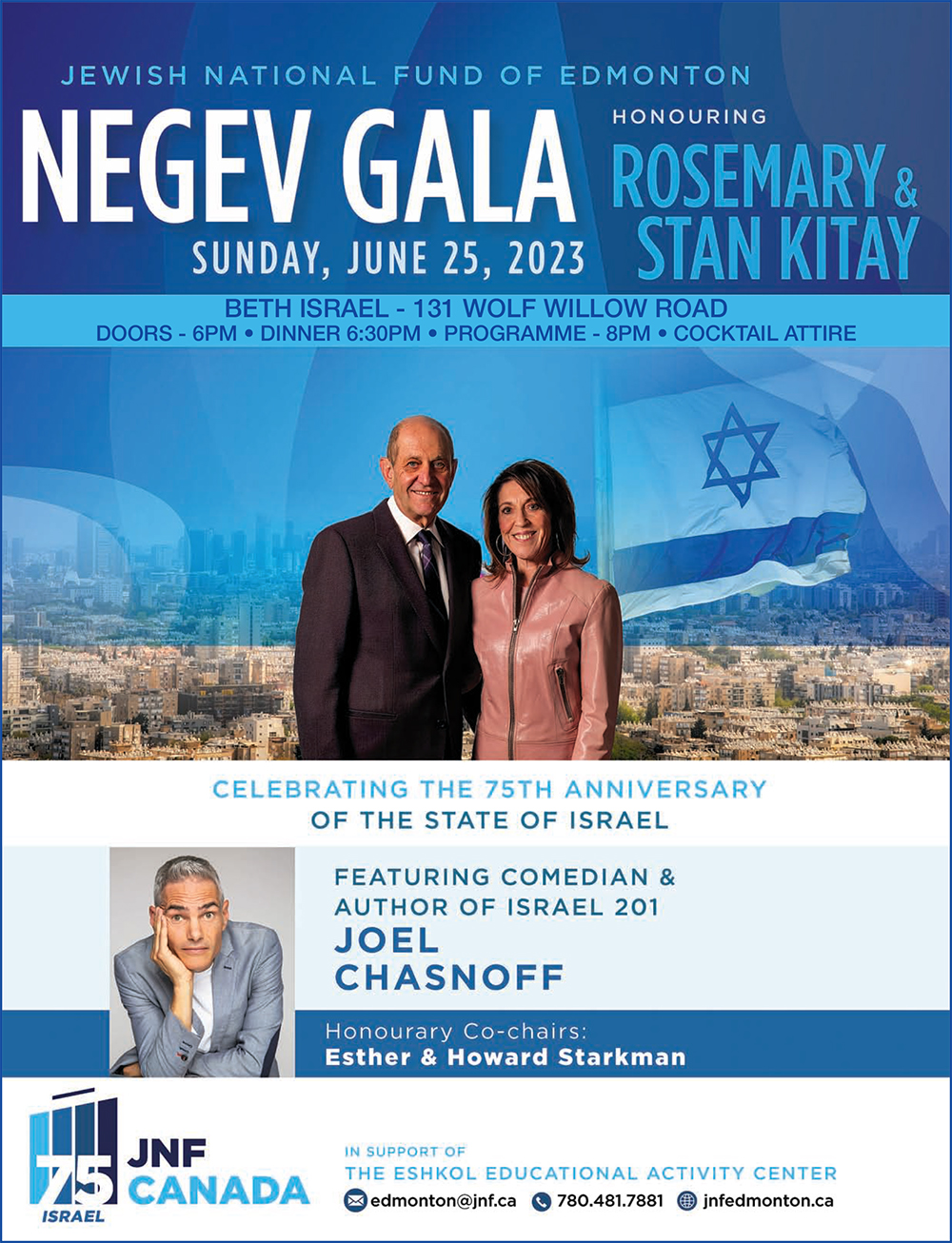 JNF Negev Honourees Rosemary and Stan Kitay were born in South Africa to traditional Jewish families that shared a passion for Israel and involvement in their Jewish community. Their journey began on a tour of Israel where they met, fell in love, and five years later were married and began a beautiful life together in Johannesburg.
In 1991, the Kitays immigrated to Edmonton with their three children and immersed themselves in the Jewish community. Over the years, the couple has been active in supporting various organizations, both locally and abroad. Their unwavering support for Israel has been a driving force in their volunteerism and board positions in Jewish organizations.
The Kitays are delighted to support the Eshkol Educational Center, a community building initiative aimed at enhancing the mental health and safety of residents in the Eshkol region of Israel. Their commitment to this project is a testament to their love and devotion to the people and the land of Israel.
The JNF Edmonton Negev Gala will be held on June 25, 2023 at the Beth Israel Ballroom. The doors open at 6 and a delicious kosher dinner will be served, at 6:30 pm. There are lots of ways to participate through sponsorship, advertising, by donation or purchasing tickets (a portion of which is tax deductible). Visit jnfedmonton.ca for more information and to order your tickets today.