by Gaylene Soifer and Jeff Rubin
(Edmonton) – Jewish National Fund of Edmonton is thrilled to announce the 2022 Negev Gala Honourees, Robin and David Marcus, a passionate and involved couple who are part of the fabric of the Edmonton Jewish Community. Robin and David are long-time volunteers and supporters for a strong and vibrant community who have also dedicated their lives advocating for, and strengthening, connections with Israel.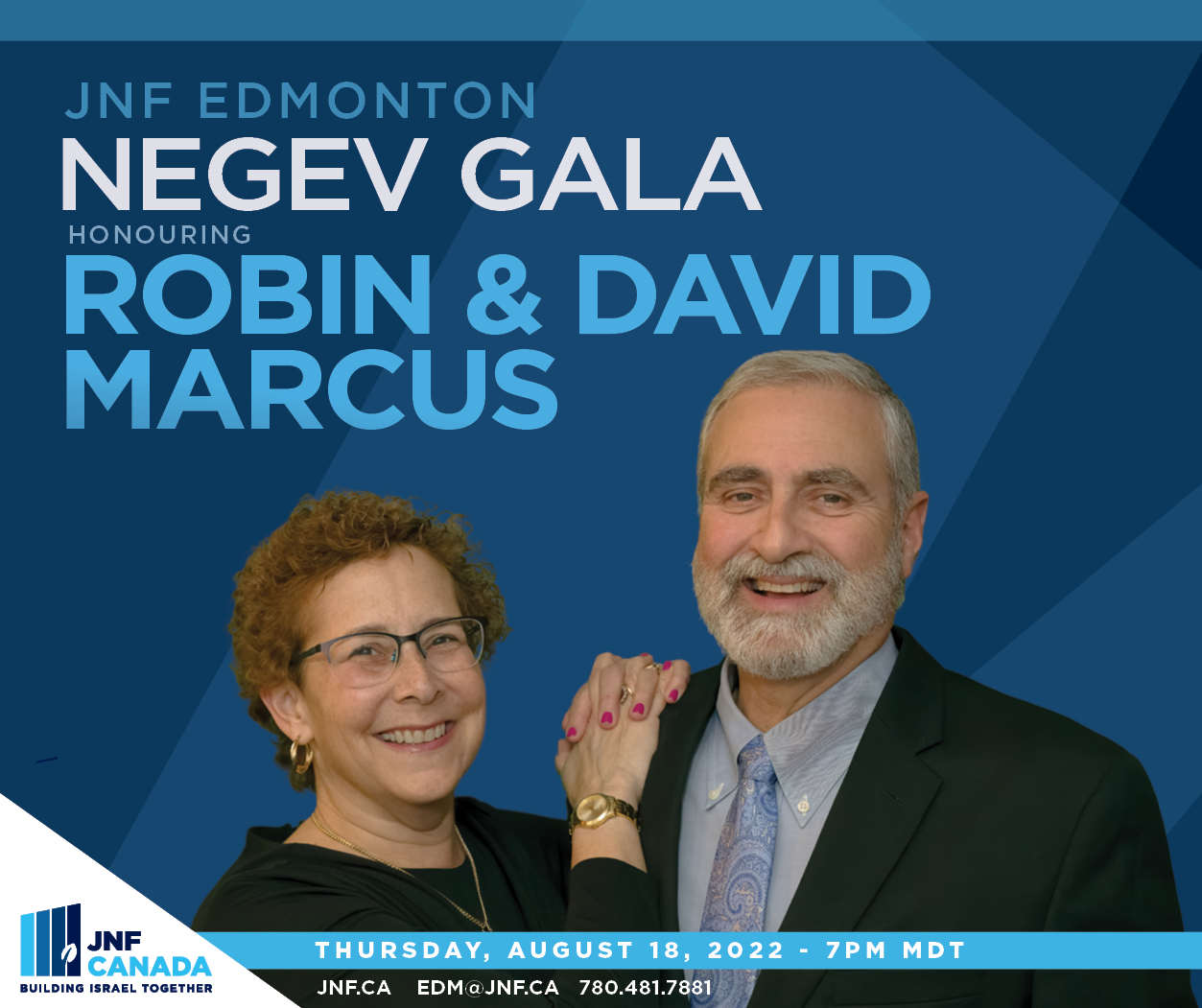 David is a second generation Edmontonian whose family's roots and commitment to the Jewish and general community run deep. His many involvements include the Edmonton Chevra Kadisha, Beth Israel Synagogue, JAHSENA, Edmonton Jewish Federation, The Edmonton Jewish Community Charitable Foundation, the Downtown Parking Advisory Board, and the Edmonton Downtown Business Association.
Robin (nee Winestock) has lived in Edmonton most of her life and learned the importance and values of engagement and involvement from her parents. She is both a Talmud Torah School alumna and a devoted and beloved teacher at the school. She is a recipient of the 2019 JNF Esther and Eric Exton Educational Award. Her involvement within the Jewish community also includes Beth Israel Synagogue, Na'amat, Edmonton Jewish Federation, BBG Advisor, Shalom Edmonton, and the Jewish National Fund.
Robin and David's son, Max, and his wife, Eliana Sutton, live and work in Toronto, and their daughter, Annie, son-in-law Corey Sobel and granddaughter, Rayna, live and work in Vancouver.  Family and Jewish community are a crucial part of all of their lives.
Robin and David are humbled to be this year's JNF Negev Gala honourees and we are looking forward to a wonderful celebration!  They are most deserving of this honour. Mazal Tov and Yasher Koach to Robin and David.
The 2022 Edmonton JNF Negev Gala will be held on August 18, 2022 at 7 pm. More details will be announced soon.