By Deborah Shatz
(EJNews) – When Freya and Lewis Wasel moved to Edmonton 19 years ago, they came with a very positive attitude. Rather than asking what the Edmonton Jewish Community had to offer them, they asked what they could do to enhance the community. Over the years, they have had an extremely positive impact on almost every organization within the community; they are very deserving honourees for the 2019 Edmonton JNF Negev Gala.
On June 18, in recognition of excellence in community leadership and dedication to Israel, the "dynamic duo" was honoured by the Jewish National Fund (Edmonton) along with  friends, family and community members at the Fantasyland Hotel Ballroom at West Edmonton Mall. The full-house audience embraced the couple with love, appreciation, respect and multiple standing ovations.
Gillian Horwitz was excellent as emcee for the event, introducing speakers such as JNF Edmonton president Sharon Bookhalter, JNF Canada CEO Lance Davis as well as a video presentation about Jewish National Fund. She warmly extolled the many virtues of the honourees and at the same time commended them for their humility, love for family, community and klal Israel. She also announced that the date was especially important for the Wasels because they were celebrating their 52nd wedding anniversary.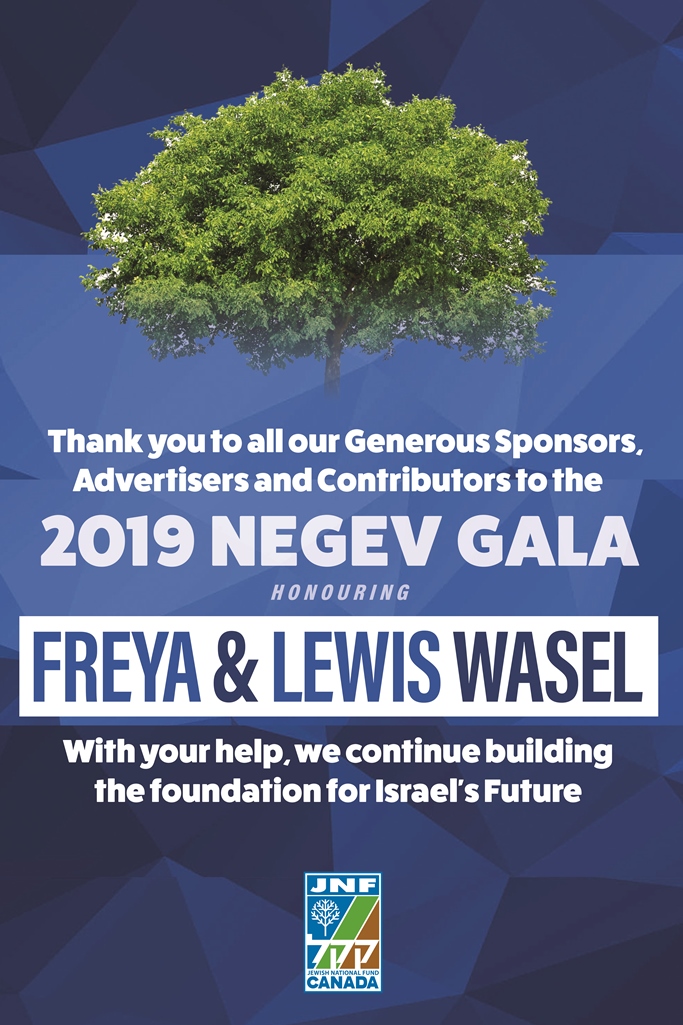 The kindness and generosity of Lewis and Freya was also lovingly expressed by Negev co-chairs Rebecca and Shane Asbell.
Rebecca said, "Nearly 19 years ago you moved to Edmonton to be closer to your children and soon to be grandchildren.  You quickly became involved in many volunteer and leadership roles, not only in the Jewish community, but the general community as well.
"Your commitment to all that you do is admirable and inspirational.  You have dedicated so much of your time, efforts, and donations to making sure that your surroundings are better places than they were before you were involved.
"You are amazing people, a real dynamic duo. This incredible event has brought together a large cross section of friends, neighbors, colleagues and relatives from near and far.  This is a testament to the positive impact and deep enduring relationships that you have fostered over the years."
JNF Edmonton Executive Director Jason Cairns said the entire 2019 Negev Campaign Team was inspirational. He said, "This year's Negev Gala is the result of many hours of hard work, by an outstanding group of people who are genuinely dedicated to Judaism, Israel and family. They embrace people as if they are a new member of the family and treat everyone involved with a familiarity and respect that is beautiful and inspiring.
"To know Freya and Lewis is to love them. They are such dear, caring, superb people. It is no wonder that they have produced such fine children and grandchildren, all committed to their Yiddishkeit, community and Israel.
"The Wasel and Asbell families permeate every aspect of Jewish Edmonton. They have dedicated their lives to the growth of Jewish Edmonton, taking on leadership positions in several organizations, supporting many campaigns and events both financially and as volunteers. They are the greatest example of Jewish continuity at work and it has been an honour and pleasure to work with such an outstanding family."
Proceeds of the Edmonton Negev Gala are going to a special JNF project called Airplane Park in Kiryat Shmona – Israel's northern most city. "The Airplane Park project is an example of what JNF does best," explained Shane Asbell, "creating fantastic green spaces to support and enhance the quality of life for residents of Kiryat Shmona and surrounding communities."
Lewis and Freya addressed the audience, warmly welcoming everyone in attendance and expressing gratitude to the amazing and dedicated organizing committee.
"What a magnificent day this is!" said Lewis. "When Freya and I became new residents of Edmonton 19 years ago we could not have imagined anything like this happening to us.  We left a home that we loved in Winnipeg and found a home that we love in Edmonton."
Freya said that they were both proud and humbled by the honour. "While our thoughts are cloaked in pride we also feel a sense of humility in receiving and accepting this honour," she said. "We are proud of our commitment to Edmonton and to Israel, both ancient and modern."
Lewis explained that the families ties to Israel go as far back as 1921 and continues to present day.
Freya spoke in glowing terms about the Airplane Park project. She said, "Tonight we highlight and celebrate the work of the Jewish National Fund.  It is remarkable that since its founding in 1901 it has planted a quarter billion trees in what was a barren desert. As we have seen in the video tonight, its traditional role of forestry and land development has been expanded to developing communities, supporting the environment, sustainability, and more. Humble hands and generous hearts have made this work a reality. Your presence here tonight allows this work to continue and for that you deserve a thousand thanks.
"Lewis and I have selected a worthwhile JNF project as the beneficiary of tonight's generosity.  Many projects tugged at our heart strings and we finally chose Airplane Park in Kiryat Shmona."
Freya recently returned from a "magical" tour of the area with JNF staff, family and friends. She said, "Work on the 19-acre urban nature park is well underway. What was formerly a neglected cement canal is now the beginning of a beautiful park with a stream bed running through it.
"As you walk along the streambed, at several points, you can hear the crashing sounds of waterfalls. Development plans include a scenic walking path along the stream bed, quaint small bridges, several wading pools, hiking paths, picnic areas and quiet places where you can sit and enjoy the sights and sounds of the park. A definite highlight of the tour was reaching a high observation point which provides a panoramic view of the Hula Valley. It is breathtaking."
Lewis concluded his remarks to speak about the importance of volunteerism, "the generator that provides the power for the good work of charitable institutions including JNF."
He said, "To contribute to a strong vibrant community we knew we had to become volunteers.  We know that everyone attending tonight is a volunteer in one way or another.  When we work together toward common goals, we make a difference.  Perhaps Elizabeth Andrew said it best: 'Volunteers do not necessarily have the time.  They just have the heart.'  As a final thought we believe that volunteerism is the ultimate exercise in democracy.  We may vote in elections once a year but when we volunteer, we vote every day for the community in which we have chosen to live."
"You have honoured us tonight more than we could ever have imagined. We wish you a good evening and say once more Todah Rabah."
Entertainment for the evening was also magical. The concept was by family member and cultural arts administrator Leonard Stone. Throughout the evening program (and quite unexpectedly), six exceptional local singers who were embedded in the audience, rose to perform a song that told the story of Israel. With Chris Andrew as a piano accompanist, Brian Christensen sang "The Impossible Dream," Sidney M'Sahel sang "Anotevka," Tyson Kerr sang "Tell me where can I go," Sean Sonego sang "Jerusalem of Gold" and Brett Ludwig sang "Exodus."  The truly magical moment of the evening was the finale, when Timothy Noel sang a heartrending version of Leonard Cohen's "Hallelujah." As he performed the song, one by one, each of the other singers walked up to the podium singing and joined him for a very moving close to an exceptional evening event.
Click here to view the JNF Edmonton 2019 Negev Gala photo gallery.