By AJNews staff
(AJNews) – On May 1, Jewish National Fund (JNF) Calgary hosted a very special virtual Negev Gala honouring Christian and other friends of Israel for their support and friendship. The past few years have been turbulent and with the rise in anti-Zionism and antisemitism in Canada and around the world, JNF Calgary decided that it was an important time to express gratitude to those outside the Jewish community who stand in solidarity with the Jewish people to ensure that Israel is thriving.
"Tonight's broadcast highlights stories and visuals about grassroots peacemakers in Israel who are building trust with their neighbours, nurturing understanding and respect, typically under the radar of the public and the media," stated JNF Calgary Executive Director Elliott Steinberg and Cheryl Gurevitch JNF Calgary President of the Board. "Their endeavours go hand in hand with the ongoing support of our Christian friends in a world that is increasingly antisemitic and anti-Zionist and amid continuing attacks in Israel both on the ground and in world forums."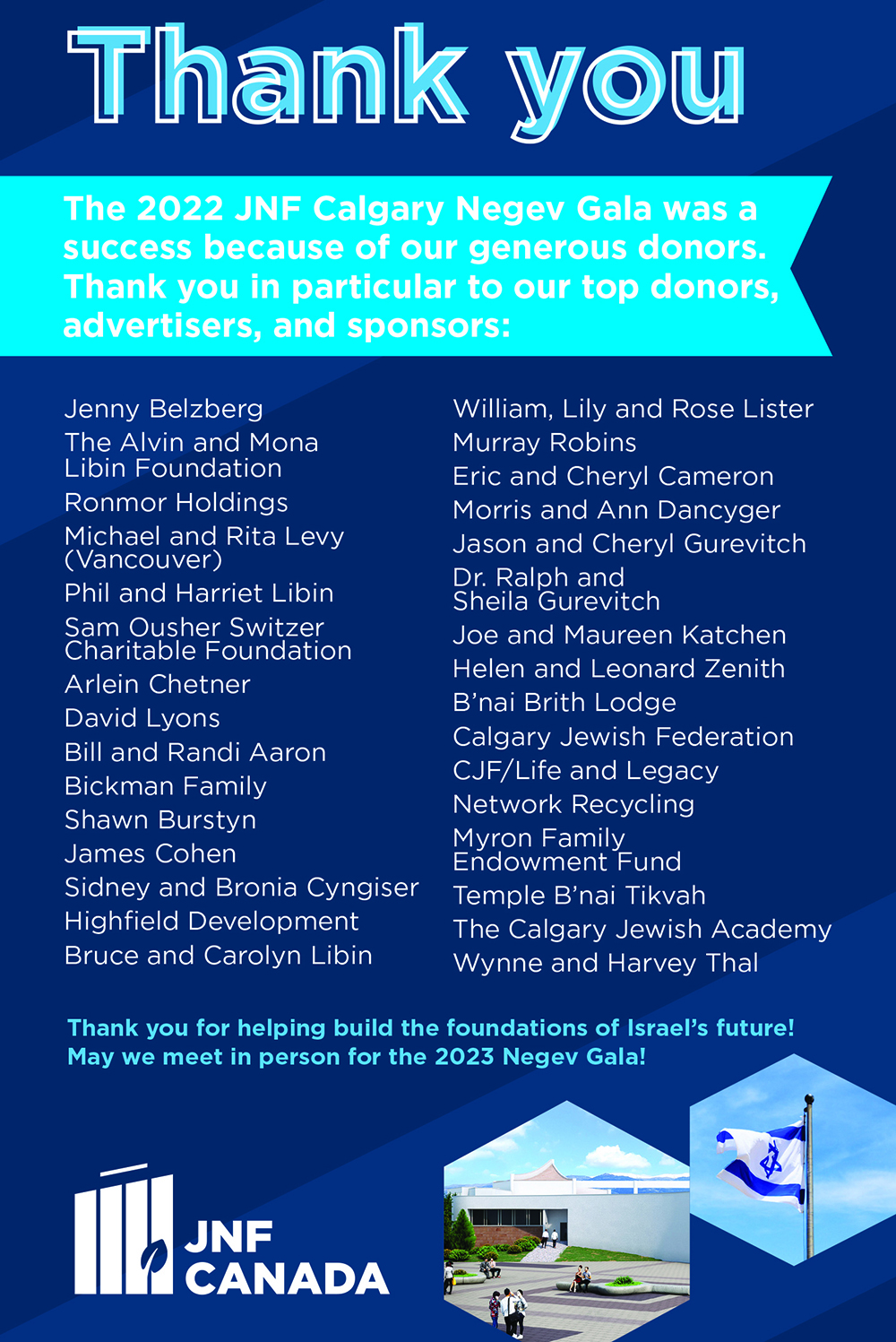 "I'm delighted that we can come together as a community to honour our Christian Friends of Israel," added JNF Canada President Beth Price. "With rising antisemitism it is gratifying to know that Jewish people have the support of many Christian communities. JNF builds the foundation for Israel's future. This means we identify pressing needs and help raise the funds to build social service or environmental infrastructure that is needed on the ground. Thanks to your support JNF will help in the expansion of the Clore Centre for Performing Arts in the Galilee."
Price, a former President of JNF Calgary, paid tribute to Phil Libin, the longest serving board member of JNF Calgary who is stepping down this year from the board of directors. "Phil has demonstrated a passionate, lifelong commitment to JNF through years and years of dedicated volunteerism," said Price. "He is an icon of community service and philanthropy. Thank you Phil – you've made JNF Canada a kinder, better and stronger organization."
The Clore Centre for Performing Arts in the Galilee is aligned beautifully with the theme for Calgary JNF Gala: "A Mosaic of Peacemakers." The Gala, expertly guided by hostess Laura Shuler was a multimedia narrative, that told the stories of the many grassroots peacemakers in Israel who are building bridges between Jews and Arabs, generally under the radar of the media and public awareness. In many cases these are brave advocates spread out in high-conflict zones throughout Israel, working towards nonviolent political resolution, and creating space for peaceful dialogue.
For Shuler the journey "is in the spirit of Tikkun Olam; it's all about building connections, and bringing people together in a unifying and harmonious way."
The program featured several beautiful performances by trilingual Canadian-Israeli actress and singer Nicole Raviv, with members of the Calgary Philharmonic Orchestra. There were also some wonderful performances by musicians from the Clore Centre of the Performing Arts in the Galilee. The talent demonstrated of these students was mind-blowing!
Shuler spoke passionately about the importance of music and peace. She said that "music is a powerful tool for bringing people together. It can express universal desires like love and peace despite differences in language and culture. It's the language of the soul."
The Clore Centre is the only facility in Northern Israel whose mandate includes promoting co-existence by bringing children together from all backgrounds to create and make music together. "How beautiful is that?" declared Shuler. "This is a wonderful approach to build peace. Young people learning to respect their neighbours and find common ground."
Guest speakers at the gala included Avi Benlolo, founder of Abraham Global Peace Initiative,
Colonel Richard Kemp, former commander of British forces in Afghanistan and Colonel Richard
Robert Nicholson, President and Founder of the Philos Project. Guests also heard from Dumisani Washington, Founder of Institute for Black Solidarity with Israel and the former Diversity Outreach Coordinator for the over 10-million-member Christians United for Israel (CUFI).
The message of the Gala was the importance of friends and neighbours working together for peaceful co-existence.
"JNF Canada is dedicated to building the foundation of Israel's future by planting trees, conserving water, supporting agricultural research and building social infrastructure that benefits all citizens of Israel and even others outside of Israel," concluded Shuler. "This year's Negev Gala is a perfect example of grassroots peacemaking."
"This year's Calgary JNF Negev Gala theme is about hope," emphasized Steinberg. "We're celebrating all kinds of grassroots peacemakers in Israel, who build bridges with their neighbours in an effort to find common ground, and ultimately, peace. There are many who think this is the only way forward, instead of formal negotiations between leaders that have proven to be mostly fruitless."