By Daniel Moser
(EJNews) – The connection between hockey and Alberta is undeniable, but what many may not be aware of is the deep connection between the Jewish communities of Alberta and hockey. From team owners like Zane Feldman z"l and Darryl Katz, to players like Steve Dubinsky, Ronnie Stern and Mike Cammalleri, Alberta has had its share of Judaic hockey royalty. It is in that spirit that JNF Calgary and JNF Edmonton, in a joint effort, have created the JNF Alberta Cup, a four team Battle of Alberta style hockey tournament taking place this March.
In coordination with the Calgary Jewish Hockey League and the Edmonton Jewish Hockey League, four teams of the best Jewish amateur hockey players in the province will assemble and take to the Mayfield Toyota Ice Palace at West Edmonton Mall and compete for Jewish hockey superiority.
The inaugural tournament, in what will hopefully transition into an annual event, will feature games on March 24 and 25, a family free skate on Sunday in between games and great opportunities for players and sponsors.
After the shots have been taken and the goals have been scored, the victors will be crowned champions at the tournament dinner and awards banquet. All players, family members, and the community at large will be invited to attend, participate in silent auctions, cheer on award recipients and celebrate the unity and solidarity established through sport by the teams and communities.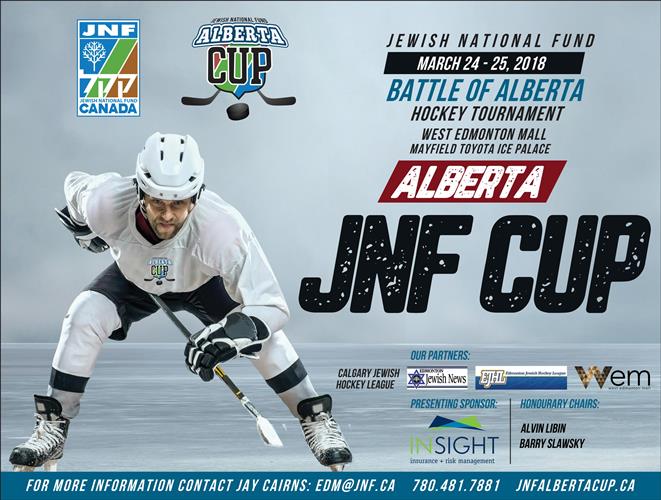 The focal point of the evening will be the presentation of the Stevie Schwartzberg Memorial MVP Award.
Earlier this year the Edmonton Jewish Community was stunned by the loss of Stevie Schwartzberg z"l. Stevie was a beloved member of our community, through his years of involvement in the community and infectious personality he touched the life of everyone he came in contact with. One of his greatest passions was sports and that's why JNF Edmonton found it fitting to name the tournament's Most Valuable Player Award in Stevie's honour.
Proceeds from the JNF Alberta Cup will support the Brothers for Life Medical Project. Brothers for Life was created and is run by injured IDF soldiers for the sole purpose of empowering Israeli combat veterans to reclaim their lives and fulfill their dreams.
For more information on the JNF Alberta Cup, to sponsor a team, a player, or register, please visit jnfalbertacup.ca or contact Jason Cairns, Executive Director of JNF Edmonton.