By Lisa Thomson
(AJNews) – JFSC is celebrating its milestone 60th Anniversary and the agency is taking this year to reflect on its growth and impacts, having provided social services for tens of thousands of individuals and families in Calgary over the decades. Plans include a celebration fundraising gala on April 26, 2022, and an historical coffee table book written by local author Donna Crawford.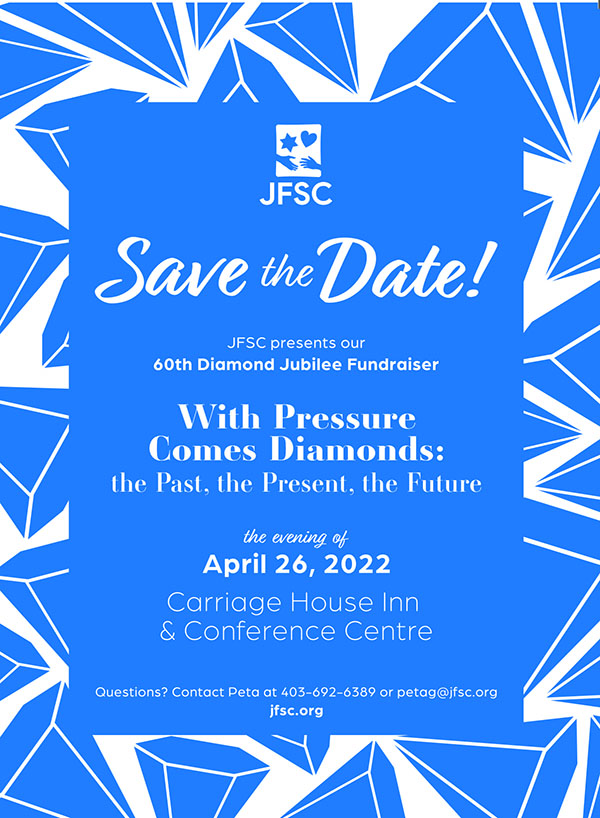 Harvey and Wynne Thal are the Honorary Chairs of the gala "With Pressure Comes Diamonds: The Past, The Present, The Future." Active members in the community, the Thals are long-time supporters of JFSC, and regularly engage their children and grandchildren in volunteering and supporting the agency.
The Thals explain, "We are thrilled to be part JFSC, working to make a difference in the lives of people in need. JFSC staff and volunteers do a great job of working with people of all faiths and cultures to help them become self sufficient, providing security and dignity for their clients."
Having nutritious food available for those in need holds special significance for the family, and they support the Wynne Thal Pantry ensuring it is always stocked with non-perishable food and Kosher items for clients. The Thals are also co-sponsors of the JFSC annual golf tournament, raising funds for programs and services.
"With Pressure Comes Diamonds" is JFSC's story. The traditional 60th Anniversary gift, diamonds are created when carbon, a relatively ordinary element, is exposed to enormous pressure and eventually develops into a beautiful, glowing gem. In life, some of our greatest feats, works and endeavors occur when we are placed under pressure.
For JFSC, pressure refers to the adversity faced by clients and the agency since its formation in the 1960s – complex social, economic and political issues and events including wars, social unrest, Jewish immigration and resettlement, economic turmoil, antisemitism and today's upheaval from the Pandemic. JFSC, the diamond, is the shining outcome of persevering through adversity.
Today's agency is non-denominational, accredited, and is a leader in social services in the Calgary community, providing programs and services to thousands of individuals and families. This would not happen without the support of its founders, donors, volunteers, staff and clients.
"We are grateful for the Jewish and Calgary community at large for their foresight in creating and assisting JFSC over the past six decades. It is their support that enables us to make a solid impact in the lives of our neighbors, friends and families," says Roxanne Droppo, JFSC Executive Director.
More information is coming about JFSC's gala event, to learn about JFSC and its programs and services www.jfsc.org, contact Peta at petag@jfsc.org or call 403-287-3510.