By Lisa Thomson
(AJNews) – As JFSC celebrates our 60th Diamond Anniversary, we want to thank you, our supporters, for being our partners in making a difference in the lives of our neighbors, friends and family. For 60 years your dollars have enabled us to provide community support, meet emerging social needs, and find innovative strategies and solutions for ongoing issues.
The struggles brought on by the Covid pandemic and the emerging refugee situation in Ukraine highlight the critical role that accessible social services continue to play in our community.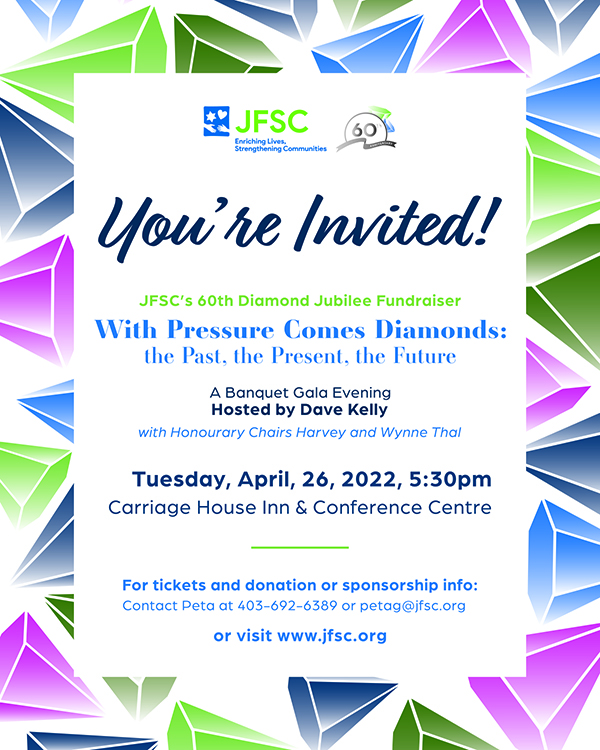 The concern for social welfare, caring for others, and providing community education has deep roots in Judaism. Jewish literature and interpretations of the Torah detail the manner in which one is to give money to the needy and the concern for not only physical welfare, but the dignity and feelings of those around us. The concept of Tikkun Olam (repairing the world), found in the Mishnah, is a powerful notion of social action, and is incorporated across Jewish communities and social service agencies worldwide.
For JFSC, Tikkun Olam is a prevalent goal:  Enriching lives and strengthening communities. Everyone needs a hand up at some point in their lives, and we support youth, families, older adults, and seniors, offering inclusive and accessible programs and services across the life cycle. Anticipating and responding to emerging needs in our community is made possible through the support of our partners and collaborators.
Together we make it possible for a lonely senior to have access to nutritious food, connection to the broader community and a renewed sense of belonging. Together we support a family struggling with finances due to unemployment, helping them with career counselling and strengthening their family relationships. Together we support an individual experiencing isolation in their caregiving journey. Together we assist an individual calling into our Mental Health Line, when they feel they have nowhere else to turn.
It is with your help that we have been able to respond to a 71% increase in requests for service and a 78% increase in demand for basic needs supports over the past two years. And with your support we have grown into a robust and inclusive social service agency.
In 1966, JFSC's first social worker was hired. Today, we have more than 80 employees.
In 1967, aside from volunteer Board members, the first official volunteer joined JFSC. Today volunteers are the heart of our agency with more than 100 individuals of all ages donating their time and expertise.
In 1962, revenue for the agency was $442.92. Today our operating budget is $5.5 million dollars.
72 seniors received support from JFSC in the first decade. Today, we support more than 1000 seniors through 4000 plus interactions annually.
In 1961, Jewish Family Service Calgary became well known for its seminars and workshops. Today, community education continues to be an important service provided by our staff.
In the 60s, Jewish Family Service Calgary added service provision for non-Jewish clientele. Today, we are a non-denominational agency working collaboratively with multiple partners to provide accessible and inclusive services to people of all faiths and cultures.
Miriam's Well, a kosher food collection service was launched in 2006, in 2020/21 the Wynne Thal Pantry provided more than 900 food packages to clients.
By continuing to support JFSC, you have the opportunity to make a difference in someone's life. For more information, to find meaningful ways to be part of JFSC and to purchase tickets ($118) for our April 26 Diamond Anniversary Gala "With Pressure Comes Diamonds: The Past, The Present, The Future" contact Peta at 403-692-6389, petag@jfsc.org.
Lisa Thomson is a Communication Specialist at JFSC.