By Jenna Soroka, Local Journalism Initiative Reporter 
(AJNews) – On January 12th, the community was invited to the livestream unveiling of the Jewish Federation of Edmonton's Shine a Light on Antisemitism mosaic art piece. The live event began with a Treaty and Land Acknowledgement by Federation executive board member, Rebecca Asbell. Viewers heard from Edmonton Mayor Amarjeet Sohi, Federation executive board member Jared Paull, visual artist Lewis Lavoie, and JFED CEO Stacey Leavitt-Wright throughout the event.
Late last year, the Jewish Federation of Edmonton applied for, and received, a $10,000 grant from the Jewish Federations of North America to contribute to the antisemitism awareness campaign. With this grant, JFED coordinated a special project for members and friends of the Edmonton Jewish community to paint words or an image on a tile that expressed how they have been impacted by antisemitism. Tiles were distributed to several community organizations and an in-person event was also held where the broader community could participate, share and listen to stories from Jewish community members.
Individual tiles included messages that ranged from fear to hope such as Reliving my grandparents' nightmare, Scared for my children, Disappointed, Alone, Anxious, Rejected, Heartbroken, Ghetto as well as messages such as Greater Good, Love, Resilience, Defiant.
Leading up to the unveiling, Mayor Sohi shared how his experiences with racism, discrimination, and marginalization during his formative years influenced the tile he created for the art project. He continued by expressing "there is so much we can do together to tell our stories, and listen to other people's stories, and be empathetic towards each other's realities." Sohi ended with a passionate commitment to tackle oppression and hate-based violence which harms minority communities and to work towards building, together, an Edmonton for all of us.
Following Mayor Sohi, Jared Paull discussed the importance of bringing conversations about antisemitism into the world of art. He further explained that with art, discussions revolve around emotions and experiences which are individual truths that cannot be argued. Paull is the President and Head Producer at Reel Mensch Studio and, in collaboration with the Jewish Federation of Edmonton, he created a meaningful featurette to showcase the process and impact of the project.
Additionally, an interactive virtual exhibit has been produced which features the final mosaic as well as short clips and images of participants and their tiles. Viewers can scroll across the virtual mosaic and click on specific tiles which highlight the creator of that tile and their thoughts about the project. The virtual exhibit be viewed on the Jewish Federation of Edmonton's website under Featured Events: Shine a Light on Antisemitism mosaic art project.
Artist Lewis Lavoie briefly spoke about the inspiration and process behind the mosaic art piece during the livestream unveiling of the project. He said the story of Chanukah, with its message of the menorah's light during a dark time of persecution, provided immense inspiration for his work.
He also said that tikkun olam, the Hebrew phrase used to express the act of repairing or mending the world is one that he particularly connected with, because the process of assembling the mosaic felt like a metaphor for "trying to make the world a better place [and] trying to piece it together a little bit better."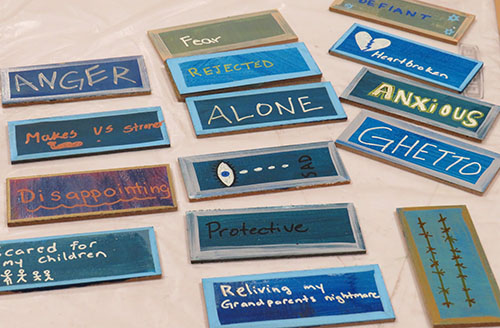 Once the final art piece was revealed, viewers, including City Councillor Keren Tang and members of the community, responded with positivity and encouragement. Comments included: Beautiful! Stunning piece, WOW! Inspiring and beautiful. My kids and I had such a pleasure participating in painting the tiles! A creative and reflective process. A mosaic is a good metaphor to represent the importance of community diversity knitted together. Thanks to the city for supporting this.
"The piece is magnificent," stated Leavitt-Wright, "and it overcomes me with emotion when I look at it – both in terms of its artistry and the sentiments expressed by the individual contributors of all ages."
The final mosaic art piece was intended to be unveiled and displayed at city hall on January 12; however, due to the current public health situation, this had been postponed. Leavitt-Wright explained that once health measures begin to ease and people can gather, the art piece will be placed in various Jewish community organizations around the city, with the goal of displaying it in a more public setting for everyone to experience.
The interactive virtual mosaic art can be viewed here.