by Maxine Fischbein
(AJNews) – Well known for its long history of community service as well as monitoring and responding to antisemitic and racist attacks against people and property, B'nai Brith Canada is engaging youth of all backgrounds and capabilities in writing and reading stories of diversity and inclusion.
The Diverse Minds Creative Writing Competition—first launched in Winnipeg in 2019 and later implemented in Toronto, Montreal, and Edmonton—is growing again, having this year added Calgary to the list of Canadian cities where local B'nai Brith lodges are promoting the competition.
Students in grades nine through 12 can submit illustrated storybooks intended for younger readers in kindergarten and elementary schools. Participation in the rapidly-growing competition is open to Canadian students regardless of their location. Nationally, students are invited to participate in either English or French. The competition is based on a similar one previously offered in the United States, said veteran educator Dr. Ruth Ashrafi, Regional Director, Manitoba, B'nai Brith Canada.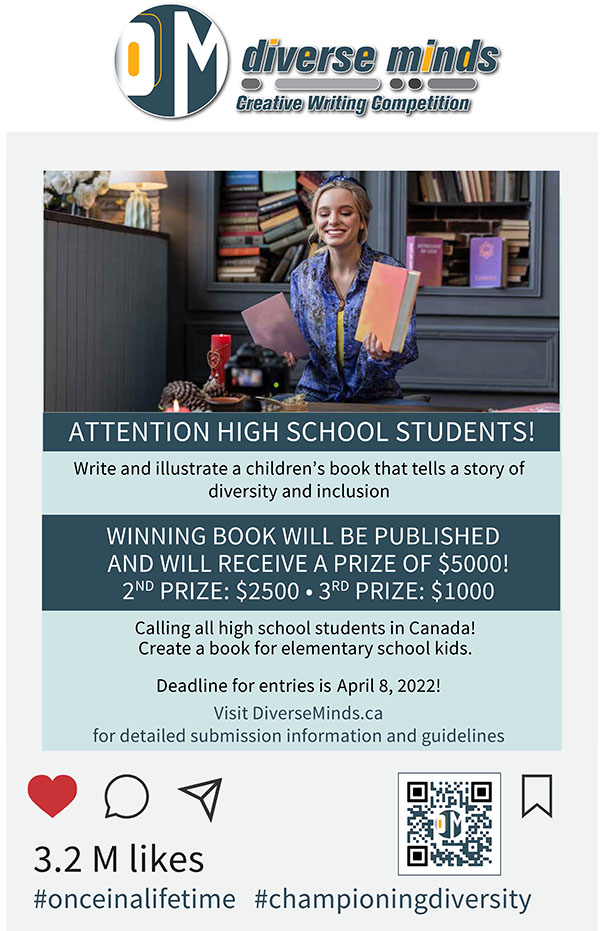 "This is an excellent opportunity for students to challenge themselves a little bit," Ashrafi told AJNews.
"We don't listen enough to teenagers," says Ashrafi who adds that a powerful thing happens when teens present their ideas and hopes to younger children.
This year, in addition to bragging rights, the first, second and third-place winners will respectively receive cash prizes of $5,000, $2,500 and $1,000. Winning submissions will be published in colourful hardcover editions and distributed, free of charge, to local schools, public libraries and non-profit organizations.
B'nai Brith Canada retains the rights to the books which are available for purchase on the organization's website. Proceeds from the sale of winning submissions support seniors programs, affordable housing, COVID-19 emergency food drives, clothing drives and the fight against racism and antisemitism.
The deadline for the 2022 Diverse Minds Creative Writing Competition is April 8.
Students may work independently or in teams of two, and are asked to submit their work online. Their works must embody the themes of diversity and inclusion, though the subject matter is otherwise limitless, allowing young writers to bring their imagination and inspiration to a project that has already yielded praiseworthy works probing such topics as autism, bullying, and gender as well as racial, religious and cultural diversity.
Participants in the Diverse Minds contest are invited to submit books of 16 to 24 pages including front and back covers. Each page must incorporate words and illustrations that support diversity-focussed subject matter, though the manner in which material is integrated is up to each budding artist.
Judging is based on originality, creativity, skill, clarity and relevancy of the story to young readers.
The national judges include political figures, teachers, artists, writers and other celebrities who will choose the winners from across the country.
"B'nai Brith Canada is constantly working to find ways to bring programs to the community that bring benefit to the community," said Abe Silverman, Manager of Public Affairs, Alberta Region, B'nai Brith Canada. "A lot of groups talk about the need for diversity and inclusion. We're not just talking . . . we're also doing things that will make a difference."
According to Silverman, there were 22 submissions from Edmonton students in last year's competition.
Calgary B'nai Brith Lodge #816 has been actively promoting the 2022 competition, contacting Calgary and area teachers directly and also getting the word out to youth within the Jewish community through such organizations as BBYO and Camp BB Riback, said Calgary B'nai Brith Lodge President Darren Bondar.
"It is a great opportunity for us to be able to reach both Jewish and non-Jewish students and bring some awareness to what B'nai Brith does," added Bondar. "What better way to do that than encouraging Calgary teens to enter what has become a popular national competition?"
The 2022 competition will culminate in a national awards ceremony in September. COVID-19 permitting, B'nai Brith plans to fly each winner, together with a parent or legal guardian, to the city (as yet unannounced) where the national awards ceremony will take place.
For Ashrafi, former head of Judaic Studies at Winnipeg's Gray Academy of Jewish Education, the enthusiasm of contest participants is a joy to behold.
"Last year I read all the submissions," said Ashrafi. "I was completely blown away by how important these topics are for children and how original they are in the stories and illustrations they come up with."
"It is important to help youth find their voice and to show them how much they can use that voice to influence their younger peers."
While adults are not eligible to enter the Diverse Minds competition, they too can become part of this empowering experience.  According to B'nai Brith Canada, sponsorship opportunities are available.
For more information about the Diverse Minds Creative Writing Competition, including rules and guidelines, media coverage, and excerpts from the delightful books by past winners, go to https://www.bnaibrith.ca/diverseminds/
Maxine Fischbein is a Local Journalism Initiative Reporter.