(AJNews) – Jewish Studies Week takes place at the University of Alberta from Nov. 16 to 20 with special virtual events taking place on November 16 and November 19.
The Annual Toby & Saul Reichert Holocaust Lecture will feature Dr. Wolf Gruner on the topic of "Defiance and Protest: Forgotten Individual Jewish Resistance in Nazi Germany," The lecture will be held on Monday November 16, available to stream all day at ualberta.ca/wirth-institute. A live zoom Q&A session with Dr. Gruner will be held at 6 pm MST. Registration is required.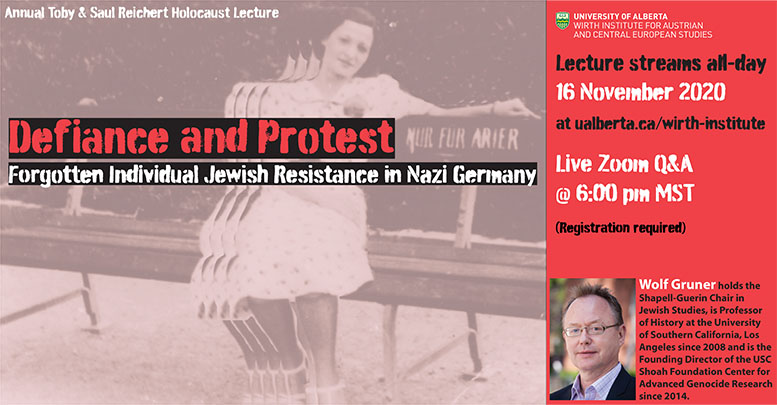 Jewish resistance during the Holocaust is largely understood as rare armed group activities in the Nazi occupied East, for example ghetto uprisings or partisan activities. By contrast, this talk focuses on forgotten individual acts of resistance, like the case of Hertha Reis, who protested in plain daylight against the persecution in 1941, a few months before the mass deportation started in the capital of the Third Reich. She exclaimed in front of the Berlin courthouse "We lost everything. Because of the damned government, we finally lost our home, too. This thug Hitler, the damned government, the damned people. Just because we are Jews, we are discriminated against."
Based on a new approach and using new sources, as logbooks of Berlin police precincts, trial materials from various German cities as well as video testimonies of survivors, the talk will demonstrate how Jewish women and men performed countless acts of resistance in Nazi Germany proper between 1933 and 1945.
Dr. Wolf Gruner holds the Shapell-Guerin Chair in Jewish Studies, is Professor of History at the University of Southern California, Los Angeles since 2008 and is the Founding Director of the USC Shoah Foundation Center for Advanced Genocide Research since 2014.
He is a specialist in the history of the Holocaust and in comparative genocide studies. He received his PhD in History in 1994 as well as his Habilitation in 2006 from the Technical University Berlin. He was a postdoctoral fellow at Harvard University, Yad Vashem Jerusalem, the US Holocaust Memorial Museum and the Center for Jewish Studies Berlin-Brandenburg, as well as the Desmond E. Lee Visiting Professor for Global Awareness at Webster University in St. Louis.
Gruner is the author of ten books on the Holocaust. His most recent book is The Holocaust in Bohemia and Moravia Czech Initiatives, German Policies, Jewish Responses (Berghahn 2019). The original German version with Wallstein received the award for most outstanding German studies in humanities and social sciences in 2017, and the Sybil Halpern Milton Memorial Book Prize of the German Studies Association 2017 for the best book in Holocaust Studies in 2015-2016.The book was published in Czech 2019 and is forthcoming in Hebrew.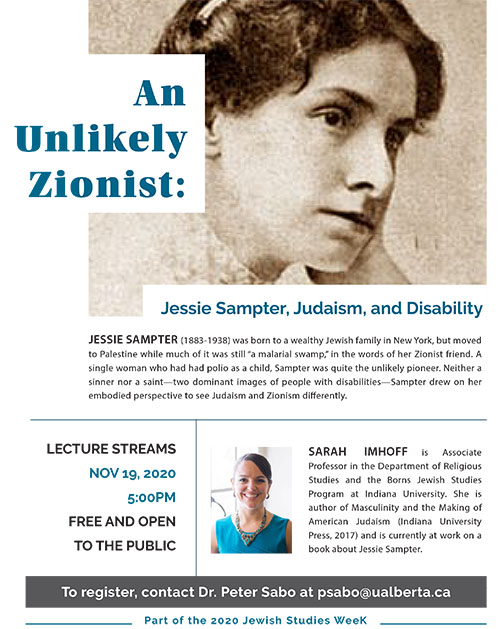 He is currently finishing the manuscript of an exciting book about forgotten acts of individual defiance, protest and resistance of German and Austrian Jews during the Holocaust. This book for a broader public will feature the life stories of five Jewish men and women who defied or protested against persecution in Nazi Germany. By exploring additional courageous acts, the book will demonstrate the wide range of individual resistance.
On Thursday November 19, a livestream lecture will be delivered by Dr. Sarah Umhoff (Indiana University) from 5 – 6:30 pm. The topic is "An Unlikely Zionist: Jessie Sampter, Judaism, and Disability."
Jessie Sampter (1883-1938) was born to a wealthy Jewish family in New York but moved to Palestine while much of it was still "a malarial swamp," in the words of her Zionist friend. A single woman who had had polio as a child, Sampter was quite the unlikely pioneer. Neither a sinner nor a saint—two dominant images of people with disabilities—Sampter drew on her embodied perspective to see Judaism and Zionism differently.
Dr. Sarah Imhoff is Associate Professor in the Department of Religious Studies and the Borns Jewish Studies Program at Indiana University. She is author of Masculinity and the Making of American Judaism (Indiana University Press, 2017) and is currently at work on a book about Jessie Sampter.
The lecture will be livestreamed. It is free and open to the public. To register, contact Dr. Peter Sabo at psabo@ualberta.ca.