By Regan Treewater
(EJNews) – The Wirth Institute for Austrian and Central European Studies' has announced an exceptional program for the 2017 Jewish Studies Series, with special guest lectures and exhibits taking place at the University of Alberta from October 8 – 24.
The Wirth Institute's annual Jewish Studies Series serves as a valuable oasis for Judaic scholarship at the University of Alberta.  It has hosted the yearly Toby and Saul Reichart Holocaust Lecture Series since 2004, and the Tova Yedlin Lecture Series on Central and Eastern European Jewry Prior to the Holocaust since 2009.  In October of 2015 the Rudolf Vrba Holocaust Reading Room was unveiled providing students, faculty and the greater community access to a large collection of rare resources.  With every passing fall the Jewish Studies Series at the University of Alberta has grown in size, academic magnitude and attendance – yet still, many UofA students and members of the greater Edmonton Jewish public are not aware of the Wirth Institute's extensive programming.
In past years organizers have hosted world renowned scholars to present their work in the University's grand lecture halls and also invited young researchers early in their careers to give presentations in more intimate venues.  This year promises an incredibly rich celebration of Jewish history, perseverance of spirit and scholarly innovation from an array of varied perspectives.  The Saul and Toby Reichart Lecture will be delivered on October 17 by Professor Mark Roseman from Indiana University.  As a part of the Central European Café Lecture Series there will be an exhibition of watercolour paintings created by a child in hiding during the Second World War.  This showcase runs from October 8 to March 30, 2018 and will be accompanied by an unprecedented opportunity on October 20 to meet with the oeuvre's creator herself –  Dr. Nelly Toll.  On October 24 the Wirth Institute will conclude its 2017 Jewish Studies Series with the annual Tova Yedlin Lecture to be given by Professor David Rechter of Oxford University.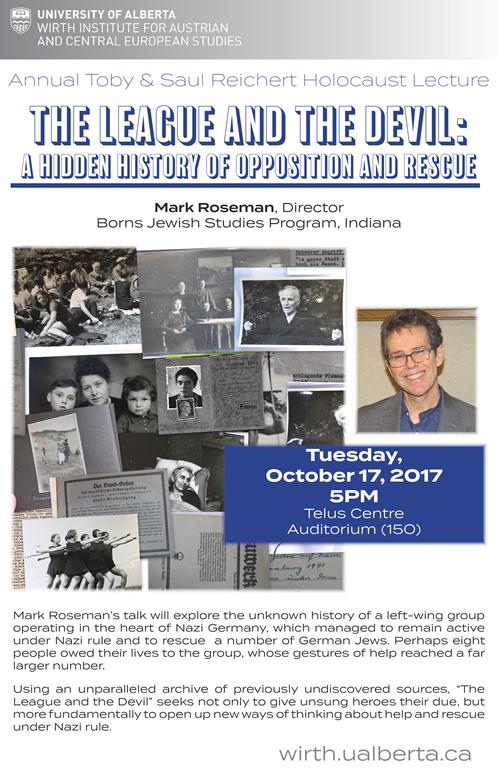 Saul and Toby Reichart speaker Professor Mark Roseman is the Pat M. Glazer Chair in Jewish Studies at Indiana University in Bloomington.  He has additionally served as the director of the Borns Jewish Studies Program at Indiana University since 2013.  Professor Roseman is an exceptionally prolific scholar and celebrated for his academic contributions to European history and Shoah scholarship.  His publications include: Beyond the Racial State (2017), Barbarians from our 'Kulturkreis' (2016), Jewish Responses to Persecution, 1933–1946: Volume I, 1933–1938 (2010), The Villa, the Lake, the Meeting: The Wannsee Conference and the 'Final Solution' (2002), A Past in Hiding (2001), as well as a forthcoming study surrounding the actions of resistance fighters in Nazi Germany.  Roseman's recent research inspired his upcoming lecture which "will explore the unknown history of a left-wing group operating in the heart of Nazi Germany."
For the first time in the history of the Jewish Studies Series, the Wirth Institute and the Department of Agricultural, Life and Environmental Studies: Human Ecology will be collaborating on what promises to be an unparalleled showcase of resilience, bravery and creativity.  The University of Alberta will proudly host 'Imagining a Better World: The Artwork of Nelly Toll.'  Born in 1935 in modern day L'viv, Ukraine (Russian: L'vov, Polish: Lwów, German: Lemberg) Nelly Toll (nee Zygmunt) survived the Second World War in hiding. The exhibition is a collection of captivating watercolours Toll painted while in hiding as a young child.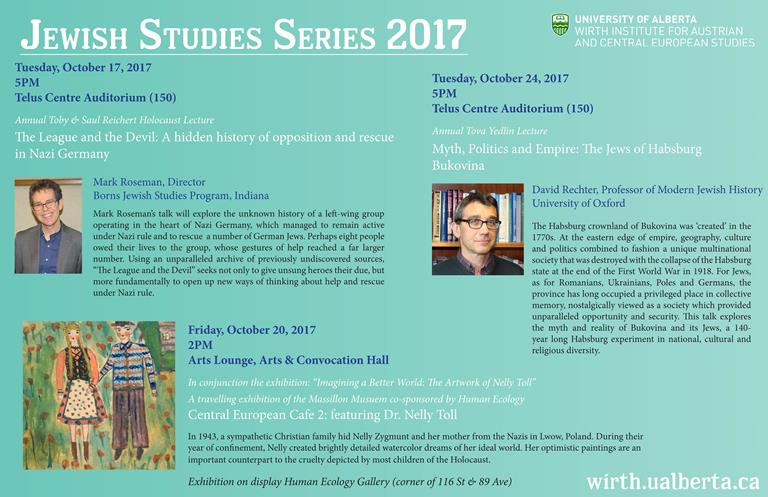 "This is an incredible addition to this year's Jewish Studies Series, and we have been so fortunate to have the opportunity to share Nelly's work and story," commented Professor Joseph Patrouch, Director of the Wirth Institute.
In a recent interview with Professor Anne Bissonnette of the Department of Agricultural, Life and Environmental Science: Human Ecology, the veteran curator of material culture explained how compelling the exhibition is for all ages.
"Sadly, there is still religious intolerance here in Canada – we deal with genocide even today," began Bissonnette.  "For lack of a better term, many children simply don't have access to a better life. The world Nelly imagines is a positive one so I don't think a child would be scared by the images – obviously it would be up to parents to decide how to approach the subject matter.  But Nelly's talent, her creativity and imagination – all these incredible aspects of her spirit really give her art an invincible quality."
The collection is as mesmerizing as it is haunting – but the substance is relevant for all audiences as Bissonnette elaborated: "Human ecology has so much to do with families and children."  For this reason, she and her team are working to incorporate children's clothing and toys from the University's collection to the exhibition as well, "We study everyday people and their relationships with everyday things – so these artefacts are a contribution that we hope will add to the exhibit."
'Imagining a Better World: The Artwork of Nelly Toll' is made possible through the generous support of The Jewish Federation of Edmonton's Holocaust Education Committee, The Kule Institute for Advanced Study and the Wirth Institute for Austrian and Central European Studies.  After immigrating to the United States Nelly Toll would eventually become a child psychologist giving comfort and healing to young people from all walks of life.  Organizers for the Jewish Studies Series are overjoyed to be able to welcome Dr. Nelly Toll to the University of Alberta on October 20.  From 2 -3:30 pm, Dr. Toll will be the esteemed guest speaker for the Wirth Institute's Central European Café Lecture Series.  Dr. Toll will speak about her experiences while sharing her unique and valuable perspective with attendees.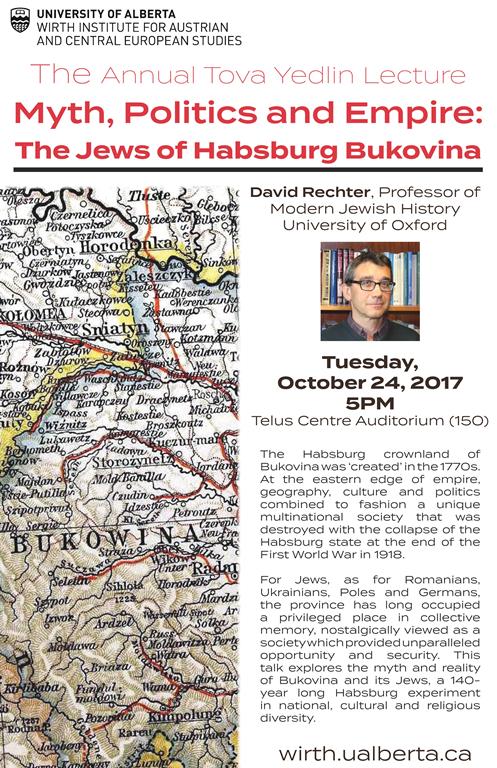 As we mourn the passing of Professor Emerita, Dr Tova Yedlin – of blessed memory – this year's annual lecture, bearing her name, holds significant meaning for her former colleagues and community members alike.  The Wirth Institute has proudly announced that Professor David Rechter of Oxford University's Centre for Hebrew and Jewish Studies will be delivering this year's address, titled: "Myth, Politics and Empire: The Jews of Hapsburg Bukovina."
When asked about his upcoming visit to the University of Alberta, Professor Rechter commented: "For my own work, I'm gratified if people with an interest in the Jewish world, and in Jewish and European history, find something to engage with and to think about. I write about a society that was brutally extinguished, and part of what I try to do is breathe some life into it, as I believe that these Jews deserve to be remembered."
Professor Rechter is Oxford's distinguished Ricardo Fellow of Modern Jewish History and also holds the prestigious position of Research Fellow in Modern Jewish History at Saint Andrew's College.  His publication credits include: The Jews of Vienna and the First World War (2001), Becoming Habsburg: The Jews of Austrian Bukovina, 1774-1918 (2013).  "Bukovina was an unusual and intriguing corner of Europe and the Jewish dimension of it was crucial…  I've been interested in Habsburg Austria since I was a graduate student (my father is a Galician Jew, born a little bit further east in Galicia than Tova Yedlin, as it happens)."
Finally, the Wirth Institute is pleased to acknowledge the kind donation last month, of almost seventy volumes of Holocaust survivors' memoirs for use in its Rudolf Vrba Holocaust Reading Room. These volumes were donated by the Azrieli Foundation and are part of the foundation's Holocaust Survivor Memoirs Program, a program established in 2005 to collect and share memoirs written by survivors of the Holocaust who came to Canada.  The Vrba Holocaust Reading Room is open to the public. Students and scholars interested in accessing its resources are encouraged to contact the Wirth Institute.
For more information on the 2017 Jewish Studies Series visit wirth.ualberta.ca.
Saul and Toby Reichart Holocaust Lecture
Mark Roseman "The League and The Devil"
Tuesday October 17th
5pm Telus Centre, Auditorium 150
Central European Café Lecture Series
Imagining a Better World: The Artwork of Nelly Toll
Friday October 20th
2-3.30pm Old Arts Building / Convocation Hall, Student Lounge
David Rechter "Myth, Politics and Empire: The Jews of Hapsburg Bukovina"
Tuesday October 24th
5pm Telus Centre, Auditorium 150
Imagining a Better World: The Artwork of Nelly Toll
Sunday October 8th through Friday March 30th 2018
The University of Alberta's Museum of Human Ecology