JNF University (JNFU) is proud to present an exciting new program for students in campuses across Canada – the JNFU Leadership Development Program. The program will consist of 4 elements that will collectively build students to be ambassadors of Israel and JNF, providing them with the knowledge and resources needed to positively represent Israel on campus.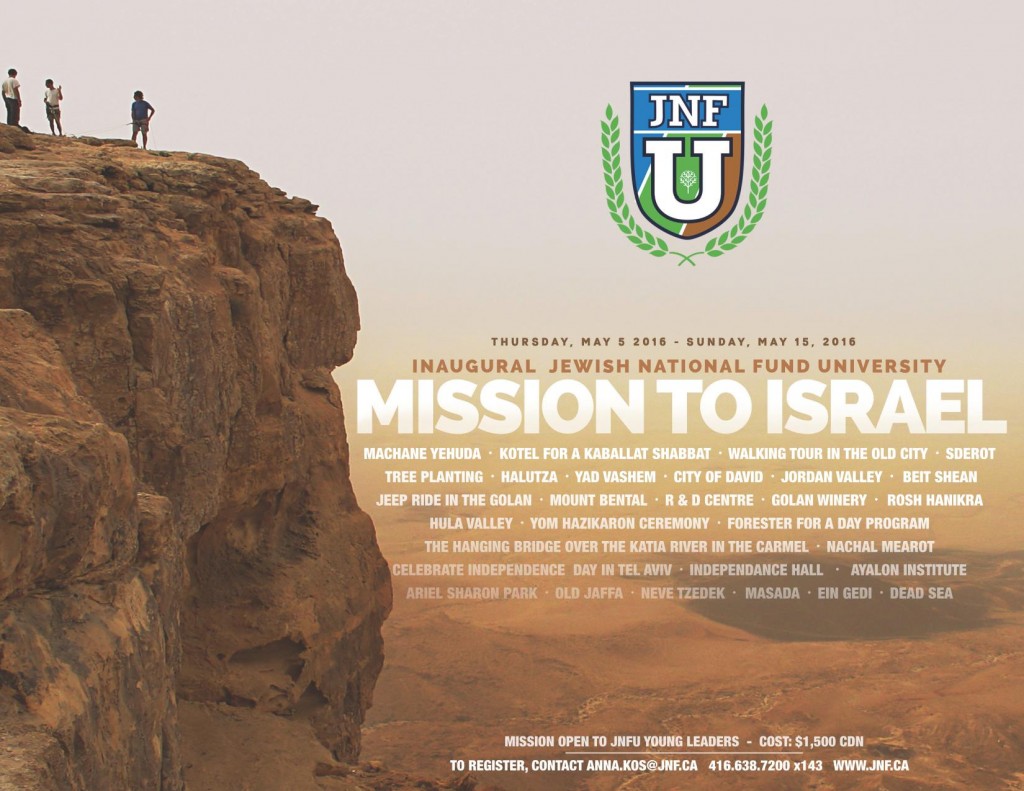 Each month, students will participate in an educational webinar where they will learn about issues pertaining to the State of Israel and how JNF-KKL is responding to them.
"In conjunction with Hillel, students will be responsible for planning and executing social and educational events on campus," explained Anna Kos, Campus and Young Leadership Coordinator.  "These events will highlight the successes of JNF within our seven action areas of work and will contribute to a more robust Jewish life on campus."
JNFU leaders will be strategically paired with successful young professionals, community leaders who will be able to guide them over the course of the leadership development program. This element of the program will create a strong pipeline of young leadership for JNF Canada.
Students who complete the program will participate in a social justice mission in Israel that will give them the opportunity to witness and partake in the extraordinary work of JNF-KKL in Israel. This mission will be subsidized and will go from May 5-15, 2016.
The JNFU Leadership Development Program is being offered on every campus across Canada and is designed to be an added value to already existing student groups.
"We look forward to working with students and Hillel Canada in 2015-2016 and the many great things we will accomplish together," concluded Kos. "For more information on how to get involved, send me an email to anna.kos@jnf.ca."