By Dr. Jack Goldberg
(Edmonton) – The second installment of Dr. Rabbi Donniel Hartman's video lecture series "Engaging Israel" will be shown at the Talmud Torah on Sunday, Sept 11th at 1 P.M. The purpose of the series is to analyze and clarify controversial issues about Israel in order to invite reluctant North American Jews to engage more fully with the Jewish homeland. The current lecture addresses two related topics: the lack of religious pluralism in Israel, and the treatment of its minority populations.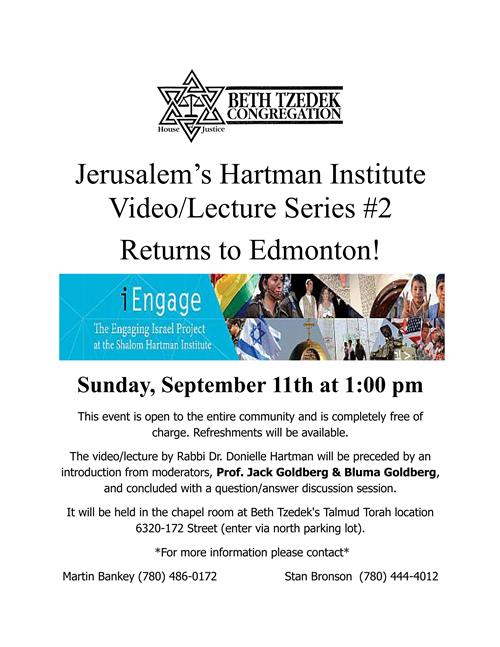 The issue of pluralism is receiving much coverage in the English language Israeli press. The August 4th on-line Haaretz features an article by Rabbi Eric Joffee titled, "In Israel, the war of the Jews over pluralism and religious extremism is escalating." He refers to the two examples of conflict. The recent blockage by Israel's Ultra-Orthodox parties of the compromise that would have allowed non-Orthodox worship at the Kotel; and the passage of legislation to override the Israeli Supreme Court's ruling that Reform and Conservative converts are to be allowed to use state-funded ritual baths (Mikvoth). Rabbi Joffee asserts that the sole purpose of the ritual bath ban is to prevent non-Orthodox Judaism from gaining legitimacy in Israel.
Rabbi Hartman's analysis of Israel's pluralism dilemma is incisive and creative, even though is does not offer an easy solution. He argues that contending with the Ultra-Orthodox is pointless. Rather one must get many more Israelis to engage seriously in Judaism in order to discover that there is more than one path in Judaism. Then the drive toward religious pluralism will have not only moral and human rights justification, but also the political power needed to win the battle.
On the issue of the treatment of minorities, Drs. Hartman and Tal Becker offer a highly nuanced and constructive approach that should have much appeal.
The video- lecture will be followed by a moderated discussion period. We will close with refreshments and socializing. We at Beth Tzedek look forward hosting you at this event that has been generously funded by the Edmonton Jewish Community Charitable Foundation.
While you are with us, we would be pleased to answer any questions you may have about the Beth Tzedek Congregation as well as our upcoming High Holidays schedule. Needless to say, we are very proud of the high caliber of our events and services that     are certainly the most reasonably-priced in town.  We look forward to seeing you there.
Dr. Jack Goldberg is the High Holidays Cantor at Edmonton's Beth Tzedek Congregation.