By Jackie Halpern
(AJNews) – The field of law has traditionally been male dominated, with women facing numerous challenges in pursuing legal careers. However, over the past few decades, the legal landscape in Alberta has seen a remarkable transformation as women continue to challenge conventions, overcome obstacles, and thrive in their legal careers.
Currently in Alberta, approximately 43% of active lawyers identify as female, with even more encouraging numbers of female law school applicants. In 2022, the University of Calgary's Faculty of Law admission statistics show female students now outnumber their male counterparts with 57% of the class identifying as female.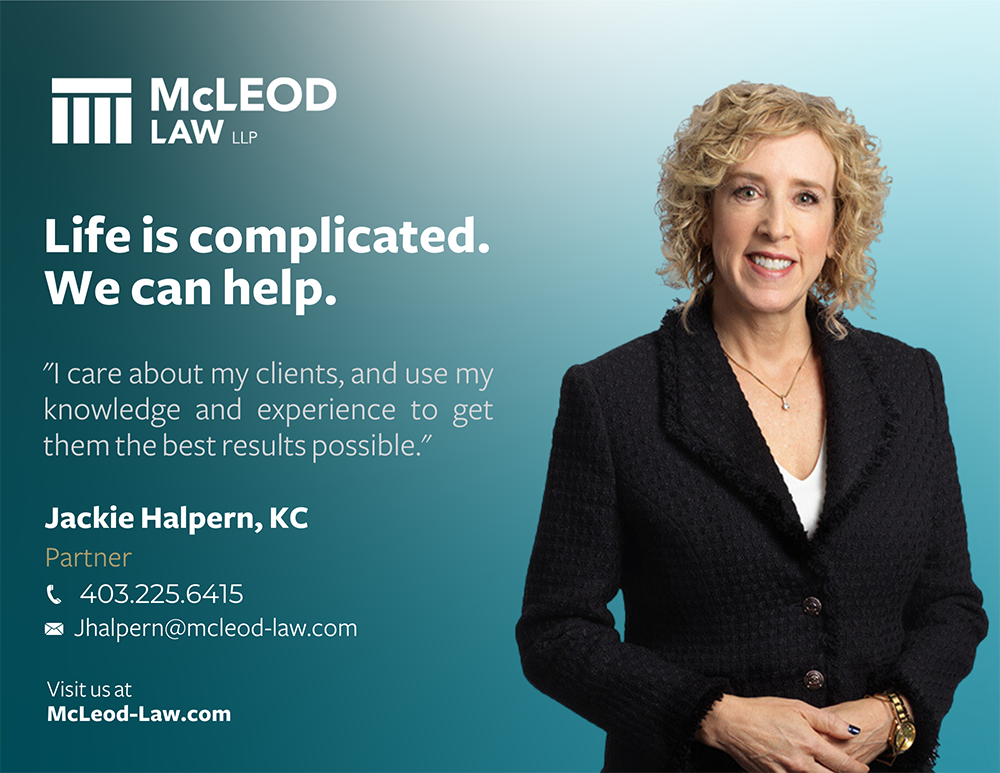 This positive shift has been instrumental in fostering a more inclusive and diverse legal community in the province. When women have access to quality education, they gain knowledge, skills, and confidence to pursue their dreams, challenge social norms, and become agents of change. For law school graduates who do not practice law in the traditional sense, a law degree opens up a wide range of career opportunities within the corporate world and in public service, as well as making significant contributions to charitable and professional organizations.
Like in any profession, women in law often face unique challenges in balancing their personal and professional lives. Juggling long hours, courtroom appearances, and family responsibilities can be daunting. There is no one-size-fits-all answer to finding a balance that suits your needs and allows you to thrive both personally and professionally. Achieving work-life balance is an ongoing process, and it may require adjustments and adaptations along the way. I have been very fortunate to find a way to practice law and try to be the best Mom I could be.
In 1996, after six years of full-time private practice, I sought out a more flexible work schedule to prioritize my growing family. Three years later, and with two young children, I was once again re-evaluating my priorities. Deciding to take a break from private practice to be a full-time mom is a personal choice and one that I fully embraced. For me, being a full-time mom during those formative years was what I envisioned for our family.
When my children started school, I returned to private practice when McLeod Law invited me to work part-time. Considering this was almost 20 years ago, it was remarkable how accommodating they were for a mother with two young children. They understood it was important for me to adjust my hours so I would never miss important milestones and be there to pick them up from school and so much more. I have enjoyed enormous support from the people I work with, and in turn, they gained a loyal and happier lawyer. Once my children graduated, I returned to practicing law full-time, became a partner and served as head of the Personal Injury group at McLeod Law as well as volunteering for many organizations within our Jewish community.
I believe the law is a helping profession. As a personal injury lawyer, I find it a privilege to help people through an incredibly challenging time. I genuinely care about my clients and am never afraid to fight for their rights. All my life experiences, from law school to motherhood, have helped me become a strong advocate not only for my clients, but for numerous charitable and professional organizations over the years.
One project that is meaningful to me has been arguing against a 'no fault' auto insurance regime for Alberta. There are people in Alberta lobbying for this, and through my work with the Alberta Civil Trial Lawyers Association (I was Chair, and still remain on the Board), I hope to educate people that there are ways to keep automobile insurance in Alberta affordable, yet still maintain the tort system that we have. I have proudly used my legal skills and knowledge to drive meaningful change within the legal profession and society as a whole.
For anyone considering a career in law, I encourage you to plan early. Law school's focus on the character and intentions of an applicant and your whole life will be analyzed during the process. Finally, connect with people, find your own support system, and be active in your community through networking and in giving back. I hope my story encourages women to be true to themselves and know they still make an impact in whatever they choose to do.
Jackie Halpern is a partner at McLeod Law LLP in Calgary. She is a recognized leader in the area of serious personal injury.