by Maxine Fischbein
(AJNews) – It's back!
The 23rd annual Beth Tzedec Congregation Jewish Film Festival will once again be the place to be when it resumes in-person screenings beginning on opening night, Saturday November 4.
"It will be great to be back in person," said Harvey Cyngiser, founder and director of Jewish Calgary's most widely attended cultural event.
During the COVID-19 pandemic, the Film Festival pivoted to online screenings. While film lovers continued to support and enjoy virtual film festival seasons in 2021 and 2022, there ain't nothing like the reel thing, and excitement is mounting as the crowd returns to Beth Tzedec for the joy of the big screen, special guests, camaraderie and post screening noshery.
"An important element of any film festival is the opportunity to experience the films together," said Cyngiser who, together with his film selection committee, has once again put together an outstanding lineup of films.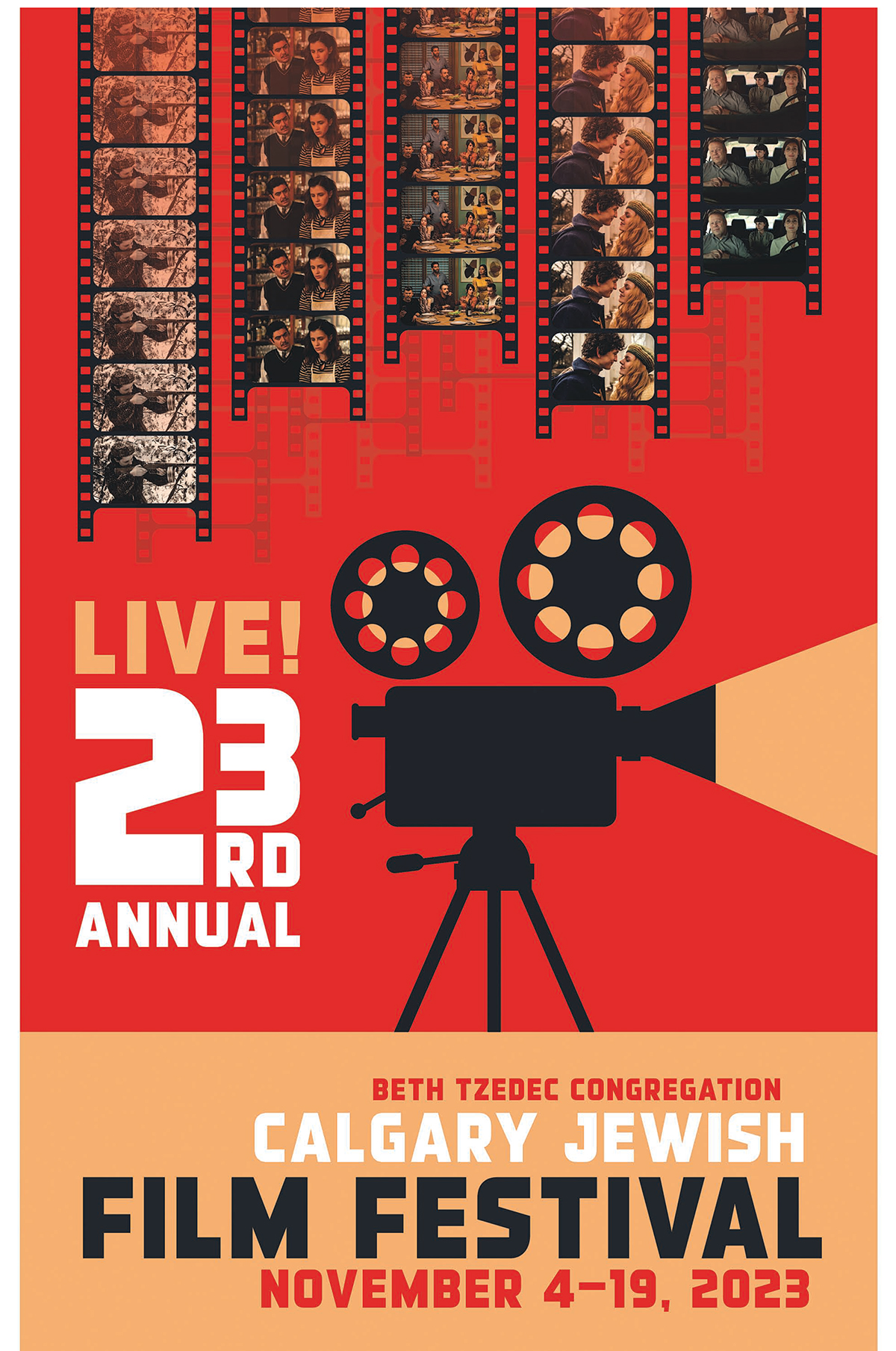 The 2023 offerings will be enhanced by the presence of three directors including one of Israel's most renowned filmmakers, Avi Nesher, who will walk the Beth Tzedec "red carpet" on opening night to introduce his most recent film, The Monkey House. Nesher will speak about the quirky dramedy that sees an aging has-been novelist recruit an unpredictable young woman in order to carry out an elaborate scam devoted to repopularizing his books. Suffice it to say, some mayhem ensues.
The Monkey House has been nominated for an astonishing 11 Israeli Academy Awards, including best director, best actress and best supporting actress.
Opening night will feature a reception where film lovers can enjoy a nosh while chatting face-to-face with each other—and maybe even Nesher himself.
Over the years, many of Nesher's films have been featured at the Calgary Jewish Film Festival, including The Matchmaker, The Secrets, Turn Left at the End of the World and The Other Story. One of his early films, The Troupe, became a cult favourite during the 1970s. Many of the songs featured in that film struck a chord with Israelis, earning rightful spots in Jewish music history. After enjoying great success at home, Nesher lived and worked in the United States, eventually returning to Israel. The country mourned with him and his family in 2018 when his son Ari was tragically killed in a hit and run while biking with a friend on the day he turned 17.
Nesher dedicated The Monkey House to Ari's memory, and, in a recent interview on Israeli TV, he spoke about how he has come full circle, hinting that it might be his final film. This year's Calgary Jewish Film Festival provides the opportunity to hear Nesher who, while still at the top of his game, seems poised to open a new chapter in his life.
As usual, Film Festival screenings take place on Saturday evenings and Sundays during the first three weekends in November. A full season pass is only $80 when purchased in advance or $90 at the door.  Tickets for a full afternoon or evening of screenings are $20 and can be purchased at the door.
Film Festival is once again partnering with the Calgary Jewish Federation to present a special community-wide Kristallnacht screening on Thursday, November 9, when the extraordinary film Four Winters: A Story of Jewish Partisan Resistance in World War II will be presented.
American director Julia Mintz will be on hand to discuss the moving documentary, which includes fascinating archival footage, historical documents and interviews with a handful of surviving partisans, the remnant of an estimated 25,000 young Jewish men and women, some of them teenagers at the time, who "…carried out deadly acts of sabotage, staging ambushes, and waging clandestine warfare against the Nazis and their collaborators." The Kristallnacht screening is open to the entire community free of charge.
Another gift to the community is a special family movie event in partnership with PJ Library on November 12. The animated Canadian short film Something from Nothing will be featured at a special 11 am screening. Directed by Stefan Leblanc and based on author Phoebe Gilman's award-winning children's book by the same name, Something from Nothing is a retelling of a beloved Jewish folktale and tells a story about a little boy named Joseph, his grandfather and his friend, Mazel the mouse.  Following the film, kids will be invited to take part in a craft activity during which they can "…discover the magic of turning everyday materials into something extraordinary."  This special event, perfect for young families, is free of charge. Families are encouraged to preregister at jewishcalgary.org.
Other notable screenings include the 2023 Dr. Ralph Gurevitch Tikkun Olam screening, Hope without Boundaries on the afternoon of Sunday, November 19. The documentary explores the establishment of an Israeli field hospital in Ukraine as that country defends itself against continuing Russian bombardment. "Amidst the chaos and destruction, the film highlights the intersection of history and culture as the Israeli teams, some descended from Holocaust survivors, offer help and hope to those in need."
This year's Dr. Martha Cohen Memorial Screening– Without Precedent: The Supreme Life of Rosalee Abella— is a must-see exploration of the life and times of the now-retired Canadian Supreme Court Justice. At the age of 29, Abella became the youngest judge in Canadian history and, later, the first Jewish female to serve as a Supreme Court justice. This fast-paced and entertaining documentary provides uplifting glimpses into the career and private life of a multitalented and engaging woman whose devotion to justice and human rights was influenced by her Holocaust survivor parents. Without Precedent will bring the Film Festival to a close on a high note on the evening of Sunday, November 19.
Before that, there are many other great films to see, including the compelling documentary Closed Circuit, on Sunday evening, November 12. Tel Aviv-based award-winning director Tal Inbar will be on hand to speak about the film, which was produced by Nancy Spielberg, sister of celebrated film director Steven Spielberg.
Closed Circuit brings the audience shockingly close to the 2016 terrorist attack that took place in a café at Tel Aviv's popular Sarona Market. This unique documentary intertwines closed circuit camera footage from that night with interviews of Jewish and Arab victims, juxtaposing real-time events with the trauma that continues to haunt innocent citizens who had the misfortune of being in the right place at the wrong time.
Nancy Spielberg, who has previously been a special guest at the Beth Tzedec Congregation Jewish Film Festival, is also the executive producer of director Laura Bialis's film Vishniac, which will be screened on the afternoon of Sunday, November 5. Vishniac is a visually stunning deep dive into the life and times of the legendary Russian/American photographer Roman Vishniac, whose lens captured evocative images of shtetl life between 1935 and 1938, prior to its destruction during the Shoah. The achingly evocative photos live on in the book A Vanished World. Vishniac— also a scientist—later rose to prominence in microscopic photography, a field in which he is credited as a founder. The screening of Vishniac, co-sponsored by the Jewish Historical Society of Southern Alberta, is this year's Jay Joffe Memorial Program.
The Beth Tzedec Congregation Jewish Film Festival is made possible by community partners and the financial support of a growing list of sponsors. This year, there has been a particularly generous outpouring of additional support for the festival in memory of Sidney Cyngiser, OBM, who, together with his wife Bronia, established an endowment fund close to 20 years ago that will continue to support the Film Festival in perpetuity.
When Sid Cyngiser passed away on June 27, 2023, the entire community mourned his passing. While he was, perhaps, best known as a Holocaust survivor who shared his first-hand testimony with countless Alberta students, teachers and other community groups, Sid Cyngiser's interests were diverse.
Attending and supporting this year's film festival is a fitting tribute to the memory of a man whose diverse interests, Jewish pride, curiosity and hunger for knowledge are some of the key ingredients of a film fest that has delighted thousands of audience members for 23 years…and counting!
For more information about the Beth Tzedec Congregation Jewish Film Festival and to prepurchase season passes, go to www.CalgaryJewishFilmFestival.com or call the Beth Tzedec office at 403-255-8688.  Sponsorship opportunities are available.
Maxine Fischbein is a Local Journalism Initiative Reporter.