by Deborah Shatz
(Edmonton) A tragedy of unspeakable proportions occurred in Edmonton on June 8 when Constable Daniel Woodall, a 35-year-old Edmonton Police officer in the Hate Crimes Unit, was fatally wounded in a southwest Edmonton suburb.  A second officer, Sergeant Jason Harley was also injured in the attack.
The officers came under fire while executing an arrest warrant for criminal harassment at a Callingwood area home in West Edmonton.
The resident, Norman Raddatz, opened fire on Woodall and seven other officers from inside the home. He then set his house on fire and killed himself amidst the flames. Raddatz had been involved in a "lengthy campaign of anti-Semitic hatred and violence that constituted a hate crime as determined by the primary investigator, Constable Dan Woodall," said Edmonton police spokesman Scott Pattison.
A huge outpouring of love and public support followed the shootings. Fundraising efforts for the officer's family began almost immediately and blue ribbons in support of the Edmonton Police Service appeared on trees and buildings, blanketing the city in a sea of blue.
Thousands of police officers from across North America and the U.K.  gathered in Edmonton on June 17  for a full regimental funeral for Constable Daniel Woodall.  Before the funeral, thousands of mourners lined city streets for the sombre funeral procession, which began at the Alberta Legislature and wound its way through downtown Edmonton toward the Shaw Conference Centre. The massive processional included over 5000 police officers and RCMP in full dress uniform led by the proud yet haunting sounds of bagpipes and drums.
Among the mourners were the collective of Edmonton's Jewish community. Over the years, Constable Woodall and the Hate Crimes Unit of the Edmonton Police Service have been involved  with the Jewish community as strong resources and close allies in a variety of capacities including the investigation of anti-Semitic incidents.
Beth Shalom Rabbi Kliel Rose attended the funeral. He said, "I proudly attended the funeral and celebration of life service which honored Edmonton Police Service's Constable Daniel Woodall…It was a very moving service and many spoke about the incredible attributes this man possessed. May G-d comfort his entire family, the EPS family and all residents of this great city."
The Edmonton Jewish community paid their respects to Constable Woodall and the EPS in several ways. On behalf of the students, staff and parents of the Talmud Torah School and Early Learning Centre, the school purchased a Unity Sugar Maple tree and as a school community, they held memorial planting ceremony in memory of Constable Dan.
Students from kindergarten to Grade 9 gathered along with family members, friends and other members of the community, sitting quietly on the grass as two classes rose to perform songs.
"Constable Dan Woodall was a man of integrity who stood up for his beliefs, enforced the laws of the land and protected people in his community who were the targets of hateful attacks," said Talmud Torah Society Executive Director Frida Pesin.  "Tragically, he died carrying out what he understood to be his duty."
"Many Edmonton communities benefited from Constable Woodall's bravery, including the Jewish community," added Talmud Torah principal Judith Boyle.  "He regularly visited Talmud Torah School and worked closely with community and school leadership to ensure the safety of our children. We owe him and his family a debt that is impossible to repay."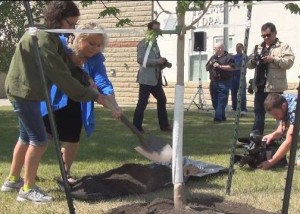 Principal Boyle explained that the school community chose a tree planting because of the religious and spiritual symbolism of trees. They selected a Maple tree as a special tribute to Constable Woodall and his family who moved to Canada from the UK.
"As this tree grows and flourishes, it will remind us that Constable Woodall's spirit lives on and continues to unite us all in our quest for peace and unity," said Boyle from a makeshift podium outside the school just before the tree was planted.
Constable Woodall's Hate Crimes partner Sergeant Ray Wilson attended the event.  Sergeant Wilson, a 15-year member with Edmonton Police Service, accepted a large handmade card from students, as well as his own small tree.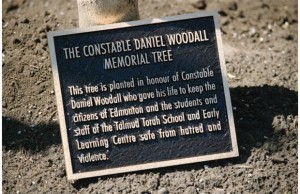 Following the event, the Sergeant spoke publicly for the first time since his partner's death. The school's ceremony was "extremely powerful and very emotional," he said, adding that memorials such as the Talmud Torah tree planting ceremony proved the pair had an effect on people.
While the past few weeks have been difficult for both Wilson and his family, he said he was thankful for the support he has received from colleagues and the community and that he is focused on returning to work.
Individuals and groups from all walks of life across Edmonton have been holding meaningful memorial services and celebrations of life to honour Constable Woodall. A very moving memorial tribute was held at the Beth Israel Synagogue on June 24.
Immediately following the shooting, Jewish Federation of Edmonton President Ellery Lew and Vice President, Community Relations Steven Shafir expressed the  heartfelt condolences of the Edmonton Jewish Community.
They wrote, "Over the last few years, we have had the pleasure of working with Constable Woodall in his capacity with the Hate Crimes unit. Though we saw Daniel as a friend of the Jewish community, we also recognized his commitment to the safety and security of the City of Edmonton and its civilians. Like all residents of our City, we are devastated by his loss.  But his loss exemplifies why we feel safer and more secure living here and why we are thankful, every day, for the service of our EPS members."
Click here to read more of the letter sent to the EPS.  The Jewish Federation of Edmonton is taking donations for the Daniel Woodall Family Fund, which will be forwarded on behalf of the community. They will be issuing tax receipts for this. You can make cheques payable to EJYC and forward them to the Federation offices #200, 10220-156 St. T5P 2R1 or phone in to Elianna to pay by credit card at 780 487-0585.