(AJNews) – Join House of Jacob-Mikveh Israel (Calgary) for a very special Zoom Gala Gala on February 27, 2022, at 7 pm honouring Susan Rose.
It's important that we celebrate our blessings and HOJMI is pleased to celebrate the many contributions of Susan Rose – regarded in the congregation as a community legend. If you need anything, you know to "call Susan."
We have been faced with many challenges the past two years including (but not restricted to) the COVID-19 pandemic, illness and the loss of loved ones, and of course the many difficulties managing winter weather conditions but it's important that we keep a positive attitude and appreciate the goodness in our lives. Susan Rose is a wonderful example of that goodness.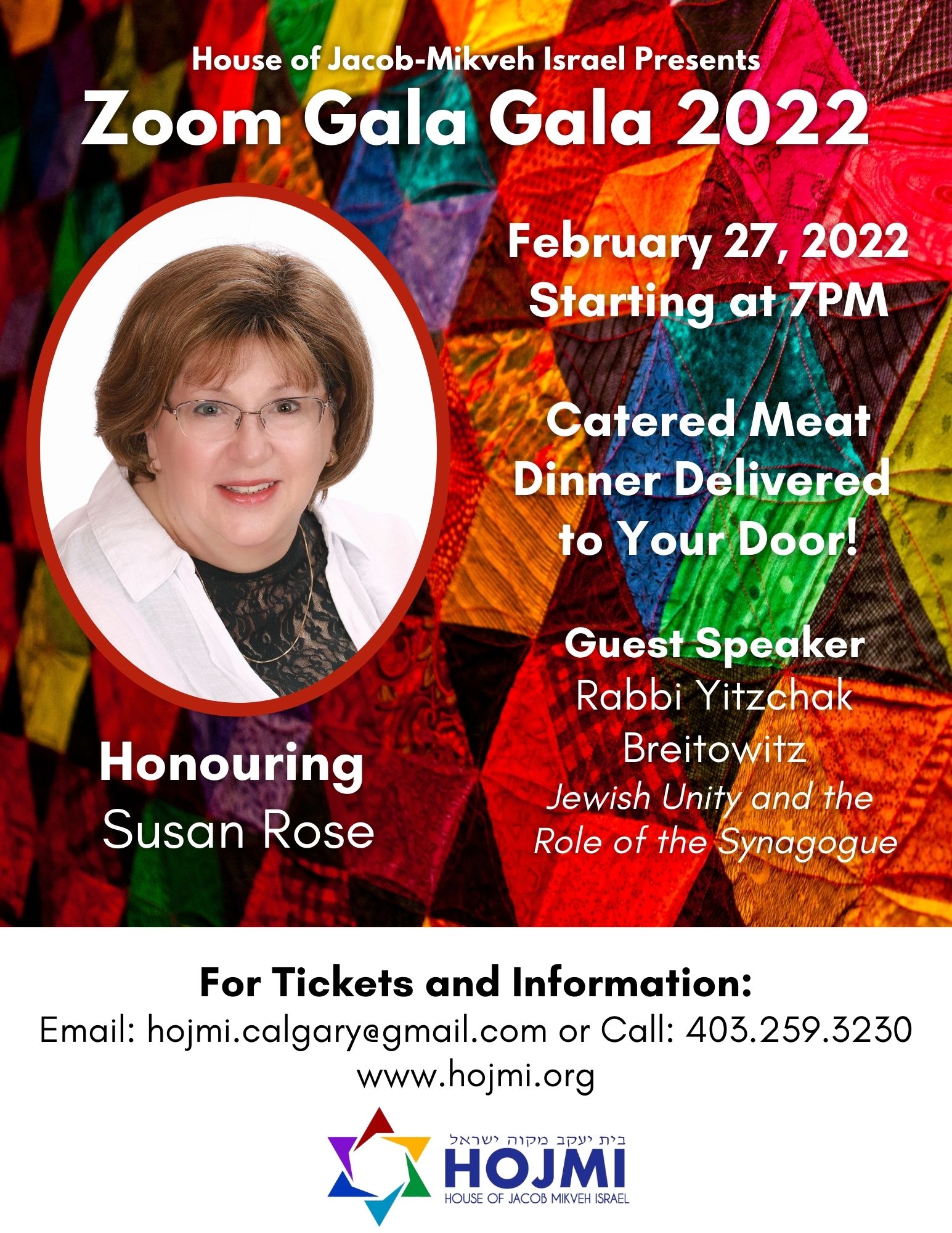 She has been HOJMI's beloved Office Manager for over 15 years, but Susan is that and so much more! She is the proud mother to 3 wonderful sons, and bubby to 11+ grandkids. Susan and her beshert Ian z"l ran the world-famous Susan's Kosher Bakery for 10 years. She is a dedicated volunteer for Chevra Kadisha, an avid reader, an active member of Rimon Calgary, and a Singer Featherweight aficionado. Susan is truly an Eishet Chayil!
To enhance the Gala, a delicious catered meat dinner will be delivered to the homes of all participants.
The Zoom Gala Gala will feature Guest Speaker Rabbi Yitzchak Breitowitz, whose address will focus on "Jewish Unity and the Role of the Synagogue." HOJMI is honoured to have such an esteemed guest for this event.
Rabbi Breitowitz is a senior lecturer in Ohr Somayach, Jerusalem. He is the former rabbi of the Woodside Synagogue in Silver Spring, Maryland and associate professor of law at University of Maryland. He received rabbinical ordination from Ner Israel Rabbinical College and his law degree from Harvard Law School.
Rabbi Breitowitz has lectured extensively throughout North America and Israel on medical, business, and family ethics. He has published widely on Jewish law and ethics. Among his articles are those on the right to die, physician assisted suicide, brain death, the status of frozen embryos, business ethics, shalom bayit and spousal abuse.
Within a general culture that questions the role of religion in modern life, Rabbi Breitowitz has the exceptional ability to show the relevance of halachic categories and Jewish values in dealing with contemporary problems ranging from cloning to giving up land for peace.
He is highly regarded for his outstanding intellectual gifts and sincere piety, as well as his openness, sensitivity and kindness.
The Gala will be held on February 27 at 7 pm. For tickets and information visit hojmi.org, call (403) 259 – 3230 or email hojmi.calgary@gmail.com.