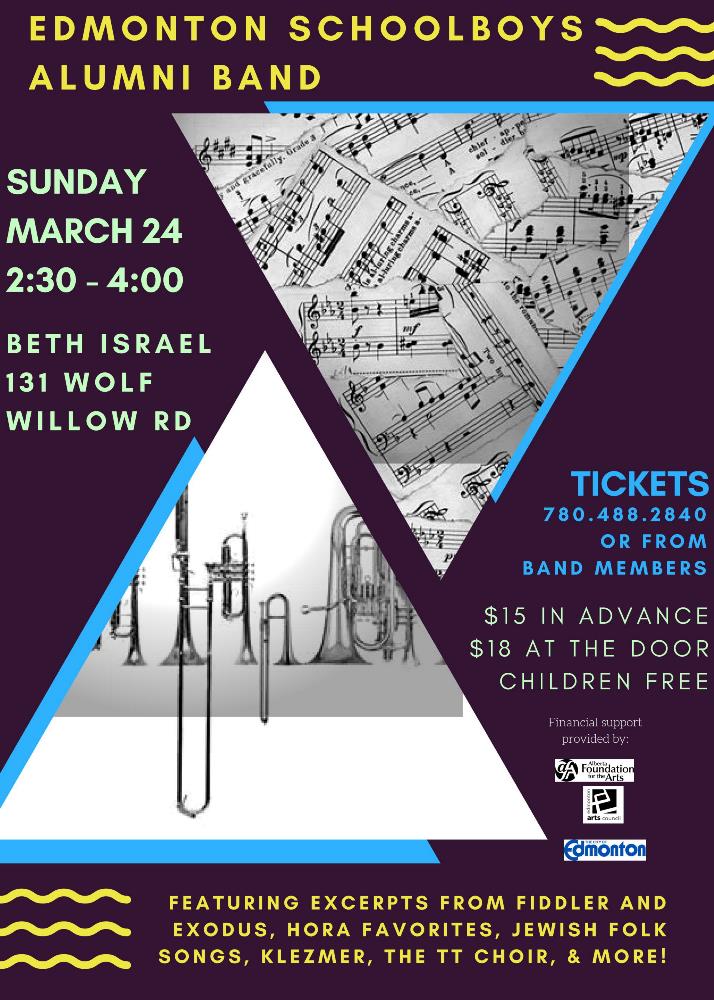 (Edmonton) – Concert band music has a unique sound, different from symphony, different from small ensembles. The Edmonton Schoolboys Alumni band is a seniors' band, average age 78. It started in the 1930s, disbanded in 1969, and Edmontonians Frank Sklove z"l and Harry Goldberg z"l were members. Ray Friedman was instrumental (pun intended) in helping get the Alumni version started in 1996 and conducted it for the first five years. He'll be the guest conductor for a special concert taking place this month at Beth Israel.
"Today, the members are obviously not "boys", not even all male," explained Friedman. "But all our members have a love of this kind of music"
Please come to Beth Israel on March 24 to hear excerpts from Fiddler on the Roof (the main theme plus Far from the Home I Love, Matchmaker, Rich Man and To Life) and Exodus (the main theme of course, plus the ballad Karen, the Summer in Cyprus rumba, and the mournful tribute to Barak and Akiva).
"Our special hi-light piece is called To the Life of This People, a piece commissioned by the Israeli Ministry of Education and performed, we are told, by bands all over Israel, Europe and North America," noted Friedman. "It's a medley of Israeli folk songs including the title song (l'Chai'i hay'am hazeh), Shi'ir Sameach (Happy Song), Ha'areuth (Friendship, aka Brothers in Arms), and one called Haleilot (There were Nights.)"
 The Alumni Band will also be playing Hava Nagila, Shalom Alechem, and an Israeli Dance.  "The latter tune … no one we know can put any other name to it other than dance," remarked Friedman. "Perhaps you can come and help solve the mystery."
Tickets for the concert can be purchased at BI or from one of the band members. Tickets are $15 in advance and $18 at the door. Bring your kids to the concert – they get in for free. The band will be playing a medley from Disney and one from Saturday cartoons just for them.
"And tell your kids to bring a Kitchen Utensil," said Friedman. "The noisier the better. Or bring their Purim Greggors. We have found a piece called the March of the Kitchen Utensils, and we want them all to help us out."
Ray encourages everyone to come out and enjoy the concert. "We tried to mount this concert last year and unfortunately encountered too many conflicts in timing and had to cancel," he noted. "Please don't let that happen again this year. Buy your tickets in advance if possible. We'd like to see a sell out, and if we do, we can plan for this to be an annual event."
To purchase your tickets, call 780-488-2840.