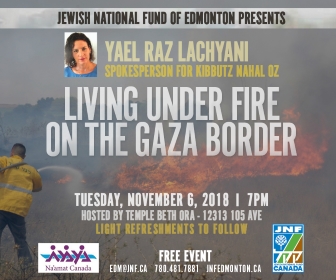 (EJNews) – On Tuesday November 6, the Edmonton Jewish community has a rare opportunity to hear the realities of life for Israeli residents living on the Gaza Border.
Yael Raz Lachyani will be a special guest speaker at Temple Beth Ora at 7 pm with a presentation about life on Nahal Oz – a beautiful kibbutz in the western Negev.  The idyllic setting of the desert in bloom has been disrupted by recent border riots and "fire kites."  Hear firsthand about the resilience of the communities living on the edge of Gaza, about why they stay, and what hope they see on the horizon.  
Born and raised on Kibbutz Nahal Oz, Yael Raz Lachyani is spokesperson for the Kibbutz and coordinator of the partnership between the Jewish community of San Diego and the communities of the Sha'ar Hanegev regional communities.
"We try to be optimistic. It's all about resilience," Lachyani says. "We don't complain. We don't let them run our lives. You burn, and we plant. Our morale is high. There is something about tragedy that connects you more to the people you live with."
Marking six months since Palestinians in Gaza began sending incendiary balloons and kites over the border toward southern Israel, Keren Kayemeth L'Yisrael-Jewish National Fund reported on October 10, that some 3,279 acres, a total of 12,270 dunams, of forests have been damaged by fires caused by the attacks. Another 4,000 acres of farmland also have been destroyed by the fires.
KKL-JNF firefighting teams have been on call around the clock to quickly detect and respond to the ongoing fires, the group said in a statement.
The most damage has occurred in the Beeri and Kisufim forests in the Western Negev, and forests near the city of Sderot and Kibbutz Lahav in the northern Negev.
On October 8, KKL-JNF's board of directors allocated 100 million shekels, or about $27.5 million, for special projects to help the Gaza border area communities.
Meanwhile, copycats in the West Bank have begun to send arson balloons toward Jerusalem and central Israel.
An incendiary balloon was discovered on October 10 in Jerusalem's German Colony neighborhood. This comes on the heels of a similar arson balloon discovered in the courtyard of a home in the West Bank settlement of Givat Zeev, located just north of Jerusalem.
Earlier in the month, an incendiary balloon landed on a highway near the Modiin industrial zone in central Israel.
Yael Raz Lachyani has served as a Lieutenant in the IDF, earned degrees in Interior Design and Human Resources, worked in Marketing and Education. She is raising three children and is responsible for adopted teens.
Meet one of the "ordinary heroes" of Israel today and give her a warm welcome to Edmonton.
This event is co-sponsored by Jewish National Fund Edmonton, Edmonton Jewish Federation and Na'amat (Edmonton) and hosted by Temple Beth Ora. There is no charge for admission and light refreshments will be served.