(Calgary) – Here to Tell: Faces of Holocaust Survivors is a powerful commemorative and educational photography exhibit featuring both living and deceased Holocaust survivors with a connection to Calgary. It is on display now until July 3 in Calgary at the Glenbow Museum at the Edison Building. The exhibit sheds light on each of the survivors' experiences during the Holocaust, while also providing a glimpse into their lives lived post-war.
Here to Tell: Faces of Holocaust Survivors features 39 portraits of living survivors and 122 images of deceased survivors, held up in the hands of their descendants. Each photograph is accompanied by a brief personal account of the survivor's Holocaust experience and life after the war. To impart and reinforce the important lessons about the Holocaust, this project consists of three components: a photography exhibit, book, and short documentary, all in conjunction with an 18-panel Yad Vashem Holocaust display.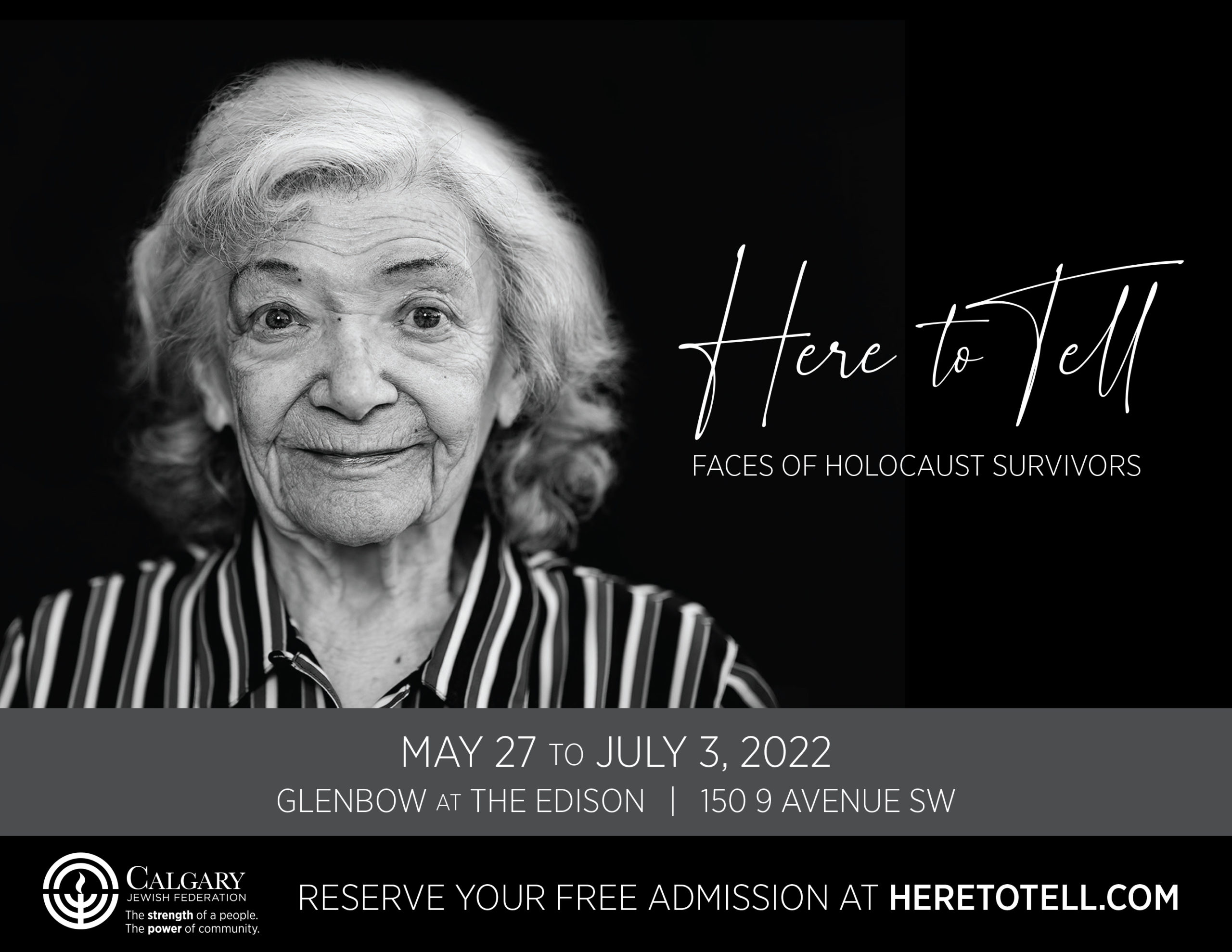 The vision, goal and direction for this project originated with Marnie Bondar and Dahlia Libin, executive producers and volunteer co-chairs for the Holocaust and Human Rights: Remembrance and Education department of Calgary Jewish Federation. They are granddaughters of Holocaust survivors.
Marnie Burkhart, daughter of a Holocaust survivor and renowned photographer of Jazhart Studios Inc. was commissioned as the primary photographer for the project.
The unique circumstances of taking photographs of Holocaust survivors during the COVID-19 pandemic were so extraordinary that behind-the-scenes photographs by Calgary photographer Adam Brener, and a documentary filmed by Fedele Arcuri from Rum Punch Media, help tell the story of Here to Tell: Faces of Holocaust Survivors. These images and filmed footage of the making of this project truly capture the unmediated moments of honest emotion, moments of levity, and glimpses of grief.
Here to Tell: Faces of Holocaust Survivors is a must-see exhibit. It confronts the horrors of the Holocaust while at the same time depicting the resiliency and hope exemplified by each of the survivors.
It is on display in Calgary until July 3 but it is designed to be a stand-alone exhibit that can travel – either on its own or in conjunction with the 18-panel Yad Vashem Holocaust exhibit.
Reserve your free admission to the exhibit at the Edison in Calgary here.
Inquiries for those interested in booking the exhibit for their museum, school or library may be made by clicking here.