(EJNews) – Imagine the energy and the power of Jewish women from all corners of Edmonton mixing it together at THE GREAT BIG CHALLAH BAKE on October 26, 2017 at 7:30 pm at Talmud Torah School.  With pre-measured ingredients of flour, oil and eggs, each participant will lovingly make 2 traditional challahs from scratch (baked at home!) in preparation for Shabbat.
For the third consecutive year, the EDJGE is hosting this amazing event, this year with co-sponsor Menorah Academy.  They will be joining hundreds of communities and tens of thousands of women and girls from across the world who will be gathering together to make Challah as part of the Shabbos Project Experience.
This year's theme is "Keeping it Together" and once again it is expected that love and togetherness will permeate the room as Jewish women from all backgrounds experience the joy of sisterhood and Challah baking. In attendance will be women who always keep Shabbos and there will be women who have never kept Shabbos, sitting side by side ready to enjoy an inspirational evening of Challah baking.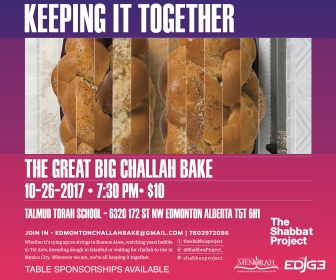 Participants will learn how to make and braid their very own Challahs and hear some amazing spiritual insights into this beautiful Mitzvah.
Please note that this is an event for women and girls only. Reservations are necessary so that there will be enough ingredients for everyone.
Please call 780-297-2086 to RSVP. There will be a $10 cover charge for the event and table sponsorships are available.