by Daniel Moser
(EJNews) – On October 25 as Roger Waters belts out his classic lyric: "We don't need no education," B'nai Brith Canada will be professing the opposite sentiment as they educate Edmonton by presenting the local premiere of documentary "Wish You Weren't Here," a film on contemporary antisemitism.
In his explorative documentary New York Times bestselling author and award-winning filmmaker Ian Halperin (Who Killed Kurt Cobain?, Unmasked: The Final Years of Michael Jackson) delves deep into the heart of contemporary and modern forms of antisemitism, specifically the boycott, divestment and sanctions (BDS) movement.
At the forefront of this movement is former Pink Floyd frontman Roger Waters, who is unabashedly anti-Israel. Waters has made it his personal business to convince (unsuccessfully) musicians not to perform in Israel, having been rebuffed by groups like Radio Head, Katy Perry Paul McCartney, and Elton John. He has also made comparisons between the Israeli government and Nazi propaganda efforts and repeatedly incorrectly labelled Israel an apartheid state.
"I'd say about 70% of the film is Roger Waters," explains Halperin. "It's time Roger Waters issues an apology to Israel and to the Jewish people, because what he's espousing is hatred and antisemitism and it's just uncalled for."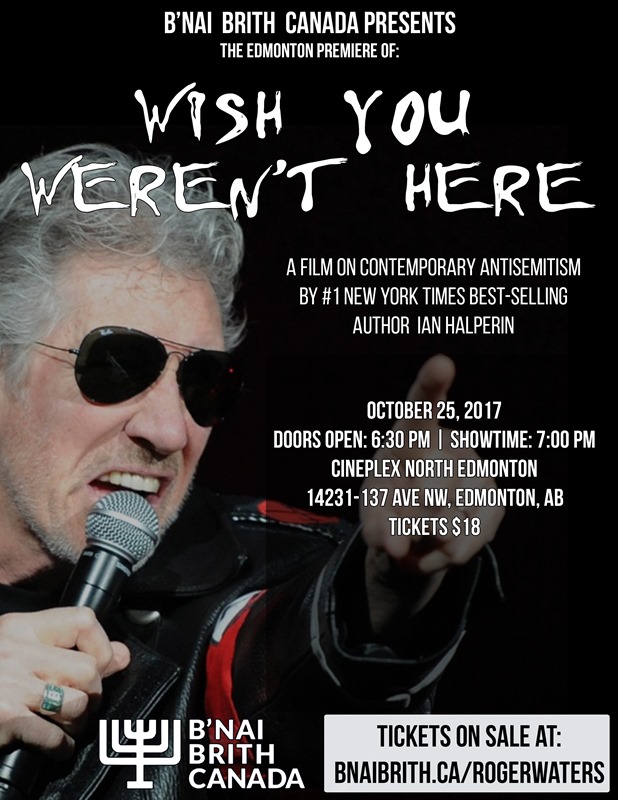 While an apology is likely not in the cards anytime soon, Halperin and B'nai Brith Canada are doing their best to ensure Waters takes notice during his current tour. In each Canadian stop on the tour, B'nai Brith Canada is hosting a screening of "Wish You Weren't Here," leading to the film's Edmonton debut on October 25 at Cineplex North Edmonton. The film is only being played once in theatres so be sure to pick up your tickets; the evening will feature a question and answer period with the director Ian Halperin.
The film has gotten Waters' attention; at his second Toronto show, Waters called out B'nai Brith Canada CEO Michael Mostyn by name.
"We're very proud that he signaled out B'nai Brith because first of all, it means he took note of our campaign," Mostyn said in response.
"He's taking note of these film screenings that are taking place across the country, coinciding with his shows across the country, and it shows that it's having an impact and that this campaign is very effective."
Although much of the film is dedicated to Waters, Halperin also examines the broader BDS campaign and exposes it as nothing more but a new label for antisemitism.
"It starts with Roger Waters, but it's all about contemporary antisemitism, which is thriving, and the world is turning a blind eye," Halperin explains. "There's no place for this in today's world."
As the son of a Holocaust survivor, it's a topic close to his heart that he finds deeply worrisome, "Shame on corporate America for supporting this purveyor of hatred and antisemitism (Waters' tour). Corporate America should be ashamed…and look in the mirror and realize that this is not 1938."
Please join B'nai Brith Canada on October 25 as they present the Edmonton premiere of Ian Halperin's "Wish You Weren't Here" – a film on contemporary antisemitism, at Cineplex North Edmonton. Tickets cost $18 and must be purchased online at http://www.bnaibrith.ca/rogerwaters